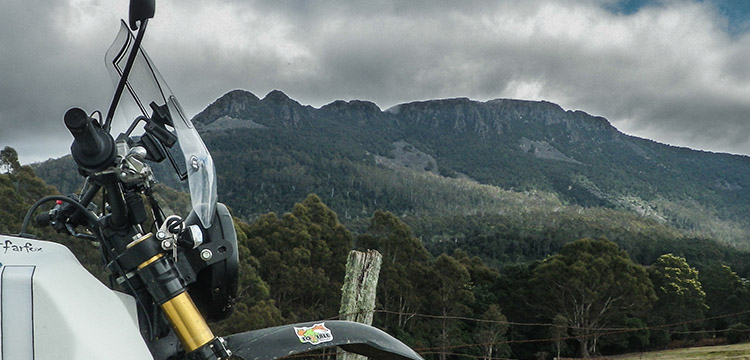 The Far Island Fox Hunt on: Highsides and hillclimbs.   
The culmination of running at speeds well beyond my normal performance specification did not fail me this time. Exhibit 'A' is a fairly catastrophic 'highside'.
There is debris scattered as far back up the road as I can see. It is as painful to look at as it is to relive over and over in the mind, as we seem to do, wondering 'what if' or even just why we were moving at such manic speed in the first place.
The answer to that second query, I'm told (though enjoy ignoring), is that the function is hardwired into my ECU. Regretfully, tuning out the periodic surge is not as straightforward as plugging in a chip. Regular readers will be familiar with my tuning adventures, adjusting the mix and even the addition of fuel additives. If you thought syncing a bank of CBX-6 carburettors was challenging, well, let me tell you.
Following the 'highside' my pit crew recommended a new fuel additive, and although I was at the time still revving quite high the obvious carnage littering the road behind me made a compelling argument for change.
I do not at all deny that having wallops of power come on when you don't need it, and didn't ask for it, is bloody dangerous. But I also attest to the theory that having power on tap for when you do need it is quite handy indeed. Does the phrase "if in doubt, power out", ring any bells for you?
The really frustrating part though is knowing that the power is still there. You just can't tap it. The specification of the machine after all remains the same. It's like being in a limp mode that you can't seem to switch off.
Some of you are probably thinking, "Hell, I'd risk the highside". I've thought the same. The problem with that is you're riding on public streets and can hurt other people, generally those riding closest to you; friends and family.
The issue I have right now is the aftermath, the hill climb I'm pointed directly at. There is no way around it, no shortcut, and no going back (not that you would want to).
Three months ago I wouldn't have even noticed there was a hill there, today it looks like the north face of the Eiger. Not only do I lack confidence in my power, I'm also painfully aware that my leathers are near worn through and unlikely to survive another such fall.
My one solace is my fine pit crew. Even when I don't see it, they seem to have no doubt I can peak that climb. They know, like I do, that the power is there, I just have to learn to tap it via a new path, a path I don't yet feel, a path I need to build into my ECU.
By the way, my pit crew began with my mechanic (GP) but now includes a couple of engineers that concentrate on the working of my ECU. If you happen to be facing a hill climb you doubt you can make, believe me, go get a pit crew.