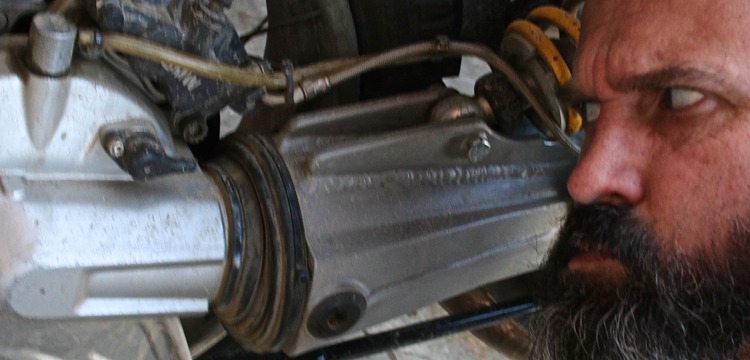 The Far Island Fox Hunt: On the frustration of non-failing final drives
Odd as it might seem my old BMW has been 'retrofitted' with a particular component of a particular model prone to a quite particular problem.  Why, you might rightly ask, would anybody opt to swap out an original, reputedly reliable component for one unworthy of that description? Well, clearly, as anybody with a deficiency in the executive function of the frontal cortex will tell you, it was for a short term gain.
Seriously, replacing my drum brake Monolever with a disc brake Paralever final drive has delivered some quite noticeable performance gains.  It's not an easy modification though, so I went to a specialist, which is probably why, at the moment, it's performing quite well.
When approaching a corner the disc provides more feel in the case of an unexpected change in radius or surface, it's no longer just 'full on' or 'full off'. If upon exit I'm met with a conglomerate of corrugations I had not anticipated the Paralever provides better compensation, it's just not so harsh, and gives me a bit more traction.
In a frustrating contrast to riding, in life, I'm not particularly good at dealing with unanticipated obstacles or unexpected corrugations. Such problems perturb my drive and I've been known to loose traction altogether. In fact the last time they did, only months ago, I had almost decided to 'hang up' my leathers, so to speak.  Luckily my regular tuner knew of a specialist in just such drive issues and gave me a referral to a guy who has assisted me to maintain an acceptable level of momentum, and a bit of faith I might maintain it.
The thing is, right now, even though I know I have the potential to hit the freeways the thought is often undermined by a subconscious awareness of my drive's reputation to leave me stuck on the footpath like a three-speed Malvern Star.
Mind you, I can look purposeful and talk the talk, so much so that those not familiar with my model might not notice or be aware of my handicap.  But I am. And that, right now, is quite annoyingly a major distraction in my CPU.
On the other hand, knowing of my Achilles heel means that, if not confident of its condition, I'm not about to attempt a journey into environments characterised by harsh terrain.  But of course life dictates at times we must and so I'm trusting my improved handling and response will compensate, and with mindful thought maybe overcome those undermining thoughts.
No, of course that doesn't mean I'll ignore the issue.  I certainly wouldn't head out after noticing filings in the final drive oil. I don't need any help creating a personal catastrophe capable of leaving me stranded in an unforgiving environment; but thanks for the offer.
Confronting as it is, I want to be aware of my shortcoming, quite knowledgeable about it in fact, and yet not let it ruin my ride. Sounds simple.
I'll let you know how it goes.