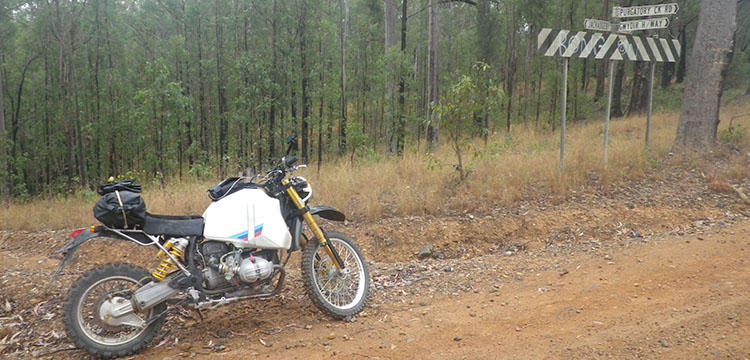 The Far Island Fox Hunt on those simple, reliable Monolevers
Some weeks back I was moaning about my 'upgraded' final drive and its hidden potential for failure. Shortly after, I received a response from a friend in Germany.
Robert and wife Manuela had stayed with me while circumnavigating the globe on an old Harley and Triumph respectfully. Robert questioned the logic behind my 'improved' final drive and suspension.
"Swap it out for the simpler and more reliable Monolever system," he wrote.
What Robert didn't know was that the machine had in fact started that way. At the time I just clicked 'Like' on Robert's observation because it seemed easier (read less self-confronting) than trying to explain myself. But then I wrote that last post about desmos, desirability and personal instability. The message was that something more complicated and less reliable could be more desirable. And I guess that's what I wanted to say to Robert.
There is no question the bespoke final drive on my BMW R80G/S is abnormal. But it has unequivocally transformed the handling and braking. Everyday obstacles are noticeably more tolerable, and being able to stop has its own obvious virtues.
But Robert was right too. The old Monolever is a favourite for global vagabonds for good reason. It has rewarded a multitude of Monolovers (nice huh?) with solid, simple, reliable service.
And there you see my current dilemma.
I've been prescribed some new fuel additives. The thing is, the performance benchmark they aim for is that of the faithful Monolever, and well, I'm not sure I want to go there.
Don't get me wrong. I see the advantages. The Monolevers are a near unshakable machine. Conservatively ridden they can handle any road you care to take them on. They are stable, smooth, and to top it off thoroughly inoffensive. Conversely, my abnormal Paralever is a motivator, packed full of potential energy. It encourages me to go that little bit faster, to see what I've got. And what I've got, it turns out, I like.
But then there's that other potential. The evidence is all over the internet. Final drive failures are messy and rarely occur at a convenient time or location. Sure, pre-emptive maintenance can go a long way but there will never be any guarantee a drive failure won't 'catch me out'.
Even so, BMW decided to stick with the new design. The performance advantage, it seems to them at least, was worth the risk.
And I agree, I think. I mean we've got 24 hour roadside assist (well, Lifeline). But it's the reputation that gets stained. Too many final drive failures and people stop buying it, no matter how bloody awesome you are on the trail. Maybe I can live with the occasional final drive failure because the ride in between is so damn awesome.
Simple, done, good.
Ahem. What? Oh yes, that's right, I have some pillions. Apparently they have been complaining about the regularity of failures and now that I've pointed out my propensity for them they are a little frightened to ride with me. They say they'd ride with the Monolover, through.
I hate that Mr Stable. He gets all the gigs.