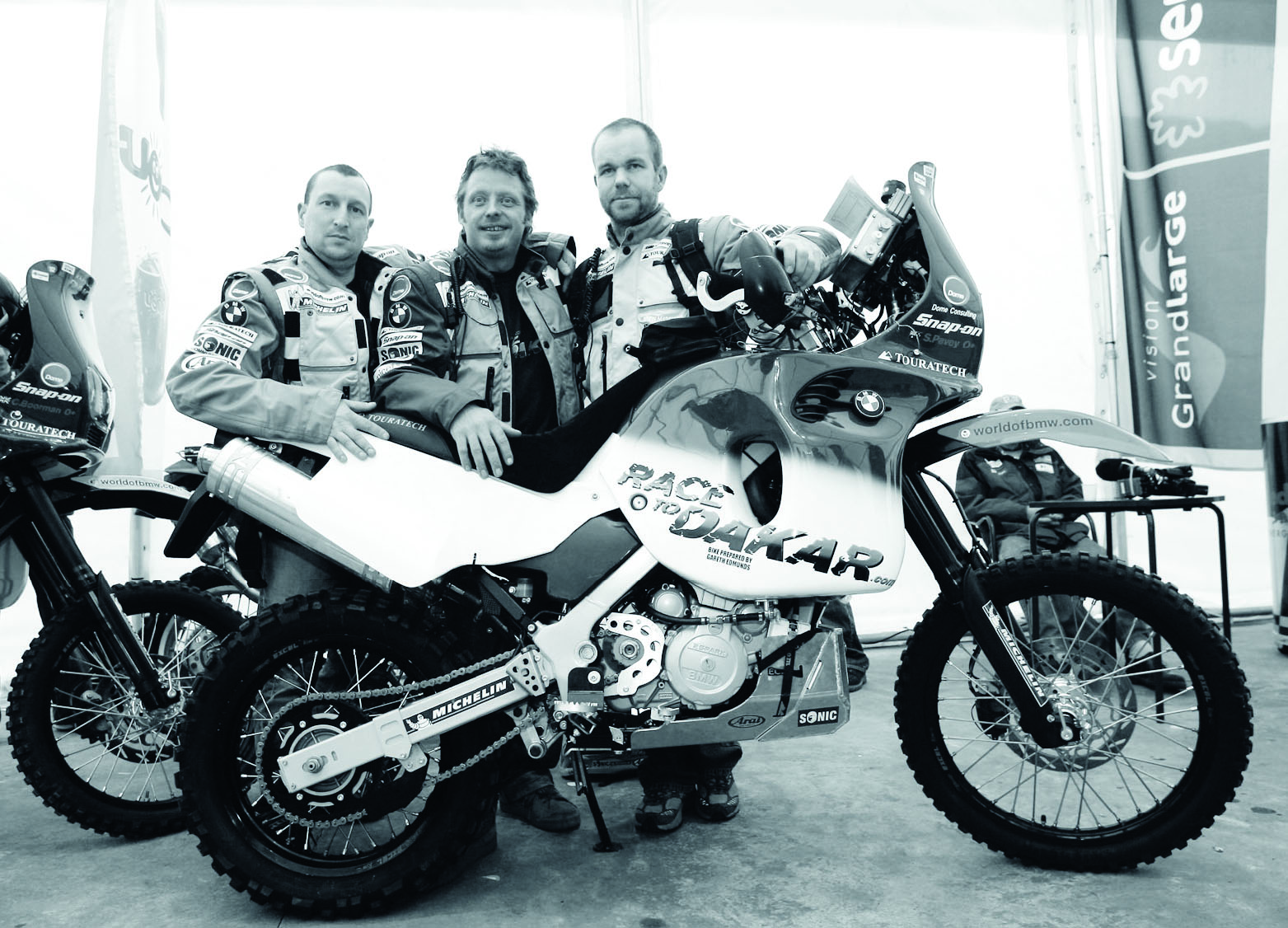 Having trained Ewan and I for Long Way Round and then teamed up with me again for the Dakar Rally in 2006, Australian Simon Pavey is a ten time Dakar veteran and a great mate who's got a plan for me. 
Scribing for a magazine in November or December gives you this rather strange time travel advantage. See, I know you'll be reading this in 2015, so I have to write with this forward looking perspective. Hopefully, I'm still alive, I've survived another Christmas and New Year – without being arrested, splashed across tabloids regarding my latest spate of cosmetic surgery and with luck my Australian love child has yet to make contact.
With that same futurologist hat on I have also predicted number '10' of Simon Pavey's adventures into Dakar will be notched up. This time, with a twist. Simon will have been the first rider in history to enter Dakar as a father and son team. Llewelyn, Simon's son is 23 years old and has lived with Dakar most of his life one way or another. He's been watching his dad prepare bikes and compete in multiple Dakars since 1998. We've seen 'family' teams in the race before, but they were aboard four wheels not precariously balanced on two. I met Simon way back in Long Way Round days. Both Ewan and I knew we'd need some off -road training prior to our dream ride and all signs pointed to the BMW School, headed up by Mr Pavey. Off we went to the infamous countryside of South Wales, with its extreme heat and arid riding conditions – what? Yes, you got me – Simon's off -road school has probably not even seen the sun and if they ever get a day that it doesn't rain, they have to continually flick water over themselves in order not to dry out. It's a bit like saving a whale – you've probably seen the film. Put simply, 'Aqua Boy' would feel extremely at home in South Wales.
What people probably don't know is the training that Ewan and I did for the Long Way Round was just the normal BMW training school, ie. a two-day course. I believe some people think that we both lived in Wales for months in order to attain our 'off -road ace' badges. Nope, a two day off -road school with the Pavey clan was all that was needed to make me into a riding god… and reduce the number of times that Ewan dropped the bike (just joking, Ewan!). Actually, the wet, hilly conditions at Simon's place off er the ideal components to learn how to ride off -road. Riding through mud, shale and rivers, with big climbs and steep descents as well as long fast gravel firebreaks – well, it ticks all the boxes.
We originally planned to do a second school there, with all our luggage on the bikes, to get used to how the bikes were going to be in our real world. However, with all the last minute things that need doing before such a trip, we ended up dropping that off the list of priorities – and subsequently, you may remember I ended up dropping the overloaded GS on day one of our adventure! Lesson learnt. When we first met Simon in 2004, he'd just returned from Dakar, sporting a broken collarbone. He seemed quite happy in that situation! Which was a bit worrying. Coming back from Dakar after a big crash, just with a collarbone 'mishap', well, it's sort of a result, he explained I was with Simon last week at his place and of course we talked Dakar. He's full of it at the moment (it's December) and both bikes have already been dispatched to South America ready for the start. I asked him about this year's bike…
"We've got two amazing KTM 450 Rally replicas. These are purebred Rally bikes – made to rally and ready to go. In the past I've had to build my bikes. I'd take a standard 450cc enduro bike and 'make it' into a rally bike. But, this one is a beauty, made in the factory. All you have to do is put stickers on it and add fuel! It's not this year's injected model. It's got normal carburettors. But it has all the smart ideas on it. We have three petrol tanks and I can pull fuel for either one, depending where I want the weight of the bike to be. The suspension is incredible – we've tweaked it very little. It is certainly a weapon of choice and with KTM's history – well, let's say we're both looking forward to the start line."
As I was leaving to head home to London I gave him a bit of a man hug (not a full man hug!) and wished him and Lewelyn the best of luck. I was just stepping over my bike and he shouted… "Charley, you need to be fit for next year mate – let's go back – unfinished business for you, my man". And with that thought left spinning in my head, I rode off like a Dakar god… till I got to the traffic lights. See you soon, I hope – with the rubber side down.