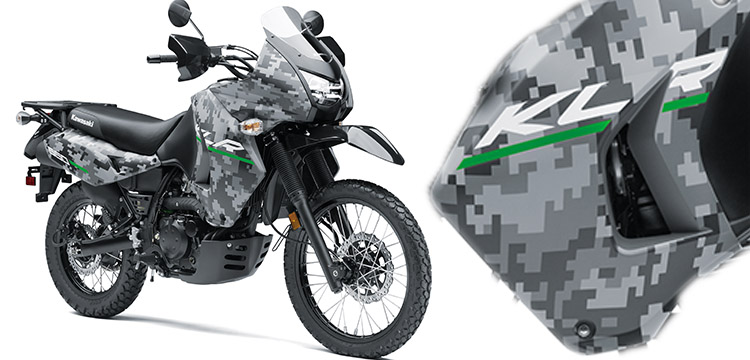 Kawasaki 2016 KLR650 adventure-touring bike might be hard to find … because it's camouflaged! As well as the traditional lime green, it'll be available in a grey camo pattern.
One of Australia's favourite all-road tourers, the learner-legal KLR has been given a very urban-combat style of colour scheme that seems somehow appropriate for a gritty outback explorer.
The specifications for the 650cc single haven't changed, guaranteeing a robust, solidly built bike with modest performance and plenty of potential to be tricked up by ambitious riders.
The green version will sell for just $8099 plus on-road costs, maintaining the bargain pricing which has helped make the Kawasaki such a great selling machine.
The camo paint scheme will cost a little more at $8199+orc.
Until the end of October, KLR buyers will get a $700 luggage kit thrown in for free.
See your dealer or the Kawasaki Australia website for more information.