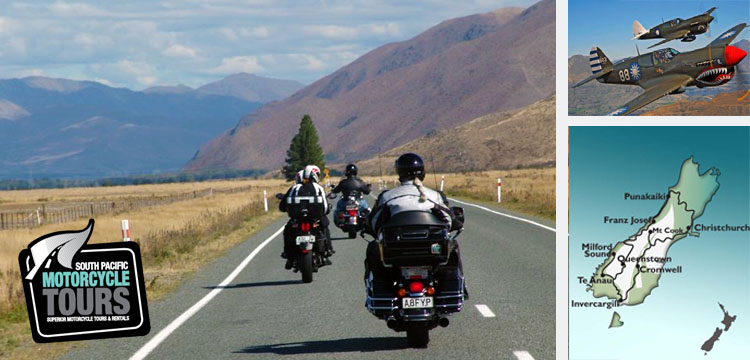 See Warbirds over Wanaka on a New Zealand motorbike tour with ARR and South Pacific Motorcycle Tours!
We're going on a fantastic South Island tour over Easter 2016 and we want you to come along with us, so much so that every ARR reader who comes along will get an incredible bonus: free fuel for the entire trip, a quality backpack full of motorcycle goodies and a special tour T-shirt.
You'll not only get the generous deal that SPMT is offering exclusively for ARR readers, you'll be part of the feature story we'll run in the magazine.
ARR deputy editor Matt Shields is going on the trip, and it's not his first foray to NZ. He's been going there since attending street-race meetings as a kid and he reckons it's still his favourite destination.
The ride loops out of Christchurch on March 22, returning on the 30th after taking you on a mind-blowing tour of some of the choicest roads NZ has to offer.
We'll enjoy traffic-free sealed roads that wind around the snow-capped Southern Alps, rivers, lakes, fiords, and rainforests. There'll be endless scenery of unimaginable natural beauty, all day, every day! Other great activities include:
Warbirds over Wanaka International Airshow!
Entry to Highlands Motorsport park museum and a go-kart race to remember
Private tour of Burt Munro's 'Fastest Indian Scout' and Motor-works Collection
Thrilling jetboat ride
Nature cruise on Milford Sound.
"We've taken out all our 'trade secrets', so if you think this itinerary is good, you ain't seen nothing yet, guys!" Carole and Mike at SPMT told us as we discussed the trip with them.
We said we wanted something special, and they've delivered.
SPMT has a big array of bikes you can ride, such as GS BMWs, V-Stroms, Bonnevilles, Tigers, VFRs, Harleys and Gold Wings. The tour price depends upon which bike you want and whether you're going with a partner, staying twin-share or having a room to yourself.
The full details are on the South Pacific Motorcycle Tours website. Email SPMT for more info. And don't forget to tell them you're with ARR so you'll get free fuel, the backpack full of goodies and the special T-shirt!