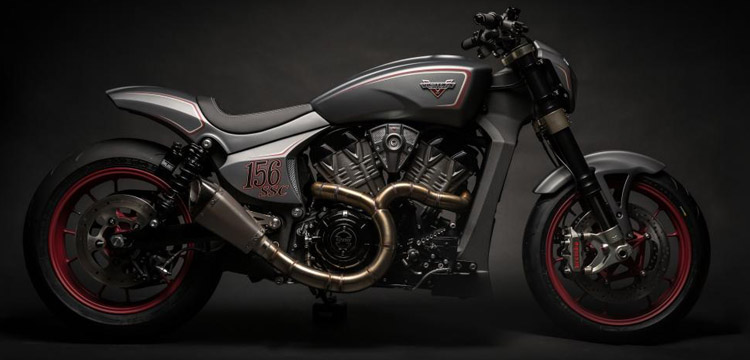 Victory Motorcycles will raise the bar on power-cruisers with its new 100hp-plus, 1200cc V-twin, which had its debut in a custom bike called Ignition.
The new powerplant bears a strong resemblance to Indian's Scout engine, and it's no surprise that the two Polaris-owned brands would share some technology and resources.
It is a liquid-cooled, DOHC, eight-valve, 60 degree V-twin, and photos of the two engines reveal a lot of common architecture.
But Victory's 1200cc engine is bigger than the 1130cc Scout's, and Victory says straight up that it'll have "the strongest power and performance in its class".
This means it must beat the Scout's 100hp.
We won't know much more until Victory releases additional information in mid-December.
The Ignition custom bike, created by former European Top Fuel drag racing champion Urs Erbacher, gives a pretty clear idea of the production bike that will be powered by the new engine.
Ignition is a performance cruiser with the kind of cast-aluminium frame Polaris employs in VIctory and Indian motorcycles.
Erbacher is creditted with building the frame but we're tipping Victory had a lot to do with it.
Ignition has up-spec running gear and a sporty specification sheet, albeit in a sport-cruiser style with twin rear shocks, a long wheelbase and stable steering geometry.
The first production model will be released in 2016, though it's not yet clear exactly when it'll be available.
For more details, see the Victory website.