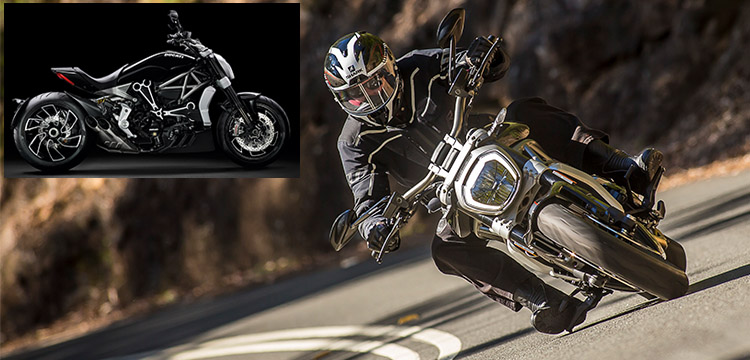 There is only the XDiavel. Nothing else counts. Not if you want a cruiser that'll rip the hearts out of all those pretenders that prance down boulevards telling the girls that 60, 80 or even 100 horsepower is tough.
I make no bones of the fact I love lazy, inefficient, overweight cruisers, but in the cold, hard light of comparison against the XDiavel they're shown up as the anachronistic tributes to middle-aged fantasy that they are.
Learning lessons from the original Diavel, Ducati has created an even classier cruiser by giving the XDiavel better low-rev performance, a feet-forward riding position, the clean living of belt drive and the sexiest rear end in all of motorcycling.
The XDiavel is the pinnacle of the cruiser. It is extremely fast, supremely powerful, superbly controlled and able to change from mild-mannered commuter into superbike in a second.
It has a smiling, casual attitude infused with superbike DNA and imbued with all the genius of Ducati's race-bred electronic technologies.
It is a high-performance bike that's sheer delight to ride slowly.
The fact that you've got launch control and the world's best motorcycle traction control on a cruiser gives you an idea of how very seriously Ducati takes this bike. And there's Bosch-enabled cornering ABS Yes indeed, very seriously.
There are three rider modes programmed into the XDiavel — Sport, Touring and Urban, each with its own unique levels of power, traction control and ABS intervention; what's more, you can make changes to them all.
Ducati stopped short of giving you its Skyhook electronic semi-active suspension system, though. It would be good to have, though the manual adjustments at both ends are fine.
But the really cool part of the setup is that this suspension shames all other cruisers. For a start, there's a full 110mm of wheel travel at the rear — almost unheard of in the category.
It's very well controlled and reasonably comfortable, set perhaps more on the sporty side as you'd expect but not so much that it's unpleasant on the highway.
Nor does it steer heavily in spite of the awkward looking dimensions. You don't expect great manners from a 240-section rear tyre matched to a front tyre half as wide and at the far end of a 30° rake and long 130mm trail.
Still, the wheelbase isn't outrageous at 1615mm and the balance is sweet, so the up-and-over feel of changing direction on the 240 tyre is minimal and, crucially, steering accuracy is terrific.
Add the 40° lean angle and suddenly you realise you're on a weapon that's easily capable of embarrassing your average sports bike rider.
It's exhilarating to crank deeply into a bend at high speed with your feet out the front and your shoulders hunched to keep your head low as you race around like some hellish predator.
The Ducati doesn't surge out of a corner like a cruiser usually does, it rockets out at a million miles an hour, pushing adrenalin through your body as rapidly as it sucks the next corner towards you.
You can hold it wide open and sprint past 200km/h in seconds. But if discretion is better, or the mood just doesn't take you, the XDiavel's cruising alter-ego takes over.
The tingle of adrenalin gives way to the satisfaction of tootling along on a warm day with the caress of the breeze and passing views of the Aussie countryside to accompany you.
There's no need to hurry, and the big 1262cc (achieved by adding stroke to the 1200cc Testastretta DVT engine) V-twin throttles back to lope along on its prodigious torque. Its 129Nm peak comes at only 5000rpm, but it already makes 100Nm by 2100rpm, well below the highways speed limit in top gear.
Bung it into sixth gear and leave it there as long as you like — you'll always have the grunt needed to overtake or trickle through a small town. Drop down a gear or three and it's all action again.
There's not much point being specific about the riding position here because there are 60 different seating configurations for the XDiavel. Sixty! Four footrest positions, five seats and three handlebar bends can be swapped and combined to make the best fit for you.
The tiny pillion seat hanging over the rear tyre looks more cool than comfy, but a neat little back rest is provided with the XDiavel to make all the difference to your pillion's feeling of security.
Ducati gives you a convenient hands-free ignition with the XDiavel. You'll also appreciate the 15,000km service intervals, and 30,000km between valve adjustments and timing belt replacements.
The two XDiavel models straddle the 30-grand price point, and when you look at all the other cruisers in that range you won't find another that comes within cooee for performance or features.
The XDiavel is pretty much everything most people have always wanted in a cruiser plus a hell of a lot more that they didn't know was possible. Now that it's been given to them, they won't want to give it back.
Ride an XDiavel and tell me if I'm wrong.
QUICKSPECS
Model: Ducati XDiavel/XDiavel S
Price: $27,490/$32,490 (plus on-road charges)
Colours: Dark Stealth (matt black)/Thrilling Black (gloss)
Warranty: 24 months, unlimited km, roadside assistance
Servicing intervals: 15,000km
Engine: Liquid-cooled, DOHC, desmodromic, 8-valve, 90° V-twin. Variable engine modes, TC
Bore x stroke: 106 x 71.5mm
Displacement: 1262cc
Compression: 13:1
Power: 115kW (156hp) @ 9500rpm
Torque: 129Nm @ 5000rpm
Transmission: Wet multiplate clutch, 6-speed gearbox, belt drive
Frame: Tubular-steel trellis
Dimensions: Seat height 755mm, weight 247kg (wet), fuel capacity 18L, wheelbase 1615mm, rake 30º, trail 130mm
Suspension: Front, 50mm USD fork, fully adjustable, 120mm travel. Rear, monoshock, adjustable rebound and preload, 110mm travel
Brakes: Front, 2 x 320mm discs, 4-piston calipers. Rear, 265mm disc, 2-piston caliper. Cornering ABS
Tyres:  Front, 120/70ZR17. Rear, 240/45ZR17
Fuel consumption: 5.6L/100km
Theoretical range: 320km
Verdict: Every inch a cruiser but with proper superbike DNA. Awesome.
For more info, the Ducati Australia website.
A full version of this review will be published in ARR issue #131, on sale November 17.