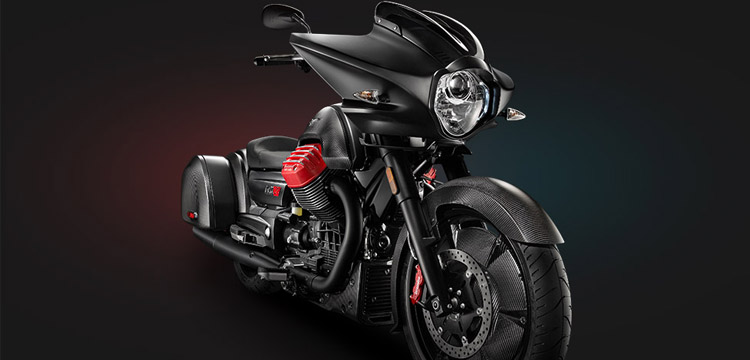 Moto Guzzi says its bold new MGX-21 Flying Fortress is the cruiser to cross the future, a blend of Italian taste and American style.
And given the brilliance of the California models from which the Flying Fortress comes, we reckon the new Guzzi will be a fantastic entry into the bagger class of touring motorcycle.
The Flying Fortress is every inch a traditional Moto Guzzi underpinned by high-tech control and set off by a striking combination of old-fashioned and ultra-modern styling.
That styling is already proving controversial, with love-it or hate-it reactions … just as you'd expect, but Moto Guzzi's unapologetic response is that it "isn't for everyone and doesn't want to be".
The hint of 1930s art deco design incorporates the sharpened lines of the batwing fairing and the exposed carbon-fibre body.
We particularly like the inspired treatment of the 21-inch front wheel, which is enclosed and filled by a carbon-fibre cover.
You can tell this is a thoroughly modern bike by some of the details of its design: the panniers will fit a 15-inch laptop and the bike has an "infotainment system worthy of a luxury sedan".
Moto Guzzi debutted the Flying Fortress at America's iconic Sturgis Rally on the weekend. At this stage it's not clear exactly how long it'll be before it goes on sale in Australia.
More details and videos are available on the MGX-21 micro-site.