Indian Motorcycle Australia has announced its 2018 pricing. New to the Indian Motorcycle range for 2018 are the Scout Bobber, Roadmaster Elite and Springfield Dark Horse, plus an expanded Chieftain Limited Range.
"For this new model year Indian Motorcycle has raised the bar with our Scout Bobber, combining stripped back bobber styling with modern dynamics- old school meets new school.
"Whether you want a motorcycle for long tours with a comfortable seat for a passenger or something stylish for the weekends, Indian now has at least one model in the line-up that will appeal."
Harvey, for Indian Motorcycle adds: "The Roadmaster Elite and Springfield Dark Horse are two fantastic motorcycles, with two different attitudes. The Roadmaster Elite packs all the bells and whistles perfect for riders looking for the best of the best, while the Dark Horse brings blacked-out style to the Springfield line.
"Beyond these offerings, we have elevated each and every model – listening to our consumers to bring new features and colors they have asked for."
"Our Chieftain Limited features industry leading Ride Command, a contrast cut 19″ front wheel and now is available in 5 colours which will no doubt add more to the already exceptional growth we are having in the bagger/ tourer segments."
Here's a rundown of every model in Indian's Australian line-up for 2018.
SCOUT BOBBER NEW FOR 2018
From $18,995 Ride Away
Indian recently announced the addition of Scout Bobber and is in Australian dealerships now.
5 models

Indian Motorcycle Red
Thunder Black
Bronze Smoke
Star Silver Smoke
Thunder Black Smoke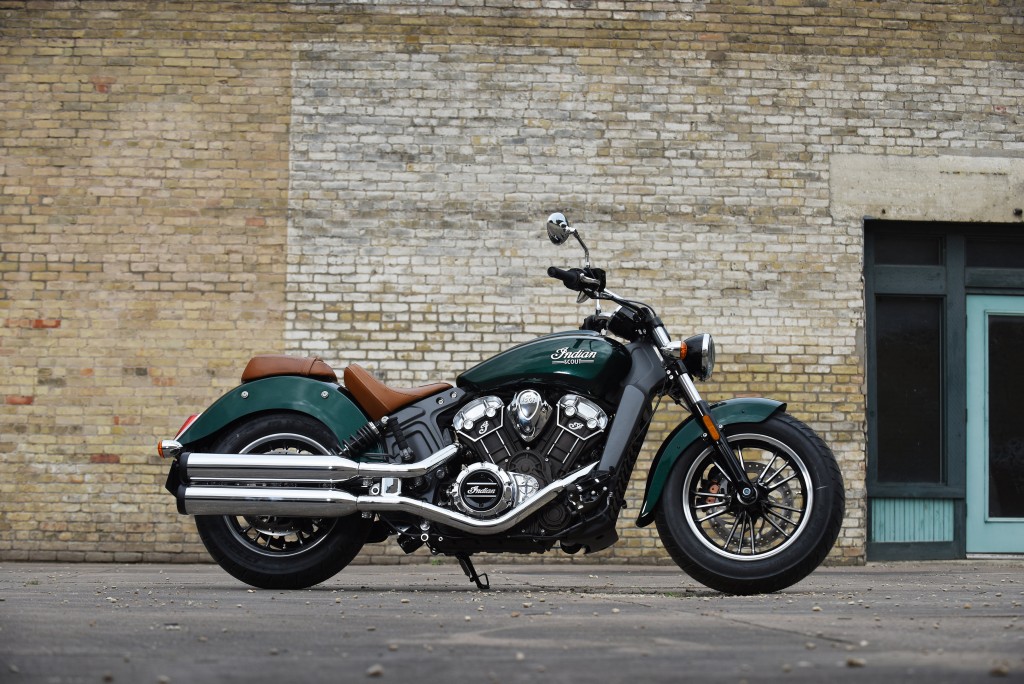 SCOUT UPDATED FOR 2018
From $19,495 Ride Away
Scout has had some strong updates for 2018, based on feedback from customers over the past three years. It will now come as standard with a pillion seat on the rear and footpegs for a passenger. The Scout's existing telescopic front forks have now been replaced with cartridge forks, making a real difference to the ride and feel. To improve the handling even further, Scout will now also come with Pirelli tyres as standard.
Scout's existing colours of Thunder Black, Burgundy Metallic and Brilliant Blue over White will continue for 2018, but will be joined by two new colour schemes ­– Metallic Jade and a Willow Green/Ivory Cream.
5 models

Thunder Black
Burgundy Metallic
Brilliant Blue/White
Metallic Jade NEW COLOUR FOR 2018
Willow Green/Ivory Cream NEW COLOUR FOR 2018
SPRINGFIELD DARK HORSE NEW FOR 2018
From $34,995 ride away
Like the other existing Dark Horse models, the Springfield Dark Horse has matte black paint with gloss black details. Springfield Dark Horse will feature an open fender to showcase a 19″ ten-spoke and blacked-out front wheel. Its quick-release windshield protects the rider from the elements, or can give a meaner cruiser look when removed.
CHIEF DARK HORSE
From $28,995 ride away
A Chief, but with the Dark Horse blacked-out treatment.
CHIEF VINTAGE 
From $32,995 Ride Away
Indian's iconic Chief Vintage is now offered up with black leather saddlebags and seat for the first time. The Thunder Black and Star Silver over Thunder Black versions come with black seat and leather saddlebags, while the Sky Blue over Pearl White and the always-popular Willow Green over Ivory Cream will feature brown leather saddlebags.
4 models

Thunder Black
Indian Motorcycle Red over Ivory Cream
Star Silver over Thunder Black NEW COLOUR FOR 2018
Sky Blue over Pearl White NEW COLOUR FOR 2018
CHIEFTAIN LIMITED
From $36,995 ride away
The Chieftain Limited features Indian Motorcycles industry- leading Ride Command, plus open fenders instead of valanced ones along with a 19″ blacked-out wheel, making it a great base bike for further customisation.
Only a black version of this bike has been available in until now, but for 2018 it comes in four extra colour schemes with two of these featuring striped graphics on the fairing and the saddlebags.
5 models

Thunder Black Pearl
Brilliant Blue NEW FOR 2018
White Smoke NEW FOR 2018
Thunder Black Pearl with Graphics NEW FOR 2018
Bronze Smoke with Graphics NEW FOR 2018
CHIEFTAIN DARK HORSE
From $35,995 ride away

The Chieftain Dark Horse will now come with RideCommand as standard and showcases a 19″ ten-spoke wheel with an open fender.
ROADMASTER ELITE NEW FOR 2018
From $49,995 ride away
After the success of Chieftain Elite, Indian is offering limited numbers of the Roadmaster Elite machines. The ultra-premium Roadmaster Elite has a two-tone cobalt blue and black colour that has been completed hand painted, along with real 23K gold leaf badging on the tank. It has the industry-leading Ride Command system and a 300-watt premium audio system, chrome front and rear bumpers, passenger armrests and stylish pinnacle mirrors.
1 model

Cobalt Candy/Black Crystal with 23K Gold Trim
ROADMASTER
From $40,995 ride away
The Burgundy Metallic version of this bike now comes with a tan coloured seat while the other three versions all have black seats. For 2018 there are two new two-tone colour schemes.
4 models

Thunder Black
Burgundy Metallic
Polished Bronze/Thunder Black NEW FOR 2018
Pearl White/Star Silver NEW FOR 2018
Indian Motorcycles 2018 line-up will be available in dealers throughout Australia from late November, 2017.