There's a new set of tyres going onto the Australian Road Rider Yamaha FJR1300, Mitas Touring Force rubber in the standard 120/70ZR17 and 180/55ZR17 sizes.

Mitas isn't a name you might associate with road bike tyres, although the European firm dates back to 1947, when it started making rubber for speedway racers.
Since those early days Mitas has expanded into motocross and hard enduro plus industrial, aircraft and machinery tyres.
These days Mitas makes road bike tyres too – scooter, cruiser, sport and now Sports-Touring ranges.

The Touring Force range is aimed at riders of heavier bikes who like a dynamic, sportier feel, while still providing decent mileage, grip and two-up capability.
What I like is the pricing – the RRP on the pair we have for test is under $400. There's not much else out there at that sort of price apart from older styles of tyres, and these Mitas hoops are the latest generation.
Mitas has built the new range to provide a high level of grip, even in wet and cold conditions, partly by including a high level of silica in the compound.
Multi compound construction is a feature to extend tyre life and provide excellent grip while cranked over, and the tread pattern is designed to pump water away efficiently.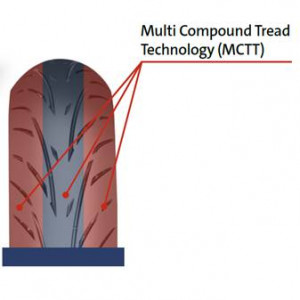 Mitas is now imported by Monza Imports, so they're available from just about any dealer in the country, although you might have to ask for your shop to get them in for you, shops usually stock the better known brands.
I'll report back with what the ride and wear is like soon. If you've ridden on Mitas road bike rubber, let us know what you found.
– Nigel Paterson