Designed for street sports riding, the GSX-S1000F is affordable… but is it capable?
Back in the day, you could buy a trackbike or a streetbike, and many riders chose the latter then modified it to be as close to being a trackbike as they could.
Race replicas were born and the manufacturers took notice. Sportsbikes started to resemble trackbikes more and more with each passing year. These days, many sportsbikes are simply racetrack refugees, awesome when you've got your knee down at 150km/h, but uncomfortable, uncompromising and inconvenient on public roads.
Suzuki's GSX-S1000F wants to break out of that mould by being a sportsbike that isn't a race replica, built for the road, not for the track. And it's over seven grand cheaper than its track-focussed high-performance cousin, the GSX-R1000.
Where does the money go when you buy the latest and greatest flagship bike? Often into the research and development of the new technologies, into the more frequent updates and shorter model cycles of those trick machines, into the racing budgets…
SPORTS, NOT TRACK
If you're buying a Suzuki for track use, it'll be a GSX-R; the range is legendary, from the original 750 to the current crop of tiddlers to open class. But Suzuki also understands the GSX-Rs are uncompromising machines, with the latest tech, aggressive riding positions, stiff suspension and high-revving engines which produce most of their fun at the fast end of the tacho.
For track riding, awesome. For road riding, not so much. Suzuki built the GSX-S1000 (minimal bodywork, essentially naked) and the GSX-S1000F (comprehensive bodywork, tested here) for riders looking for an affordable sporty streetbike. Where the racetrack refugees feature low, clip-on handlebars, the S-models have a flat conventional handlebar; rearset pegs give way to pegs set lower and a little further forward; there's less adjustability to the electronics and suspension; and the engine is based on an earlier model (2005!) updated and tuned for more mid-range, sacrificing some top-end in the process. Compared to a GSX-R it's got a longer wheelbase for more stability, more trail and less aggressive rake to slow down the steering.
The result is a bike that is 90 per cent as good as a GSX-R for most riders most of the time when riding hard, but more comfortable, cheaper and more versatile whenever smooth corners aren't being attacked. Features that were expensive when they were introduced are now standard on a less-expensive bike, like the back-torque limiting clutch, Brembo monoblock calipers, adjustable suspension, and even Renthal Fat Bars.
I actually hated the 'bars; they would be one of few major changes I'd make to the bike. They simply don't have enough bend back towards the rider, forcing my elbows out… it was simply uncomfortable for my wrists.
It's really a personal preference thing, but one thing I love about the GSX-S is that the 'bars can be swapped out, unlike so many other machines. The seat height is moderate at 810mm and reasonably narrow at the front, so it's easy to get your feet to the ground. The bike accommodates both short and tall riders reasonably well.
For sports road riding, the handlebars are at a good height, one of the factors that makes this bike excellent ergonomically. You're not hunched over the front so hard you can't do a head-check, but you're still leaned into the breeze and have good feel for what the front end is doing. The footpegs are sportsbike high and rearset for cornering clearance, but again, not as aggressively as most Supersport machines. Overall the footpeg-seat-handlebar relationship is good, fitting the design brief well.
Getting to your favourite winding roads through traffic, along freeways and away from the "safety" camera-infested population centres of the country isn't particularly uncomfortable or annoying, although the GSX-S isn't touring bike comfortable either; the clutch is heavy by modern standards and the lever non-adjustable. Once you're riding smooth, fast and twisty roads, the GSX-S will reward you with confidence-inspiring handling and plenty of performance — maybe not in the league of the latest GSX-R, but certainly way beyond lock-up speeds.
It doesn't turn as hard into turns as some might like, but dropping the forks a few millimetres through the triple clamps will speed it up; a longer shock would improve handling and cope better with poor roads. Some of this is down to the chassis, one developed for the GSX-S range. It's alloy of course, a pair of big beams wrapping around the cylinder heads as it heads back towards the modern braced alloy swingarm. It's actually a lighter frame than the GSX-R1000's around the time it was designed.
Getting between corners is quick — we're talking a 1000cc four-cylinder bike here after all. However, while fuelling is good, the snappy throttle response and shortish gearing combine to make smooth riding on bumpy roads something that requires a good level of concentration and skill.
Some of the roads we ride during ARR testing are so bad that Adventure bikes are the quickest, because their suspension can keep the wheels on the ground better than anything else. Other roads are so smooth that nothing can stay with the racetrack refugee Supersports. The GSX-S tries to find the middle ground and does so well, although it does work better on smoother roads. That too-sharp throttle response is exacerbated by the low gearing. This often makes it difficult to dial in the right throttle position through bumpy corners, and increases engine braking too.
I'd love to ride one with a different front sprocket to raise the gearing slightly — I think it would make the bike nicer to ride, would reduce engine braking and could improve fuel consumption too.
I did like the Brembo brakes fitted to the GSX-S, although they aren't the latest and greatest models. There's plenty of power and feel with ABS there if you need it.
ADJUSTABLE SUSPENSION
Suzuki is to be commended for not fitting its "budget" bike with crappy, non-adjustable suspension; the GSX-S1000F wears KYB units at both ends, fully adjustable 43mm USD forks and a single rear shock.
We found the forks to be great, the shock pretty good. If you need better, maybe you should be considering a GSX-R instead. That said, when the rear shock wears out after a few years of use, installing a decent aftermarket shock shouldn't be too expensive and could offer easier adjustment, more oil capacity and rebuildability.
ODDBALL STYLING
The GSX-S models certainly stand out with their oddball appearance — not conventional sportsbike, not sports-tourer, not really like anything else out there. The F-model is the only one with much bodywork; the standard 750, 1000 and even the Katana are effectively nakeds. The F-model's full fairing is compact, offering some weather protection to the knees and chest, but not a whole lot.
Finished in black on black with black highlights, the GSX-S1000F has a style and character that grew on me but I never fully came to terms with. From a style perspective I'd probably buy the Katana, which runs the same motor (and much the same running gear) anyway… although the 12-litre tank of the Katana might have me back leaning towards the GSX-S and its 17-litre capacity.
THE MOTOR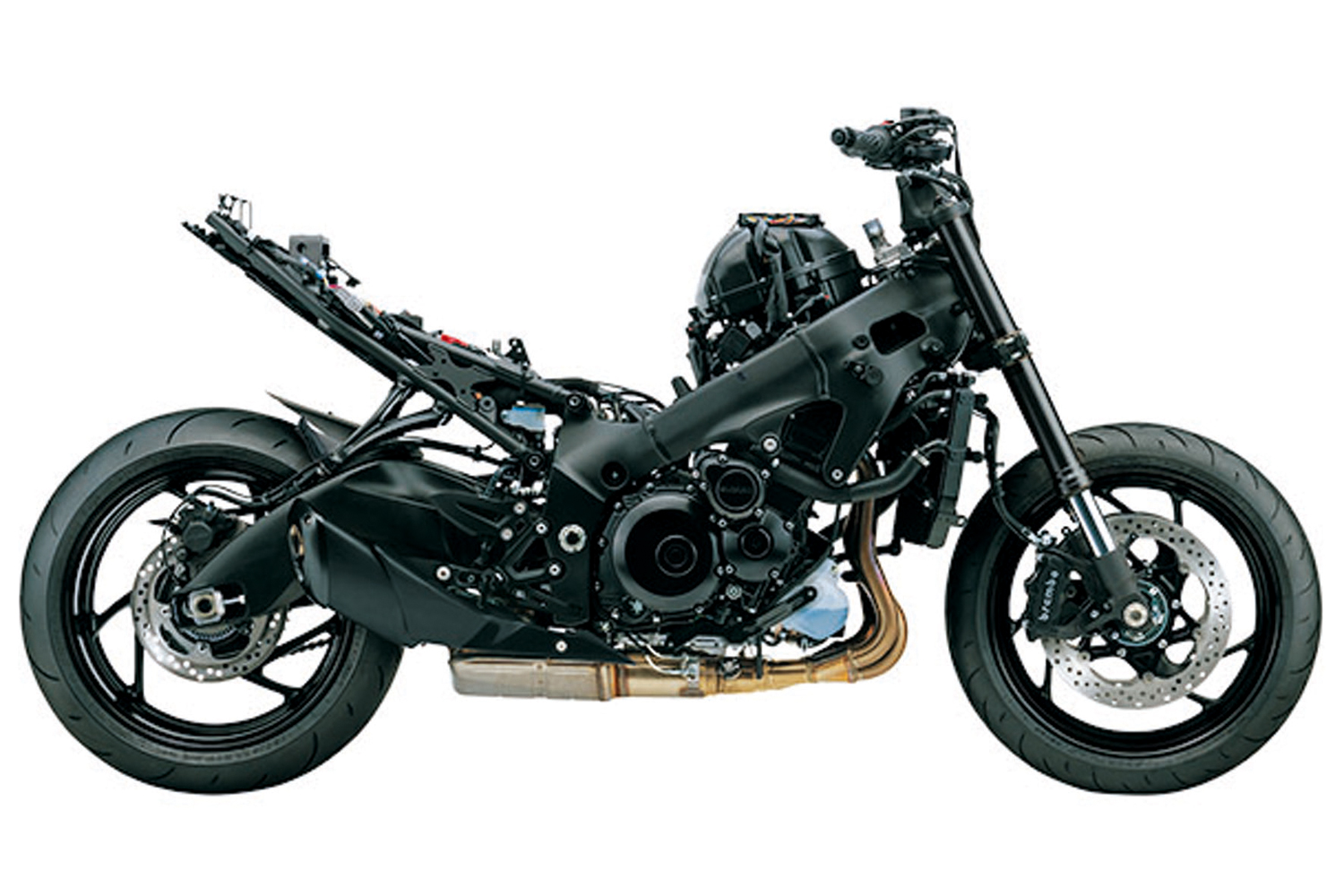 The latest-and-greatest sports engines are producing over 200hp these days, but where and when can you use all those ponies? Shockingly, I managed to have heaps of fun riding bikes with less than 100hp for decades, so I'm sure very few people will actually find the 150hp of the GSX-S1000F to be not enough.
The way the power is produced is important too, and with this engine — the long-stroke inline four Suzuki used it in its GSX-Rs years back — you get more midrange, so it's easier to ride in traffic or cruising, and easier to keep on the boil, too.
There's a slipper clutch fitted, so it doesn't skip around under downshifts if you're charging hard. The gearbox is excellent. Suzuki makes some of the best transmissions in the world and this one is great. There's no quickshifter, but that's not surprising…and not really needed, either.
THE ELECTRONICS
By modern standards, the electronics of the GSX-S are pretty tame; there's non-switchable ABS and three levels of traction control (which can also be switched off). That's it. No electronic suspension, no riding modes, no cornering ABS, no heated seats, cruise control or coffee maker. Switching off the traction control makes pulling wheelies easy. The three levels of traction control can be summed up as urban or rain, general riding and sports or track, but many owners will stick it in one mode and never change it.
A road bike that never spins up or locks up is one which is far less likely to end up on its side.
SPORTS-TOURING?

Flat 'bars, a full fairing… so it's a sports-tourer, right?
Not really. Here at ARR we'd still call it a sportsbike, but if you want a sportsbike that won't kill you on the occasional longer ride, the GSX-S might be a decent choice. (But we can't recommend taking a passenger for anything other than short trips.)
The riding position, low gearing and snappy throttle combine to make it a bit tiring to ride all day, and the lack of weather protection and luggage capacity add
to the problems, but here are a few ideas.
For a start, get the optional touring screen. Actually, get it anyway — it provides heaps more weather protection and I reckon makes the bike look better too. Changing the 'bars to something that lets you sit a little more upright might make the long haul more appealing.
There are material loops and hooks on the rear footpeg carriers to attach luggage to the back seat, and I found my Nelson-Rigg seatbag worked really well on the GSX-S1000F. There are also tankbags available — check out the options from Suzuki and Shad (shadaustralia.com.au).
You could spend some money to soften the throttle response, but that could get expensive. You could try different sprockets to alter the gearing, which might also improve the fuel consumption, which would improve the range, making it a better sports-tourer.
WHO'S IT FOR?

The GSX-S1000F is perfect for riders who want a sportsbike but aren't going to take it to a racetrack often. The machine would be a heap of fun at a track, but it would also be a pleasant ride to the track, unlike so many race replicas.
While the GSX-S1000F isn't filled with cutting-edge technology, it's got the big two features — ABS and traction control. While we would have liked some riding modes to soften the power delivery, it's not a deal-breaker.
In fact, the GSX-S is a great deal. I keep coming back to the price, because you're getting a new bike for the price of a second-hand sportsbike. New everything, a few accessories and a factory two-year warranty for well under 20K? That's excellent value for a proven design that will give you years of great motorcycling. aRr