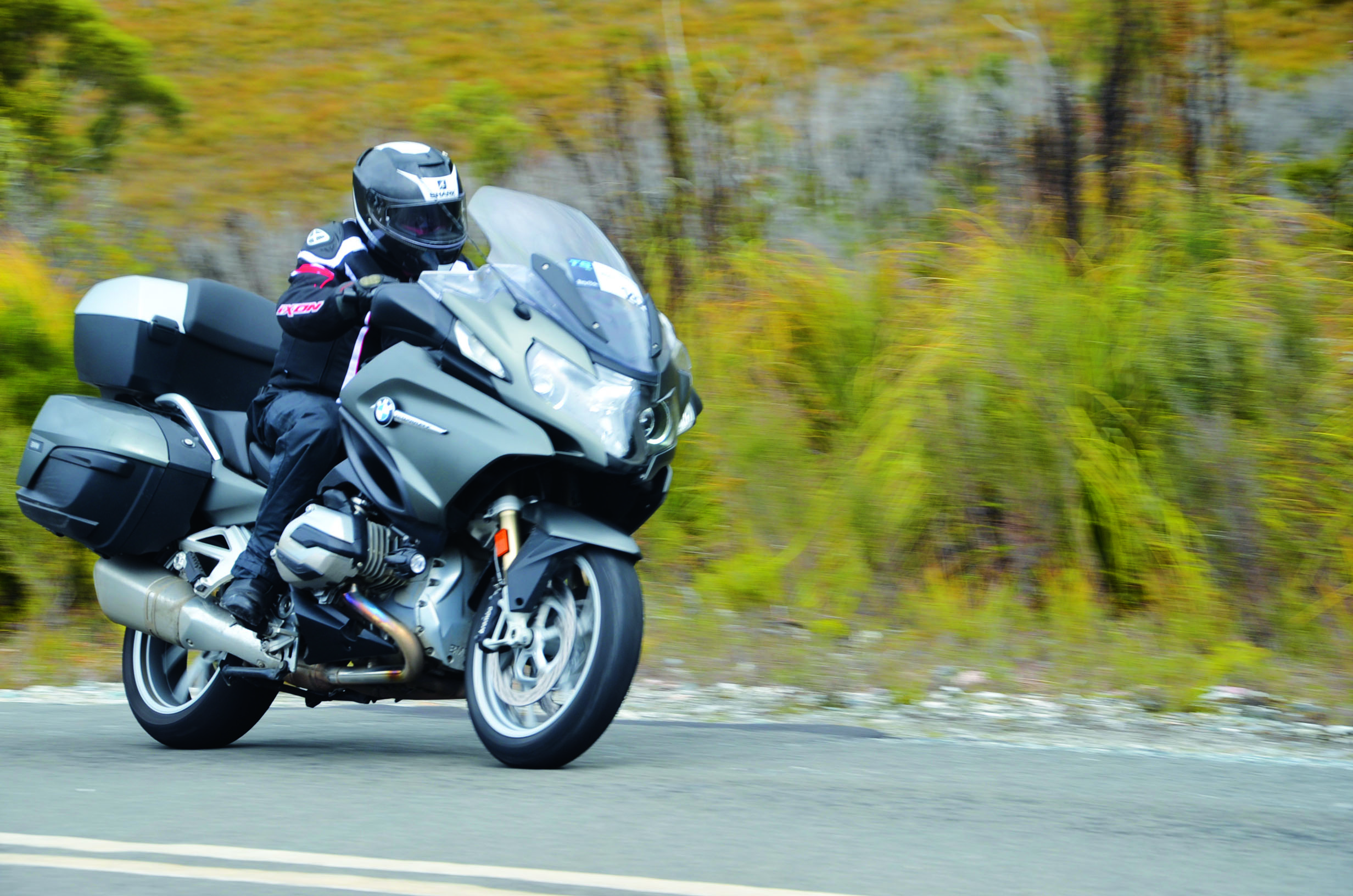 It's day four of the BMW Safari in Tasmania, a couple of hours into a spirited 400km round trip from Hobart that weaves its way through the Southwest National Park to Strathgordon and Lake Gordon Dam. I'm riding for the first time a BMWR 1200RT, which is doing a remarkable job of pretending to be a sports bike as we hustle along at a good pace. I love these 1200 boxer engines. They make good power everywhere and sound fantastic, but the surprise is how well a bike built for comfort is handling such challenging conditions. The mountain road is narrow and poorly sign-posted, the surface uncertain and the air damp. My eyes are like goggles as I search for lines through countless corners, trying to keep it smooth. On a rare straight, I glance down at the dash and see a red triangular warning light. Wonder what that's about? I scan the digital display, which tells me my front tyre is at 36psi and my rear tyre at 25. Blast, but handy to know all the same!
I pull over in company with BMW's Miles Davis, by which time it's showing 23psi and falling rapidly. We quickly find the culprit, an earlier plug repair that has come unstuck. He rings the Safari support vehicle which turns out isn't far away, and experienced hands have us back on the road within 20 minutes. How very civilised. It's easy to see the appeal of the BMW Safari, which is celebrating its 20th anniversary and second visit to Tasmania. I'm on the TS (touring and sports bikes) leg, along with around 120 like-minded others, all joined at the hip of BMW Motorrad. Many are of a certain age and nearly all are on late-model bikes; the oldest I see is a K100RS. There is a surprising number of pillions and quite a few women riding their own bikes, which gives the event a unique vibe.
Rather than leave each day en masse, individuals make their own pace along predetermined routes, then regroup in the evening. Some are first timers but many are repeat offenders. One rider, Ian Anderson, has been on every Safari, and quite a few are staying on for the more arduous GS Safari the following week. On the harbour cruise that evening, almost everyone seems to know one another. Sadly, one of the great Safari characters is missing this year. Sal Berry was well known for her big personality and fake ponytail which she a ached to her helmet to let the boys know they were passing a lady. She's no longer with us but her family forwarded the ponytail to Miles for one last run. A couple of participants on the GS Safari wear it also, after pledging $1000 to the Black Dog Ride.
Back on the blacktop, most are content to take in the scenery but there are some hard chargers in their ranks and no shortage of empty winding roads to have a scratch. Despite widely different skill levels and road speeds, everyone is respectful and the fast crew courteous when overtaking slower riders. Luckily the wallopers appear to be friendly, those few we see anyway. I don't know how far I'd push it, but one copper just fl ashes me when he has me cold at 120-plus in a 100. Another rider is pulled over for a similar speed and issued with a written warning. The first three days of the Safari have taken the mob from the Bass Strait ferry terminal in Devonport, across the top of the state then down the west coast to Strahan, before heading south-east for Hobart. I fly in on the Wednesday night, tag-teaming with AMCN's Kel Buckley on her way home at the airport. Her face is alive with tales of fast rides on perfect roads, particularly around Strahan. She's sure I've missed the best bit because it couldn't possibly get any better.
I switch to the S1000R on Friday morning for the run up to Launceston. Entrants have a choice of a meandering 230km route up the middle, which includes the legendary Poatina Road (which is a corker!), plus an optional 300km detour across to the east coast. It makes for a long day but is a good call that dishes up some of the best roads I've ever ridden. The section from Campbell Town towards Swansea is a purler, a bit more open but with a great hot mix surface and endless high-speed sweepers. We then head north to beautiful Bicheno, where the road winds along the coastline before heading west up Elephant Pass to St Marys. Tasmania truly is heaven on a stick.
Despite the twisty roads and occasional wet conditions, the Safari is incident free. I have such a good time, I briefly contemplate buying a BMW just so I can go on the 2015 Safari with my better half. As much as I enjoy the adventure of small-group motorcycle touring, it's pretty funky to do it as part of a large, mixed-gender group with a factory-trained service team backing you up the whole way. Very civilised indeed.