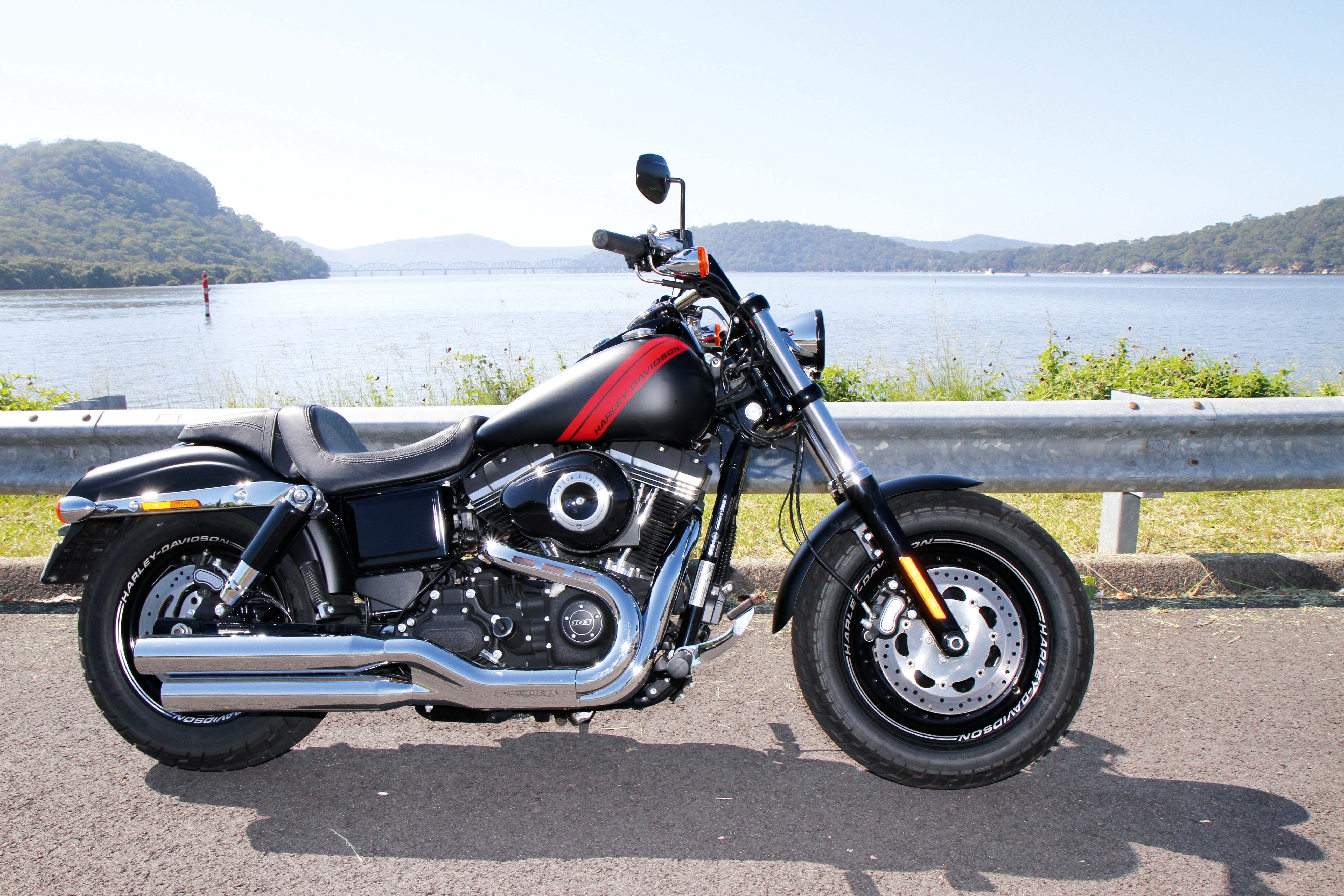 If I had one reservation about the Fat Bob, it's how such an impossibly cool-looking motorcycle will ride, steer, handle and stop. It's not as if Harley always gets the balance right. I love Bob's low stance accentuated by the dragstyle handlebar, forward-mounted controls and sleek rear guard and tail light. The big fat 16-inch front tyre and small mudguard, matched with the  red-on-ma -black finish and enclosed rear shocks, give it an aggressive hot rod air. It looks tough with a capital F.
It's all good. Behind the muscular facade is yet another practical, comfortable all-rounder from Milwaukee, as adept at commuting as it is solo touring and perfect for cruising. It's easy to ride from the get-go and is blessed with the best brakes of any air-cooled Harley I've ridden. And it will forever look a million bucks every time you open the door to the shed or catch yourself riding past a shopfront window. So there's a lot to like, notwithstanding the twin front headlights. How good would it look with a big chromed vintage-style lamp up front? The rear mudguard and tail light also sparked some comment, but work for me. The blunt-cut (as opposed to slash-cut) exhausts look fantastic against the blacked-out engine, although the insides of the tailpipes are prone to surface rust if the bike spends any time sitting in the rain.Now onto business.
Fat Bob is old school. The key unlocks the steering lock located on the steering head and then moves on to the ignition switch in the centre of the fuel tank. The engine turns slowly until it fires and settles into a trademark idle. There's not a lot of noise from the mufflers but with your eyes closed, you know what you're siting on. The engine shakes at idle like a Norton Commando and always manages to impart that twin-cylinder vibe. You feel it as much as hear it but it's there nonetheless. The handlebar feels right. Off set by tall risers, the height is familiar but the reach is forward. I don't like Harley's twothumb blinker system but I do like the fat grips and excellent rear-view mirrors. New to me is a control on the left switchblock to access the trip computer, the display for which is contained within the speedometer fascia where the odometer once turned. It includes a digital tacho but it will be a brave rider who takes his or her eyes off the road long enough to read it.
The forward-mounted footpegs are the real surprise. They take a while to instinctively fi nd off the lights but, by gosh, they're comfy once you do. For those who haven't tried them, highway pegs are a revelation — so much easier on your knees — but if you're less than six feet tall, they can be a stretch. Bob's are placed just right for us more common folk. The downside is a little less control on unexpectedly nasty patches of road when you would otherwise take more weight on your feet. The riding position is pretty radical all the same. A drag-style handlebar is usually teamed with mid-mounted footpegs, and forward controls with apehangers. It feels contrived at first but the more I ride it, the more I like it. Around town it's ace; alert and battle-ready, very LA. On the highway, it's great to the speed limit, then no worse than any other cruiser. Shifting my bum forward or backward on the very comfortable seat concocts a number of distinct riding postures, handy on a bike that's good for 300km between drinks.
The air-cooled 103-cube twin-cam engine feels like every other Harley big twin I've ridden, except that it now has adequate power out of the crate. The sequential port fuel injection delivers precise fuelling from very low revs but empathetic owners will fi nd a sweeter spot further north. The world's worst kept secret is how slow Harleys are stock and how well they respond to simple intake and exhaust modifications, but this is the first I've sampled to not make  it compulsory. It only took Harley 1690cc! Clutch action is fuss-free, and gear changing deliberate. Gearing is as high as the sky, with sixth reserved for highway speeds.
Bob is a Dyna by birth, and so has the best handling chassis of the extended big-twin family. As with all Harleys, suspension performance is less than sophisticated but adequate unless the pace is pushed on a bumpy road. The only suspension adjustment is a manual, four-position spring preload at the back, which is more about ride height than suspension performance. For me, the big unknown is the wide 16-inch rim up front. I've never ridden a 16-inch Harley and the last Dyna I rode had a skinny 19. Again, I needn't have worried. Bob's chunky high-sidewall 130/90 Dunlop  offers a rolling diameter closer to a generic 17-inch combo, albeit with a flatter profile be er suited to its modest cornering potential. The steering is sweet and accurate at all speeds, whether negotiating an urban roundabout or lining up a fl owing country sweeper. It went exactly where I pointed it, first time, every time, with a seamless transition from upright to apex. The wide, well-fixed handlebar and ultra-low centre of mass also play their parts, and it's more fun than you'd think to punt along a smooth, winding road at four-tenths.
The other big difference up the pointy end is the brakes. Look at that: four-piston calipers on a Harley! Two of them no less! I've ridden many Harleys in the past that were over-reliant on their back brakes but not Fat Bob, which stops like a normal bike. There is feel and power aplenty up front, so much that I wondered if H-D had reduced the braking  force of the single sliding twin-piston rear caliper to compensate. My guess is no, the front ones are just that much better. At no time does it feel over-braked, but antilock brakes are included in the package just in case. Cornering clearance on the left-hand side is pretty good. The forward-mounted controls will first have you scraping the heel of your boot, after which the peg itself will warn that enough is fast approaching. Go harder and you risk holing the primary chain case, which I've done a few times in the past. Things are not so great on the other side. Your heel will ground, followed by the lower muffler well before the peg is threatened.
It's all fun until you hit a bomb crater mid-corner, the suspension compresses and you start ploughing deep furrows in the tarmac. Having said that, it's rare that you'll scrape anything other than your boot heels cruising, touring or commuting. It's an issue only in the twisties, and even then not for everyone. If it is, I know from my own experience with a 2007 Street Bob that a custom high-mounted exhaust can unlock as much right-side clearance as you want. Fuelled up, the bike weighs close to a third of a tonne, but the only time you'll notice is when trying to push it somewhere — it sure makes you think about where you park! The engine is mounted low and so is your backside, which gives the bike great balance even at very low speeds. Its prowess as a commuter is aided by the much-improved
QUICKSPECS
Model: Harley-Davidson FXDF Dyna Fat Bob
Price: From $25,495, plus on-road charges
Colours: Black Denim (as tested), Sand Cammo Denim, Mysterious Red Sunglo, Superior Blue, Vivid Black
Warranty: 24 months , unlimited distance
Servicing intervals: 8000km
Engine: Air-cooled twin-cam OHV V-twin, two valves per cylinder Bore x stroke: 98.4 x 111.3mm
Displacement: 1690cc
Compression: 9.6:1
Power: Not quoted
Torque: 131Nm @ 3500rpm; claimed
Transmission: Wet multi-plate clutch, six-speed gearbox, belt final drive
Frame: Tubular-steel, double cradle
Dimensions: Seat height 691mm, weight 320kg (wet), fuel capacity 18.9L, wheelbase 1620mm, rake 29°, trail 125mm
Suspension: Front, non-adjustable 49mm fork. Rear, twin shocks, enclosed, adjustable for preload
Brakes: Front, dual four-piston calipers. Rear, single twin-piston sliding caliper. ABS
Tyres: Dunlop D427. Front, 130/90- 16B67H. Rear, 180/70B16 77H
Fuel consumption: 5.5L/100km (test average)
Theoretical range: 300km
Verdict: Cool and comfy cruiser brakes and compromised only by the heat radiating off the header pipes of both the front and rear cylinders when you stop. It would be even better with aftermarket pipes — nothing splits the traffic better than a loud Harley — and those of us with longer commutes (I used to do 130km a day) will love the big 18.9L tank. It rained for much of the test period, including a weekend away to the Snowy Mountains in NSW. Probably serves me right for taking Fat Bob out of its habitat, but the deluge emphasised just how exposed to the weather a rider is on a naked Harley. You get some relief from the wind behind the headlights, risers and tank, but your chest and shoulders catch all the rain and trickle-feed it directly to your crotch. Hands and arms, legs and feet all cop a soaking. Yet the worse the conditions, the better the bike, especially when the wind picks up in the thick of a heavy storm. When the going gets tough, the tough get going. I feel planted to the road, engine power is just right and it's not like the wind will blow us off our line.
Luggage options are limited. I travel solo so it's no big deal to ocky-strap my swag to the pillion seat using the pillion footpegs, top rear-shock mounts and blinker stalks. Like most of its brothers, Fat Bob is a fantastic touring bike, at legal speeds anyway. It is very comfortable and sips as little as 5L of fuel every 100km, sometimes less. It's rare you'll use more than six. Despite the weather, I had a ball putting Fat Bob through its paces. It may be that Harley-Davidson is stuck in a time warp, but who's to say that's a bad thing? The brand has inspired many imitators, of which many offer superior performance and technology but none feel remotely like the real thing. The factory that wrote the book on mixing and matching parts to create cool new models has done it once again.