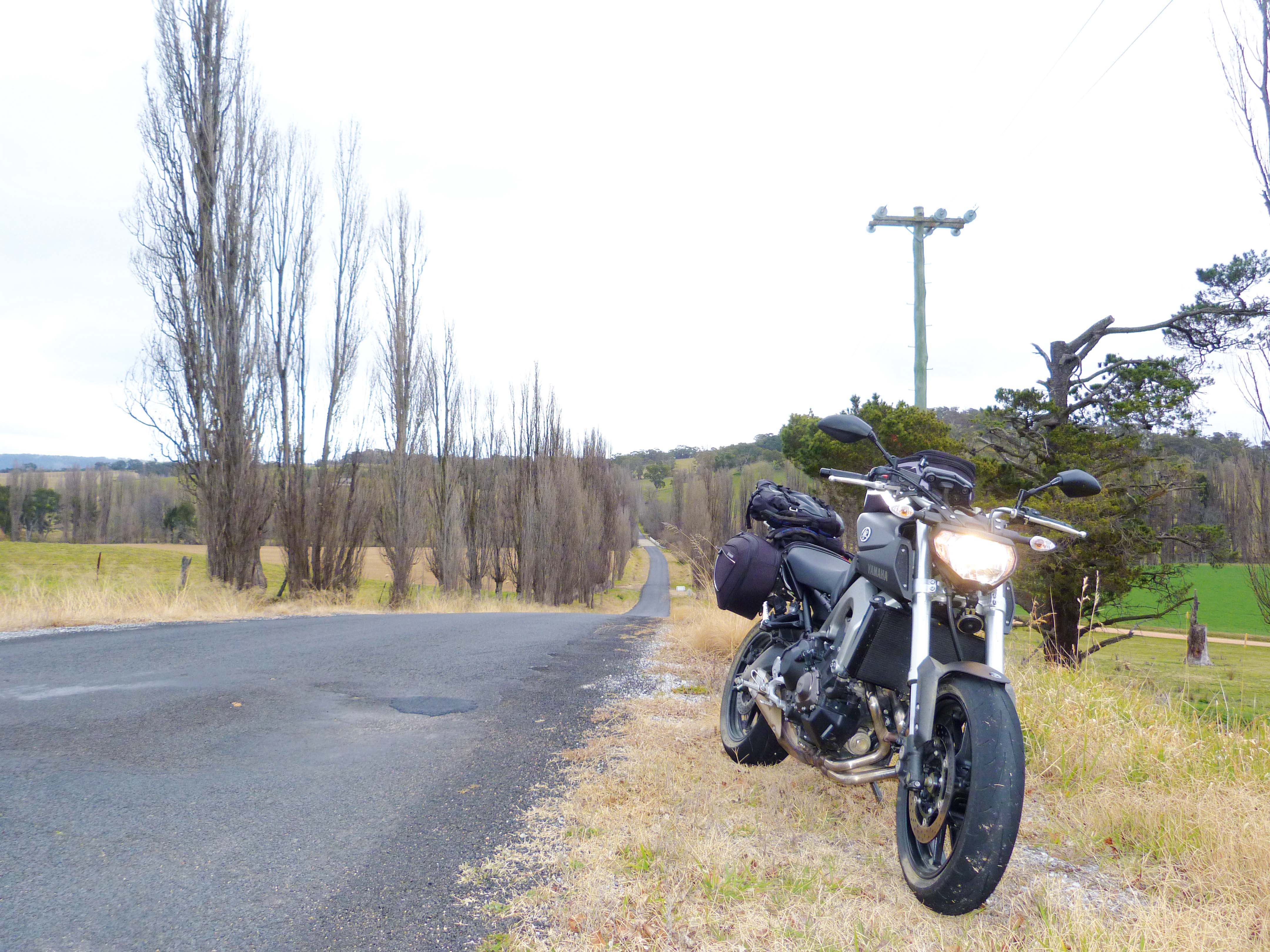 Hill End is a living, working monument to Australian gold-rush history. The tiny historical town is managed by the national parks people, contains an abundance of old buildings, is home to an interesting and eclectic population and still functions like any small country town in Australia. A few gold mines carry on there, albeit in a stop-start manner, and plenty of fossickers chase a bit of "colour" by panning the nearby creeks. It's off the beaten track, and not on a road to anywhere in particular, but getting there is so much fun that you'll always see a few bikes in Hill End on a weekend. In fact, as I headed away from Hill End the other day, I passed a couple of dozen bikes going the other way on what must have been a club run. There's accommodation of all kinds at Hill End , from plush lodges and B&Bs through the old pub to an old miner's hut made of slabs, mud and tin. And of course you can camp.
While you're there, you can tour a range of historical attractions. There's History Hill with its thousands of museum pieces and underground workings to check out.Bald Hill Mine gives you a chance to walk (and climb, if you elect to) through a preserved shaft that was sunk by men on a kind of 19th-century work-for-the-dole scheme — one as illconceived as you'd expect because there's not a speck of gold beneath Bald Hill. Even the pub and general store are historical attractions of their own. And lots more. You won't run out of options in a hurry.
The best reason to visit Hill End is the ride. There are a few ways to go but my favourite, if I'm coming from Sydney, is to head over the mountains to Lithgow and then out to Bathurst on the smaller roads. This means leaving Lithgow on the road to Lake Lyell — that's the turnoff from the Great Western Hwy heading west at the big Shell servo. It gets things going nicely as it climbs up to a ridge with long views to the south before plunging to the dam wall. This is a relatively narrow road in places and not in fantastic condition, but it will prime you for what's to come — this whole ride is a far cry from a boulevard cruise! The road takes you on a bit of a rollercoaster ride before reaching a doglegged intersection at the top of a hill, where you go straight on to Tarana. If it's time for a stop, the Tarana pub is a good one. I always take Muttons Falls Rd to O'Connell, which involves more narrow, twisting fun all the way to this small town where you turn right onto the main road to Bathurst. Taking this route, you've extended the distance from Lithgow to Bathurst from about 60km to 80, and unless you're on a mission it'll probably take you about an hour, give or take …
When you lob into Bathurst you'll turn left onto the highway in town. You can opt to take a right very soon a er to Sofala (it's signposted). That's a great ride up through Wattle Flat to Sofala, where you turn left to Hill End. It's about 10km shorter than the other route to Hill End, but there are two reasons why I generally don't go that way. First, it's more heavily trafficked — not that it's busy, but you will encounter more cars. Second, there's still about 4km of gravel road between Sofala and Hill End, and it's that slow, slithery, tightly-winding sort of road that's not always fun on a road bike. It's a hoot if you're into that kind of thing, of course, and I do ride this way at times just for the gravel, but today we're going the other way.
This means we follow the highway into Bathurst, swing right with it after entering the 60 zone, but then instead of turning le further on where the highway deviates to Orange, we go straight ahead and out through Eglinton. Before you go that far, though, check how much fuel you've got because there's no petrol at Hill End; Hargraves and Wattle Flat are the closest options. The trick in Eglinton, which is now a northern suburb of expanding Bathurst, is to turn left at the second roundabout, even though there are no signs. Soon after, turn right where there is a sign and off you go up Duramana Rd into the 100 zone and out of town.
This road rolls straight for a few kays, rising and falling over low hills before suddenly bending right (this is where you'd turn off onto the Bridle Track before it was closed) and becoming very entertaining in that slightly challenging way of typical crappy backroads. You're now on Turondale Rd. There are lumps and bumps, a few tightening corners, plenty of crests and not a lot of room for error. Stay on your game. The quaint old farmhouses and nice views always vie for your attention, but take it easy if you want to enjoy the sights. A few times you'll tear around a corner over a blind crest, with cambers going off and radii changing; it's wise to keep plenty in reserve if you don't know the road. There's a winding climb up one hill where you'll see Box Ridge Rd veer off to the left. If you have the time to detour, head up there for the views. A small community has gathered on this ridge, building houses which must cop a battering from the weather but which off er inspiring outlooks. I've never been further along Box Ridge Rd to find out if there's anything worth continuing for, but I do know it eventually joins the Bridle Track. That won't get us to Hill End, so we'll go back down to Turondale Rd and continue north.
There's a long descent from here, then more good riding to the Turon River with its low, old wooden bridge. On a hot day, it's a relaxing place to pause and splash cold water on your face. The sharp drop down to the crossing is matched by the steep climb up the other side. Just over the top, you'll reach a T-junction at Hill End Rd. Sofala is down to the right, via the gravel road I've mentioned above. Take a left to Hill End and almost immediately you're twisting and turning up a narrow series of cuttings. Most of the way to the top, a turn-out allows you to stop and look back at the view. Watch out for fallen rocks that often cause a hazard here, and beware of cars on the wrong side of this narrow bit of road while their drivers crane their necks at the outlook.
Up the top, you're on rolling hills and a road that never seems to straighten or find a level. By now you should be used to it, though, and you won't be surprised that it is sometimes unpredictable. If you're an adventure rider with a bit of time up your sleeve, I can recommend turning right at Sally's Flat for a bit of dirt riding to Dougherty's Junction, where you turn left for an even more fun section that takes you to the sealed Hill End–Mudgee road; chuck a left there and go down to Hill End. The detour probably adds half an hour to your ride.
The rest of us will carry on along Hill End Rd. This road was tarred some years ago now and it's mostly still in reasonable condition, though it was never great. You'll pass History Hill on the right, your first clue that the 60 zone of Hill End is close and the ride's almost over. You feel like you're still out in the bush when the 60km/h signs appear but around the corner the scene changes as you enter what's clearly a very old settlement that has retained its character. The info centre on the le is worth pulling into, not just so you can find out what's around but because of the museum display which includes old coaches and machinery.
Further on, a sharp right turn puts you into the town's tunnel of trees, a pretty sight, but the main part of town is around to the left. You won't miss the Royal Hotel and general store just down the road. Pull up, relax and look around. You'll need a break after the fairly intense hour or so of riding since you left Bathurst.