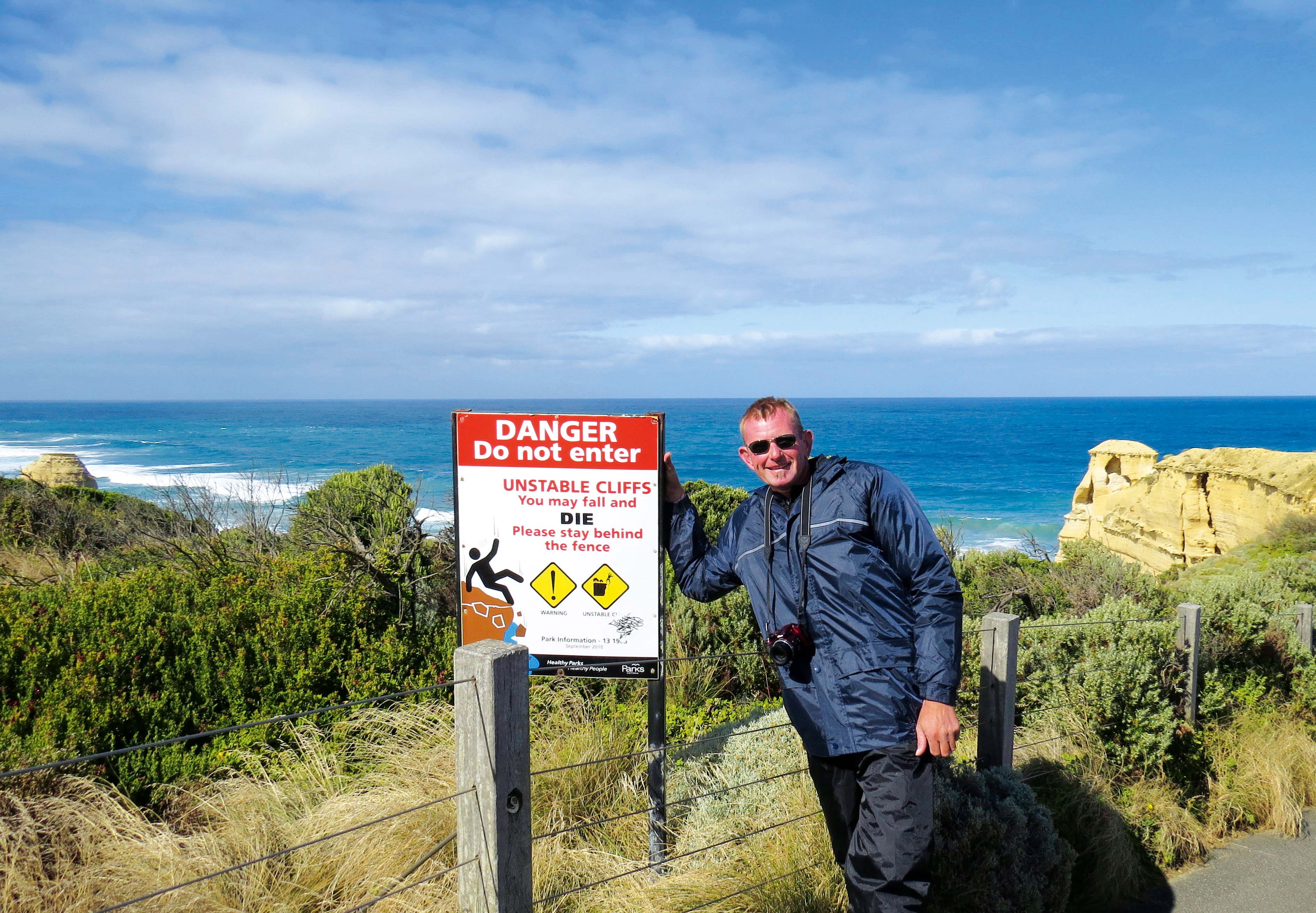 Allow me to introduce myself. I'm David, 58 years old, live in Adelaide and have been riding for just a tad over 14 years, riding both scooters and motorcycles. I have done the odd overnight ride, but up until recently, not a major tour. A friend of mine, Simon, and I had been planning a major ride for a while, so over the last six months we firmed up some time away. We are both heading towards retirement and it was time to live the dream and do what most bikers want — a long ride on the bike!
Now, planning a long ride is very important. I am not convinced that all you need is a bike, a credit card in your back pocket and you're off . This is where ARR has been such an asset to read. Many readers had shared their experiences on what to pack and use as well as pacing out the ride itself.
THE BIKES
I had a Triumph Bonneville, which I had fitted with a touring screen, panniers and top box. Simon had a Yamaha Fazer FZ6 with a top box and so panniers. We decided to have a practice run and do some full-day rides. We soon realised that both our bikes were simply unsuitable for long-distance touring. When you're riding long distances, the seat has to be comfortable. You do need a screen to give you protection against constant buffetting, and a fuel tank that allows you at least 250km of travel before you fill up. Having a good-sized touring package of hard panniers or so pannier bags with rain-proofing and a top box allows you keep things dry, dust-free and tidy. So, I began to do some research on suitable bikes. Both of us suffer from arthritis and I have a bad lower back and I am short! We also had a set budget. So the BMW R1200 was out, so too the Honda ST1300 and Gold Wing, and the Yamaha XJR1300 and Kawasaki 1400GTR were also out! All too bloody big and expensive. Yes, they are very good touring bikes.
However for two people with health issues, we needed something mid-range. We were not ready for large scooters. Manufacturers do produce mid-sized bikes that can be used for touring. For reasons I cannot fathom we just don't get these bikes brought into the country — there is a market that is not being properly catered to. Not everyone (short people included) wants a Harley-type cruiser to go touring!
During my research, Honda came out with the CTX700. Not quite a cruiser or a sports bike, it has a low seat, upright riding position and a fairing for some protection. The price was quite reasonable and even better when we traded in our bikes. So, at Peter Stevens Adelaide, we made the change-over. The CTX700 is an excellent mid-range touring bike with a 700cc parallel twin engine coupled to a smooth six-speed gearbox and chain drive. The footpegs are set forward as are the rear brake and clutch pedals. Did I mention that the seat was low and comfy? And the fuel economy is amazing! The minor negative was the lack of adjustable gear and brake levers.
THE PREPARATION
We fitted each bike with a touring screen, a top box large enough to put in a helmet, and hard panniers. These are important investments in having a bike that will do the job. Remember, when choosing a bike think about what you want to use it for: sports (carving hills), adventure (riding in the bush or across deserts), touring (sight-seeing tours) or just plain cruising (kicking back for a long, easy ride). For us, it was mostly riding on roads and the occasional dirt road. No adventure bikes for us. I installed a 12V power socket on the le side of my Honda's fairing, and from this I powered my GPS, which kept us on course. We also bought waterproof duffle bags to pack some clothes, which we secured to the pillion seat with tie downs. When packing items into the hard panniers, we placed them in shopping bags so they were well contained and easy to remove. Also part of our kit was a basic first aid kit, puncture repair kit, wet-weather pants, a small can of chain lube and some rags for cleaning, plus a basic toolkit for minor repairs.
We learned a lot on our trip: to pack less, pace ourselves on the long hauls with regular breaks, and not drink too much coffee. However, keeping hydrated is most important. It is also worthwhile to book your accommodation in advance as it saves time at the end of a day's ride, and you can get some great deals along the way. Give your riding partners a break, too. Allow some time to go walking – yes, get off the bike – and it's OK to have a lay-day to catch up on sleep, tidy up the bike and wash clothes. Simon and I are now both hooked on touring. We are planning more away trips in South Australia and across the border. It's a cost-effective way to see our great country and you do meet a bunch of great people along the way. Many fellow bikers are full of helpful information on the roads ahead, so now go on, get out there!
THE RIDE
Our journey started at about 6am when we left Adelaide and headed out along the Princes Hwy (the M1) at a relaxed 110km/h cruising speed. Our first stop was Tintinara, a tiny town on the Dukes Hwy (A8), to top up fuel and have a break. At this point we had used less than half a tank. We proceeded to Keith and made a right turn onto the Riddoch Hwy (A66). On this well-made road traffic was light and it was easy to maintain a steady speed south. We by-passed Naracoorte, but it's a thriving town with a good bakery and some nice cafés, plus a wide range of accommodation if you want to stop there. We continued on to Penola, where we stopped for fuel, again after using less than half a tank. It has a nice bakery, coff ee shops, gi shops and an assortment of accommodation for a pleasant stay. However, we pressed on!
At Penola, we took the le turn onto the Casterton-Penola Rd. The road is narrow, and has a lot of vegetation on both sides — great places for kangaroos — and the body count of roadkill roos on the roadside was high. If you manage to get behind a truck, my tip is to stay behind them here, on the centre of the road, and keep the speed steady; it's not a place to go at warp speed. We arrived at Casterton, a beautiful Victorian town with a large hill in the background. It also has a good range of cafés and a bakery, so we stopped for lunch but didn't refuel this time. After a refreshing light meal and some water we proceeded on to Coleraine on the B160 and then to Hamilton.
At Hamilton, we had another break. We had been riding for most of the day and these stops had kept us both refreshed and alert. By the a ernoon we could have been tired, but thanks to the comfort of our CTX700s we weren't. From here, the C184, the Hamilton–Port Fairy Rd, is good, a little rough in places but the traffic was light. Before we got to Port Fairy we turned left onto Spencer Street, heading for Koroit, making the ride a fast and easy way to get to Warrnambool. We stayed at the Bayside Lodge Holiday Units, on Pertobe Rd. It off ers self-catering units of two rooms, a kitchen/dining/lounge area, and our bikes parked out the front. The host is biker-friendly and helpful, and the rates were great too. This is where we stayed for two days to recover, while enjoying the excellent cafés and restaurants. Yes, we did get fuel as we had used up three-quarters of a tank since Penola. It had rained on our second day so we were a little damp, but the locals loved Ballarat via the Road of Remembrance
(the C805) then took a left turn onto the A8 heading for Ararat. At Ararat we stopped for an early bite to eat, rehydrate and walk around the town. The place looks great. Again there is a variety of shops and cafés here but the pubs are old and I think need a bloody good makeover! We then rode up the main street onto the C222, the Ararat–Halls Gap Rd. It's a good road with some fun corners as it gently climbs into the foothills; however, do watch out for the kangaroos and emus. It did not take long to get to Halls Gap. We stopped for fuel only to discover that we'd barely used half a tank each! Did I mention how economical the bikes are?
We stayed at the Budget Motel for two nights. With its bakery, cafés and restaurants, the main street has a 40km/h  speed limit and it is policed! In the early evening and during the night, the place is also full of kangaroos grazing on the lawns. In the morning we began our ride through the Grampians. We took the C222 and headed out on a plethora of twists and turns. The one ride I enjoyed was taking the Silverband Rd that looped back onto the C216, the Grampians Rd, which offers thick forest, streams, high-cut roads and  descents into valley floors. On the C216,  we headed for Dunkeld, but decided to undertake a large loop, by turning right onto the Victoria Valley Rd (C217), which eventually heads for Dunkeld. This is a one-strip bitumen road, so, in the event of oncoming traffic you are required to move over to the extreme left side of the tar to allow the other vehicle to share part of the bitumen. It was a chance to kick back and enjoy the mountains, the vegetation and the district's small farms. We had a brief break at Dunkeld, which is a small town with just a couple of places for take-away food, but at least the public toilet on the main street was clean and modern. We then headed back up the C216 towards Halls Gap. We then rode out on the C222 to complete the ride along this amazing length of road. We passed through the silence of recently burnt-out forests, heading for Zumstein's Crossing, which had also been burnt out so badly that some of the structures were being rebuilt.
We then turned back to Halls Gap for the night. It had been a lot of fun and being there spending money helps the local community recover from the ravages of the bushfires. The next morning was time to head for home, Adelaide. We took the Grampians Rd (C216) back to Stawell and from there we enjoyed a steady ride along the Western Hwy (A8) in Victoria and the Princes Hwy in South Australia. We stopped for fuel at Tintinara once more, and I was home by early afternoon. The bikes were simply perfect for the task. I was comfortable, protected from the weather and experienced no pain from my arthritis.