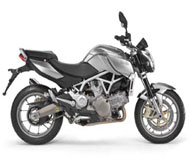 Something wicked
There have been automatics before. Will this one succeed?
Among Polynesian and Melanesian peoples, mana is a supernatural force or power. Maoris believe mana may be either good or wicked. Aprilia obviously thinks its Mana is a good thing, but it may be that a touch of wickedness will be what makes buyers accept it.
But just what is the Aprilia Mana? It's the latest attempt to produce an automatic bike. Honda and Moto Guzzi are among the manufacturers that have tried to produce such a thing. None of them have set the world on fire, so what makes Aprilia think the Mana will do any better?
This is where the wickedness factor comes in. But before we explore that, let's have a bit of a look at the machine itself.
The Mana is a smart-looking mid-sized naked bike, a bit like a gentler Monster or Brutale. There are some neat touches, such as the "fuel tank" which is actually a luggage compartment and holds a full-face helmet – so long as the shell isn't too big. Obviously it will hold a lot of other things instead of a helmet. Vegetables, for instance – I've used it for that. The fuel is under the seat and the air cleaner hangs off the left-hand side of the bike. The seat is reasonably low.
The electronic transmission can be switched between full automatic, called "touring"; manual automatic "sport" (changing gears – actually one of seven preset ratios – is by left hand buttons or foot lever); and "rain", which eases performance back. I mostly just rode in "touring" mode; the difference in performance between that and "sport" seemed to be pretty minimal. I only used "rain" to see what it was like; it made the Mana a little sluggish. It's possible to switch between the modes at any time; just hit the button on the right handlebar and it's done.
So, why do we need an automatic motorcycle? We don't. But with bikes it's not a matter of what we need; it's a matter of what we want (apologies to Bob Dylan). And there is an environment where the automatic is just what I want.
For city traffic use, the Mana is a winner. It's so much easier to concentrate on dealing with errant taxis (what is it with taxis lately?) and bullying delivery vans, not to mention cretinous and suicidal pedestrians. Yes, I know that sounds a little slack – I've just re-read it and wondered if I'm going soft – but it's true.
I can still remember thinking that automatic cars were silly toys and now I wouldn't go back to a manual for anything. I don't think it will ever be that way with bikes for me but the Mana makes a good example of how easy things could be in traffic.
Now to be perfectly frank, while throttle response is exceptionally quick, the engine's power output is not up to, say, a sporty 750's. But that's to be expected and it is certainly snappier than any scooter I've ridden, with the possible exception of the two-stroke Gilera Runner.
The ancestor of the Mana is in fact a Gilera scooter, which donated the engine and automatic driveline. The brakes, on the other hand, came from Aprilia's GP workshop and live up to their background.
Apart from the relaxed riding in traffic because of the automatic, the big attraction of the bike is that it has that terribly raffish and very Italian naked bike look, wrapped around a terribly sensible package: wicked on the outside, nice on the inside. A bit like Delta Goodrem dressed up as Britney Spears. You know what I mean.
I liked the Mana and would not only recommend it to anyone who needs an allrounder that will be used mainly in the city, but would even consider buying one myself as my primary transport (because, sadly, most of my travel these days is in the city). But there's the Buddhist dilemma.
For Buddhists, Mana or Māna is the eighth of the 10 fetters that bind one to the cycle of rebirth. Māna consists of an egocentric preoccupation with one's status vis-à-vis others and may be a problem for this Aprilia when comparing its price vis-à-vis others. For example: spend another gorilla ($1000) and you've got yourself a brand new, 2008 model FireBlade.
Does the Aprilia offer enough to overcome the inevitable price comparisons with the 'Blade and other bikes? Will it be the first automatic motorcycle to gather a substantial following? Well, only you can decide that one, but I suspect the Mana could be a winner.
PT
Quickspecs
Model: Aprilia NA 850 Mana
Price: $16,990 (plus on-road charges)
Warranty: Two years, unlimited distance
Power: 55.1kW @ 7250rpm
Torque: 76.5Nm @ 6000rpm
Engine: Liquid cooled 90 degree V-twin, four-stroke, 16-valve, SOHC, integrated engine management with fuel injection and digital ignition. Twin plugs per cylinder
Bore x stroke: 88 x 69mm
Displacement: 839.3cc
Compression: 10.5:1
Transmission: Sequential with seven-ratio manual or three-mode automatic, final drive by chain
Suspension: Front, 43mm upside down telescopic fork, 120mm axle travel. Rear, side-mounted monoshock, adjustable preload and rebound damping, 125mm axle travel.
Dimensions: Seat height 800mm, weight 202kg (dry), fuel capacity 16 litres, wheelbase 1463mm
Tyres: Front, 120/70 ZR 17. Rear, 180/55 ZR 17
Frame: Steel trellis
Brakes: Front, twin stainless steel floating 320mm discs with four-piston radial calipers. Rear, 220mm disc with single-piston caliper.
Top speed: 200km/h
Acceleration:
0-100km/h: 5.4 sec*
60-100km/h: 2.7 sec*
Fuel consumption: 4.8 litres per 100km*, premium unleaded
Theoretical range: 333km
Colour: Winning red and black, yellow and black
Most Searched Terms: Aprilia NA 850 Mana, Motorbikes in Australia, Motorcycles in Sydney, Bike Riding around Melbourne, Brisbane Motorbike Clubs, Perth Motorcyclists, Adelaide Hills, Canberra Motorbikes, Tasmania's Best Motorbike Tours, Motorbike Trips around Australia, Touring Australia on a Motorbike, Queensland Bike Tours, Victoria's Best Motorbike Trips, Motorbikes in New South Wales, Bike-riders in Western Australia, South Australia's Best Motorcycle Journeys, Road Rider Magazine.