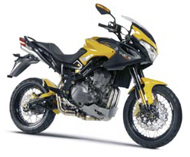 Hear it roar

Getting the effect without surgery
Among the Amazons, breast surgery didn't mean inserting silicone pads. It meant removing one so you could use a bow without it getting in the way.
Tough women, in every way. Is the Benelli Amazonas a tough bike?
No, it's not. But it does sound like it.
The bike is presented as another BMW GS dual sport or "Big Chookie" competitor. BMW started the whole thing nearly two decades ago with the G/S, as it was then, and still leads the market with its GS, as they are now, models. They sell a staggering number of bikes – the 1200 is Germany's best-selling bike, bar none.
It's little surprise then that others would like a slice of the action. The Japanese have all tried, pretty much unsuccessfully and now it's the Italians' turn. Four Italian factories now offer contenders.
None are true competitors for the BMW. They all lack the single-minded "adventure" dedication and the sheer off-road competence of the GS bikes.
But are they good bikes?
The Benelli TreK 1130 Amazonas certainly is. This is the long-legged (as in taller, not faster) dual-sports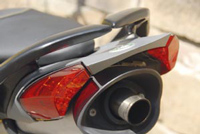 version of the standard TreK, which is itself the toned-down version of the wild animal that is the TnT. All are triples with 1131cc engine capacity and a sound that will awaken the beast in you, too.
Press the Amazonas' starter and there's initially a slight reluctance, very Italian, and then all hell breaks loose. There's noise from the air box, noise from the exhaust, and more than anything else there's mechanical noise from the engine. It suggests carnage, but that's just how Benellis sound. At first it's almost scary, then it becomes familiar and finally it sounds right; this is a machine. It should sound like a machine.
Pull away. Keep the revs up, the fuel injection needs confidence from you. It really lets it rip from about 3000rpm. Acceleration is not entirely linear, there are some flat spots, especially after about 5000rpm. If you're not careful you may find yourself losing traction with the rear wheel on this bike just as on the TnT.
The suspension is stiff and the brakes are more than adequate – in fact, the rear brake can be a bit too adequate. The moral of the story is probably that the Amazonas is not a beginner's bike, but then Benellis aren't. They're huge fun if you know what you're doing, though.
Among the good news is that the Amazonas, in fact the entire TreK range, has less of a drinking problem than the TnT. That sucks the stuff down like Oliver Reid on holidays in Kentucky. But the Amazonas is still a heavy drinker, putting away about 7 litres per 100km with, let's call it "enthusiastic" riding and more if you use more of its potential. It's geared for more than 250km/h. I think the gearing is a bit too long but you can always fix that with different cogs. Don't go too far, though, or you'll end up with another TnT.
The price is high, but that's what we get for having a currency that every greedy trader can manipulate as he wishes. Is it worth it? Well, I'd shell that out to have an Amazonas in the garage; and it would probably stay the only one on the block.
ARR
Quickspecs
Model: Benelli TreK 1130 Amazonas
Price: $23,990 (plus on-road charges)
Warranty: Two years, unlimited distance
Power: 92kW @ 9000rpm
Torque: 112Nm @ 5000rpm
Engine: Liquid cooled inline triple, four-stroke, DOHC, four valves per cylinder, fuel injection and digital ignition
Bore x stroke: 88 x 62mm
Displacement: 1131cc
Compression: 11.9:1
Transmission: Six-speed, wet multi-plate clutch, final drive by O-ring chain
Suspension: Front, 50mm upside-down fork, fully adjustable, travel 175 mm. Rear, link-type monoshock, preload adjustable, 180mm travel
Dimensions: Seat height 840mm, weight 208kg (dry), fuel capacity 21.5 litres, wheelbase 1531mm
Tyres: Front, 110/80 R19. Rear, 150/70 R17
Frame: Trellis steel tubing with glued box section
Brakes: Front, twin 320mm petal discs with four-piston calipers. Rear, 240mm petal disc with twin-piston caliper
Fuel consumption: 7 litres per 100km, premium unleaded
Theoretical range: 307km
Colours: Black/yellow
Verdict: Where's that piggy bank?
Most Searched Terms: Motorbike Reviews in Australia, Benelli TreK 1130 Amazonas, Motorbikes in Australia, Motorcycles in Sydney, Bike Riding around Melbourne, Brisbane Motorbike Clubs, Perth Motorcyclists, Adelaide Hills, Canberra Motorbikes, Tasmania's Best Motorbike Tours, Motorbike Trips around Australia, Touring Australia on a Motorbike, Queensland Bike Tours, Victoria's Best Motorbike Trips, Motorbikes in New South Wales, Bike-riders in Western Australia, South Australia's Best Motorcycle Journeys, Road Rider Magazine.