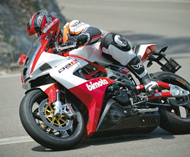 Bike porn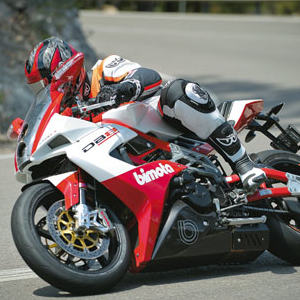 Kisses from the sidelines
Photos Nick Wood
Whether you like sportsbikes or not, the Bimota DB8 SP is a piece of exotica that everyone will be interested in, even just to admire. And that's all that most of us will be able to do. Admire away, because at a recommended retail price of $47,990 (+orc) this baby ain't cheap! As much as we poor motorcycle scribblers whine about low pay, this is one bike that almost makes up for it. I feel lucky and privileged to have ridden it.
Bimota (for those who don't know) is a small, Italian manufacturer of custom and production motorcycles. It was founded in 1973 in Rimini, Italy, by Bianchi, Morri and Tamburini. The company name is an acronym derived from the first two letters of the founders' surnames — Bianchi Morri Tamburini.
Because frame design and overall styling of motorcycles was pretty poor at the time, Bimota concentrated initially on building high-quality motorcycles around existing engines. From the beginning they customised the top models of Suzuki (SB), Honda (HB) and Kawasaki (KB). During the late 1970s, Bimota also helped develop and build motorcycles branded as Lamborghinis. In the 1980s they customised Yamaha (YB) and Ducati (DB) motorcycles.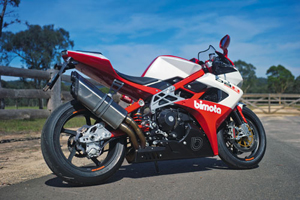 Bimota's co-founder and long-time chief designer, Tamburini, has been an influential player in the development of other Italian brands, most significantly with his work on the iconic Ducati 916, the somewhat less highly regarded Ducati Paso, and MV Agusta's F4; other Bimota designers such as current chief Sergio Robbiano have also been involved with larger-volume manufacturers.
The bikes have been raced over the years, winning several early World Superbike Championship races. Virginio Ferrari won the 1987 TTF1 title aboard a Yamaha-engined Bimota YB4 EI, partnering with Davide Tardozzi who took five wins in 1988. After many years without success, Australian rider Anthony Gobert caused a major shock in 2000 by winning a wet race at Philip Island on a Bimota SB8R.
Bimota has had a bit of a quiet time in Australia of late, but a new importer has taken over. Urban Moto Imports is based in Melbourne and I feel they have the right attitude and foresight to make Bimota successful in our country. Good luck to them.
Well, where do we start with a bike like this? What about the engine that dominates that exquisite handmade frame. As with just about all Bimotas today, it is taken from a Ducati, a pretty easy choice when Ducati is a partner. This one is from the 1198 sportsbike. It punches out a pretty decent smack of L-twin power right throughout the rev range and it is, in fact, the world's most powerful production twin-cylinder and with a handmade, Bimota-designed Zard titanium side exit exhaust system and open clutch basket, it is one noisy machine that draws many onlookers. One pretty woman could not stop blowing kisses at me while I sat at a set of lights …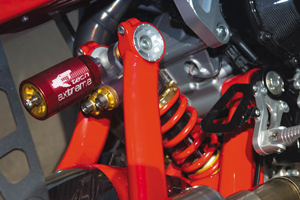 The engine is a perfect match to the Bimota formula and guarantees excitement with every twist of the throttle. But wait, there's more. The DB8 SP 1198 engine benefits from Bimota enhancements including a new fuel injection system controlled by an advanced Walbro ECU, which is highly flexible in its tuning capacity, a great advantage for racing applications. The exhaust header pipes are formed of 52mm stainless steel and route to a catalytic converter mounted under the engine. The exhaust then exits to the Zard right-hand side-mounted silencer.
However, the main attraction to a piece of exotica such as this is the range of high-end materials used. Each and every assembly, fastener and chassis component is elegantly fashioned and manufactured with care, using advanced materials. With billet-machined sub-frames, footrests and control levers, clearly no compromise was ever considered nor made. The details are simply spectacular.
All of the bodywork, including the one-piece self-supporting rear subframe, is made of carbon fibre. Everywhere you look is carbon fibre. I love the appeal of the stuff and I was in seventh heaven throwing a leg over this beauty. I even felt the need to caress the DB8 SP with some of Meguiar's lovely shampoo. Don't you get the urge to give something a rub after viewing something so … pornographic? Other features of the SP that knock your eyes out are the CNC-machined joins for the handmade frame tubing and the CNC-machined radial mount brackets for the Brembo front calipers, which offer tremendous amounts of stopping power and great feel. But the absolute eye-popping, saliva-dripping drawcard on the DB8 SP is that ExtremeTech 2v4 rear monoshock. It just oozes exotica.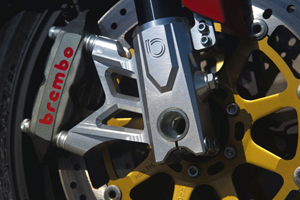 Handling to very precise parameters is what this machine is all about; it is almost pin sharp in how easily it changes direction. Rear-wheel travel is controlled by that eye-fizzing ExtremeTech shock. Specifically developed for the DB8 SP, it is constructed of fully machined aluminium and features separate high- and low-speed damping adjustments, for both compression and rebound, plus spring preload. As a result, the 2v4 can be accurately tuned for any riding style or track condition. On its standard settings, I felt no need to play with it; bucket loads of grip and feel are relayed through to you. On the track I would probably add a little more compression to assist in slowing down the acceleration front-wheel lift.
Front suspension consists of red Marzocchi Corse RAC 43mm forks that are secured with machined aluminium crowns, the lower crown using triple screws. The cartridge-type forks feature nitrite-coated sliders for smooth consistent action, and are fully adjustable. Rebound damping offers 32 clicks of adjustment and compression offers 13, with further adjustment for spring preload that is easily accessible externally at the top of each fork. Additionally, each fork leg features an exclusive Bimota-machined aluminium caliper mount which, as I said, will make you drool. Road holding is accurate with 120mm of precision-controlled wheel travel so you only really need to point and shoot (so to say) and the DB8 SP responds ever so perfectly. The suspension can be a little firm at times, but you're not buying this bike for touring, now are you! On the track, I again would add a little compression and probably some preload.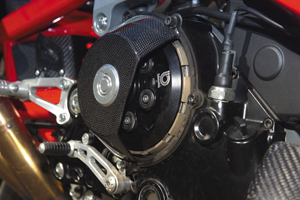 The DB8 SP frame is a masterpiece in itself; it is the most advanced evolution of the Bimota hybrid-trellis design. The composite structure employs nitride and welded thin wall Chrome Moly tubing and machined 6082 AC 100 aluminium alloy. The classic round tubes of the original trellis design have been replaced for the DB8 SP with oval section tubes, in a 50mm x 30mm dimension with 1.5mm wall thickness. The trellis section joins the new, larger and more robust CNC-machined alloy plates, and these work in harmony with the engine as "stressed members" of the frame group. The result is a substantial 2.3kg reduction in weight over the previous DB7, yet with increased rigidity. What you feel as a rider is consistent feedback and stability so you can feel confident about firing it into and out of corners.
The DB8 SP's swingarm is constructed with the same oval tubing and machined aluminium plates as the frame. With the swingarm pivoting directly in the engine cases and using an advanced GP-style rising rate linkage system, rear-wheel travel is highly responsive. An important feature of the system is the ability to adjust ride height, independent of spring pre-load and other suspension settings, via an eccentric top shock mount. This is a critical feature when perfecting suspension setup for the track. Most of us will never need to play with this kind of adjustment, but for those rare few immortal racers who get to ride one of these, it is a great thing to have.
Fitting lighter wheels has always been the racer's way to improve the handling and track feel of a race bike. This normally very expensive upgrade is standard fare for the DB8 SP. OZ Racing Piega five-spoke wheels are ultra-light and dramatically reduce the critical moment-of-inertia, contributing greatly to the DB8 SP's strong braking performance and ease of direction change. It feels very much like a 600 Supersport machine to ride, just with a bucket load more power.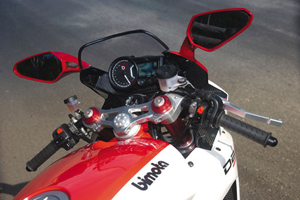 Brembo "radial" pumps for both front brake and clutch actuation offer supreme control, and the billet-machined levers offer a wide range of "reach" adjustability as well as ensuring comfort and control for every rider.
For the Australian market, all DB8 SP's will feature a slipper clutch. The DB8 SP we tested was a pre-slipper clutch version, so a slipper clutch had been bolted to it. It had a touch too much back torque for me and I would prefer something a bit freer flowing, but that's personal.
Ease of use, daytime visibility and accuracy are the fundamental elements of the instrumentation, and the DB8 SP delivers just that. A big analogue tacho and a large LCD screen with multiple digital readouts are well placed for quick access to information while riding.
In addition to the expected displays of time, distance, water temperature and time for service, the DB8 offers further race-oriented features. A shift light is positioned next to the rev counter and illuminates to warn the rider that maximum rpm has been reached. The instrumentation also offers complete timing and recording of racetrack performance. Actuated by the starter button, up to 20 laps can be recorded and reviewed after your track session. Recorded information includes time elapsed, maximum rpm, and maximum speed achieved for each lap.
Handcrafted sport motorcycles are the only thing that Bimota creates, and they are its singular motivation. The DB8 SP is the manifestation of the pride, dreams and talent of Bimota. Pictures will never do this bike justice — you MUST see it in the flesh. But give yourself some time to go over it because the longer you look, the more you find things you may very well never see again. That is the attraction in owning such a masterpiece — knowing you are more than likely the only rider on the road (or racetrack) to have a legal piece of pornography on display for all to see.
SW
Quickspecs
Model: Bimota DB8 SP
Price: $47,990 (plus on-road charges)
Warranty: Two years, unlimited distance
Servicing km intervals: Every 10,000km or 12 months
Engine: Liquid-cooled L-twin cylinder, 4-stroke, DOHC, 4 valves per cylinder
Bore x stroke: 106 x 67.9mm
Displacement: 1198cc
Compression: 12.7:1
Power: 125kW @ 9750rpm
Torque: 131.4Nm @ 8000rpm
Transmission: 6-speed, dry multi-plate slipper clutch, chain final drive
Suspension: Front, 43mm inverted fork, adjustable preload, compression and rebound, travel 120mm. Rear, monoshock, adjustable preload, compression and rebound, 120mm travel
Dimensions: Seat height 800mm, dry weight 177kg, fuel capacity 18 litres, wheelbase 1430mm
Tyres: Front, 120/70/ZR17. Rear, 190/55/ZR17
Frame: Hybrid trellis
Brakes: Front, twin 320mm discs with four-piston radial-mount calipers. Rear, 220mm disc, two-piston calliper
Fuel consumption: 9.56 litres per 100km, premium unleaded
Theoretical range: 188km
Colours: Pearl White/Red
Verdict: Legal porn