A few months ago we met with custom bike designer and producer Carlo Hallacq and spoke to him about his boutique bike business Carlo Hallacq Design and one of his iterations Dark Genesis, a beautiful and stylish upgrade on a Royal Enfield Classic 350 platform. We had some extra shots taken that we didn't run – check them out!
Carlo chose the Classic because it's almost plastic-free out of the box, is extremely affordable in its raw form and is really well-suited to customisation. "I've always respected Royal Enfield because of its history. I chose the 350 because it's a throwback to an earlier time. This could be the last hurrah for the mechanical gasoline era. "You can appreciate the mechanical aspects of this vehicle, something essentially unchanged for 60 years. I want everyone to enjoy the last of the mechanical machines before the electronic era takes over."
Hallacq is keen to work with riders to create their vision though. "The Classic is a 'beta test': I'm keen to see what sort of reaction we get to the bike." He is open to working with riders of different brands. The first task was to choose a style, and making it into a single-seat urban custom was a great idea — after all, the Classic 350 is Learner Approved, and learners can't carry pillion passengers, so why not? The seat base was modified and new upholstery added for the old-style saddle look and feel. To give the bike a bit of a lightweight look, both front and rear guards were shortened, while the blacked-out finish of the wheels, spokes, forks and guards give the bike street presence. The powder coating is high quality to retain its lustre for many years. The headlight surround, handlebars and bar-end mirrors are all also finished in black to keep the 'Black Genesis' theme happening. The paintwork is designed to be unique, with a classic style. It's easy to believe how many people — riders and non-riders alike — might mistake the machine as a well-kept classic.
To keep the bike legal but looking good Carlo has added small PBM indicators, which need to be looked for to be spotted. The standard headlight has been switched out for a modern LED unit while at the rear the indicators do triple duty, functioning as tail and brake lights too. The LED lighting even extends to the number plate, which is mounted on a LED-equipped surround. In keeping with the classic style, Firestone tyres have been fitted. The twin-spark single-cylinder engine has been left standard, but it performs better thanks to better breathing from the pod air filter and short hot-dog muffler, which also improves the acoustics, giving the bike an appealing note. The carburettor (remember them?) has altered jetting to suit the freer-breathing nature of the engine.
The urban nature of the bike screamed out for the ability to carry the day's essentials, so a single leather saddlebag is mounted, blacked-out like so much of the running gear. One of the things we really like about Carlos's Classic 350 is its approachable nature — it's a great entry into the world of custom motorcycles. Of course, when you order your own you can get one just like this, or have Carlo build a machine which suits your style. "We expect to be attractive to the younger market, something that's cool, but isn't looked on as a learner bike."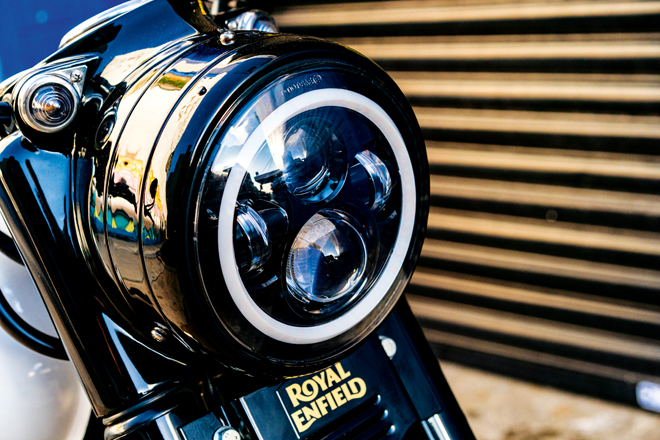 ENGINE Air-cooled, single-cylinder fourstroke; OHV, two valves; 70 x 90mm for 346cc; electric & kick start; single carburettor (!); twin-spark electronic ignition; wet clutch to five-speed transmission; chain final drive; 19.8hp @ 5250rpm (stock)
CHASSIS Single downtube steel chassis using the engine as a stressed member; telescopic forks and twin rear shocks; 19-inch laced wheels; single twin-piston 280mm disc front, sls drum rear; Firestone tyres DIMENSIONS Length 2140mm; seat height 804mm; kerb weight 193kg; fuel capacity 13.5 litres
For sales enquiries go to: carlohallacqdesign.com.au
E: sales@carlohallacqdesign.com.au