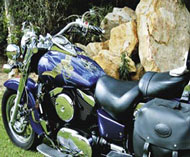 This myth's a hit
Another special metric cruiser from the Kobbers Kruiser Klub
My name is Rick, aka "Slayer", Queensland President of the Kobbers Kruiser Klub, a motorcycle club for owners of Japanese and European cruisers (you can check us out at www.kobbers.com).
The bike you see is a 2002 Kawasaki Vulcan Classic 1500. I chose this bike because it was definitely a cut from the herd at the time. It's a truly well-balanced machine: the elegant design and refined workmanship contrast with its bestial, concrete-ripping aggression. I have tested this bike on almost every terrain imaginable and it never disappoints.
Its power and manoeuvrability allows me to mockingly tear through meandering mountain roads. I can dip this bike in corners and hold it there with little effort. Its remarkable speed makes long and boring highway stretches much more bearable. And to top it off, I can ride this bike for hours and feel relaxed and comfortable all the way – even the pillion has no complaints.
When I purchased this bike in 2004, it was as plain as when it first rolled out of the factory – the paint job was a generic green-black combo and a windscreen the lone accessory. But its ordinary appearance presented the perfect canvas to create an impressive custom-made look. What I had envisioned was a one-off bike that incorporates my fascination with medieval mythical stories, while still maintaining the integrity of the original design. This meant no chopping or mutilating – at the end of the day, it still had to handle like a Vulcan. So with set limitations, I had to be creative.
I approached Terry at Wildfire (located in Redcliffe, Qld) with an idea of a dragons-and-warriors theme for the paint job. I knew that the quality of the artwork could make or break the bike so choosing a good artist and the right design was crucial. So after two initial drafts, I knew Terry had come up with the winner.
The final design makes use of the available space on the tank and wheel guards quite well and the purple background helps create that sense of mystery and depth. I couldn't be more satisfied with the artist's airbrushing skills as every aspect of the design was meticulously detailed (considering the countless compliments I've received since, he definitely comes highly recommended by me). Topping the theme off, I added dragon tail-shaped side mirrors, which look especially impressive in my peripheral vision at 160km/h.
I quite enjoy it when people appreciate what I've done with my bike (I must admit the roar of my custom exhaust pipes makes it hard for people not to turn their heads in the first place). It's a special feeling riding a bike that you've spent hours and a few bucks to make uniquely your own.
But I know now that my bike does more than simply tell the tale of dragons and slayers, which was what I initially set out to do. I'd like to think my bike reminds people what cruisers are all about: showcasing your individuality, respecting the machine and enjoying the ride.
Words: Rick Guy
Photos: Simone Carter
Most Searched Terms: Dragonslayer Cruiser, Best Motorbikes on the Australian Market, 2002 Kawasaki Vulcan Classic 1500 Cruiser, Motorbikes, Motorcycles, Cruisers, Trikes, Motorbikes in Australia, Motorcycles in Sydney, Bike Riding around Melbourne, Brisbane Motorbike Clubs, Perth Motorcyclists, Adelaide Hills, Canberra Motorbikes, Kobbers Kruiser Klub Queensland, Tasmania's Best Motorbike Tours, Motorbike Trips around Australia, Touring Australia on a Motorbike, Queensland Bike Tours, Victoria's Best Motorbike Trips, Motorbikes in New South Wales, Bike-riders in Western Australia, South Australia's Best Motorcycle Journeys, Road Rider Magazine, Road bikes, Cruisers, Bike Touring, Bike Travel, Motorcycle Touring, Motorcycle travel, Bike Gear, Motorcycle Gear, Bike accommodation in Australia, Motorcycle Jackets.