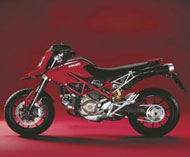 Red riot
With the Hypermotard it's always party time

New motorcycle model "reveals" are always seriously hyped. Whether it's carbon-dioxide "smoke" or girls in skimpy costumes, there's always a bit of theatre before any new machine can be exposed to the gaze of the waiting press corps.
For all that, I can think of only two introductions among the dozens I've attended in recent years that actually led to mini riots: Harley-Davidson's XR1200 and the Ducati Hypermotard 1100. Just hours after the Hypermotard was first shown, it was awarded "Best of Show" at the Milan motorcycle exhibition in 2005. It has won many other awards since.
There has been some argument about Ducati designs recently – think of the 999 and the Multistrada – but you would have had to go a very long way to find anyone who'd criticise the look of the Hypermotard. I'm not absolutely sure about the line of the headlight and front guard but I'm not about to complain. And not just because of the way the Hypermotard looks.
Now this is where we move into difficult territory.
Ducati is quite aware of the bike's temptations: "It offers what no ordinary supermotard can: speeds exceeding 125mph (200km/h)," says the press release – and then adds, "on the race track".
Yeah, right.
The factory puts it very well. "Reduced to its essentials, it is extreme, untamed, [and] over-the-top," says the press introduction. The result is not only a remarkably effective skeletal look but also the kind of lightness that allows the bike to reach its blinding top speed at, well, a blinding pace.
The torque drops off after about 6000rpm but by then you truly don't care. The power and torque are matched not only by a light, stiff frame but also by an absolutely top-quality suspension package.
Unfortunately I found that the bike had a tendency to stand up under brakes – not that I was braking all that hard in corners – but otherwise the brakes were most convincing. In fact, I think the S model's (the S gets mainly upgraded suspension, brakes and wheels) brakes might be a bit more convincing than I really like. The standard bike's are terrific.
It was a pity that any serious braking also meant I was pushed forward even more along that seat. I kept sliding myself back and the bike kept sliding me forward.
The long-stroke engine is so keen to go it feels as if it's producing more than the 94Nm Ducati claims for it. Now the trouble is, this is all a lot of fun, except for the seat, and remarkably safe precisely because the bike is so well designed. But it's only real fun, and the package only really comes into its own, when you're pushing it. That's when it can show off what it can do. Can you see the problem? The Hypermotard is almost an invitation to get yourself into trouble.
Ah well, I suppose I'll just have to leave that to your own conscience. Redheads always were trouble.
ARR
Quickspecs
Model: Ducati Hypermotard 1100
Price: $18,495, $21,995 for the S (plus on-road charges)
Warranty: Two years, unlimited distance
Power: 62kW @ 7500rpm
Torque: 94Nm @ 4750rpm
Engine: Air-cooled 'L', 90-degree V-twin, SOHC four-stroke, two valves per cylinder with desmodromic actuation, fuel injection and digital ignition
Bore x stroke: 98 x 71.5mm
Displacement: 1079cc
Compression: 10.5:1
Transmission: six-speed, dry multi-plate clutch, final drive by O-ring chain
Suspension: Front, 50mm upside down telescopic fork, fully adjustable, travel 165mm. Rear, lever-type single shock, fully adjustable, 141mm travel
Dimensions: Seat height 855mm, weight 179kg (dry), fuel capacity 12.4 litres, wheelbase 1455mm
Tyres: Front, 120/70 ZR 17. Rear, 180/55 ZR 17
Frame: Tubular steel trellis
Brakes: Front, twin 305mm discs with four-piston calipers. Rear, 245mm disc with two-piston caliper
Top speed: 215km/h
Acceleration:
0-100km/h: 3.6 sec
60-100km/h: 4.4 sec
Fuel consumption: 4.8 litres per 100km, premium unleaded
Theoretical range: 258km
Colour: Red, of course
Verdict: Quick as you wanna be
Most Searched Terms: Ducati Hypermotard 1100, Reviews of the Best New Motorbikes in Australia, Fastest Motorcycles, Sydney Melbourne Brisbane, Best of Show at the Milan Motorcycle Exhibition in 2005, Motorbikes in Australia, Motorcycles in Sydney, Bike Riding around Melbourne, Brisbane Motorbike Clubs, Perth Motorcyclists, Adelaide Hills, Canberra Motorbikes, Tasmania's Best Motorbike Tours, Motorbike Trips around Australia, Touring Australia on a Motorbike, Queensland Bike Tours, Victoria's Best Motorbike Trips, Motorbikes in New South Wales, Bike-riders in Western Australia, South Australia's Best Motorcycle Journeys, Road Rider Magazine, Road bikes, Cruisers, Trikes, Bike Touring, Bike Travel, Motorcycle Touring, Motorcycle travel, Bike Gear, Motorcycle Gear, Bike accommodation in Australia, Motorcycle Jackets.