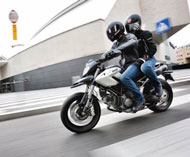 Split personality
Friendlier? More like Mr Hyde…
Ducati has cachet – even people who don't know anything about bikes respect the name – but buying into the brand at the serious end can be pricey.
Like BMW and Mercedes with their Mini Beemers and Mercs, Ducati realised long ago that you can make a lot of people happy by offering a lower-priced entree into its glamourous brand and it has been doing so perfectly with its mob of lower spec Monsters.
Now, for those with dreams of emulating Ruben Zaus backing his Hypermotard 1100 into a corner while waving, comes the Ducati Hypermotard 796 with all of the Ducati cachet and a split personality to boot.
Ducati wanted to open up the unique Hypermotard experience to more riders. To do this, it equipped the "little Hyper" with a "friendlier" 803cc engine based on the Monster 696's power plant, a clutch that is supposedly easier to use, brought the weight down, used different suspension components and added a lower seat. This baby Hyper has the Ducati signature upswept pipes, motard inspired front guard and those thoughtful fold-in mirrors, presumably intended for getting through traffic.
The result, worthy of such a racing marque, is a Dr Jekyll and Mr Hyde kind of motorcycle. There are times when you would cheerfully abandon all others to ride this bike and there are other times when you would prefer it to be less intense.
Let's take a look at what we've got here. The 796 has only 6kW less power than the 1100 but it is well down on torque, with 28Nm less but since it also weighs 12kg less, real-world performance is not all that different.
Get the motor spinning and the 796 is so easy to ride that it is clearly tempting you to misbehave. It's balanced nicely front to rear, it's agile and requires very little input to provide thrills around corners, especially smooth ones. (Rough roads do get the front jittering around though, which is not confidence inspiring). The 796 shares the 1100's braking package. The front Brembo radial mounted calipers cause a bit of front nose-diving but it is manageable via the rear brake. They are both flattered by braided lines.
From the rider's seat, the view is clear and nicely complemented by the orange backlit MotoGP-styled instrument panel, which is the same one used on the Ducati Streetfighter. The instruments are all digital display and offer rpm, speed, trip, lap time and clock. At standstill you can view battery volts and other functions.
The bars are nice and wide, both levers are adjustable, the seat is relatively slim but not especially comfortable and the 796 is very much like a trailbike in its riding position – obviously. To ease the backside, standing up is easy. The seat height is okay but those with shorter legs will tippy-toe.
Turn the engine over and you immediately get that Ducati sensation of a pulsating twin, rattling as if the engine is about to fall apart. It's definitely a head turner! Once moving, you immediately feel the 796 inviting you to loft the front wheel skyward. And here is where Mr Hyde raises his head.
The engine is grumpy at low speeds and can be a handful in traffic. If your commute involves a fair bit of open road and you can keep the engine over 4,000rpm, where the power is linear, albeit with an abrupt cut off at 8,500rpm, this can be a fine commuter. If, like most of us, you face a lot of traffic then the 796 will let you know very clearly that it is not happy.
The clutch is light when the engine is warm but when it's cold, it is a little grabby. It's supposed to have a slipper clutch type action but we easily locked the back wheel into corners. Yes, Ruben! The gear change is notchy and finding neutral when the engine is warm is nearly impossible. We hope this only means a clutch adjustment. Gearbox ratios are spread evenly apart but you do need to remember to keep the revs up, otherwise the entire bike will show its disgust by chattering mightily. It's an all or nothing bike.
The frame is made using a new process that tidies the whole thing up. The quality of the welds is good and the overall finish of the bike is an improvement over previous models. The integrated LED indicators in the handguards look flash (if you will forgive the pun) and give oncoming road users a big eyeful of your intentions.
The Hypermotard 796 thrives on open, smooth roads and it is at its best on flowing mid-speed corners. Just remember its nature in traffic.
More than 45 accessories are available, including exhaust systems and even a small range of luggage.
If you want a bike that works perfectly satisfactorily under all conditions – or very nearly so, choose a Monster. But if you're an all or nothing kind of rider, then your bike is ready, right over here.
Ducati Hypermotard 796 – Quickspecs
Price: $15,990 (black or white) $16,390 (red) plus ORC
Warranty: Two years, unlimited distance
Power: 59.6kW @ 8,000rpm
Torque: 75.4Nm @ 6,250rpm
Engine: Air-cooled, two-valve per cylinder SOHC, Desmodromic L-twin, four-stroke
Bore x stroke: 88 x 66mm
Displacement: 803cc
Compression: 11.1:1
Transmission: Six-speed, wet multi-plate clutch, chain final drive
Suspension: Front, 43mm inverted fork, non-adjustable, travel 165mm. Rear, monoshock, adjustable preload and rebound, 141mm travel.
Dimensions: Seat height 825mm, kerb weight 167kg (dry), fuel capacity 12.4 litres, wheelbase 1,455mm
Tyres: Front, 120/70/ZR17. Rear, 180/55/ZR17
Frame: Tubular steel, trellis frame
Brakes: Front, twin 305mm discs with four-piston monobloc calipers. Rear, 245mm disc, twin-piston caliper.
Fuel consumption: 5.27 litres per 100km, premium unleaded
Top speed: 205 km/h
Acceleration:
0-100km/h: 3.9 sec
60-100km/h: 5 sec
Theoretical range: 235km
Colours: Red, Matt White, Matt Black
Verdict: Will sit someone willing to work with the beast within