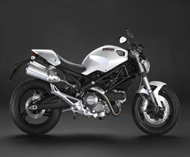 I have seen the future..

… and it is the 696
More than a decade and a half after Ducati blew everyone away at the Cologne motorcycle show with a new model that created a new category, Bologna decided that the Monster franchise needed updating. The 696 shows that the new generation of Monsters will be just as much of a bombshell as the original.
I am not going to make the slightest attempt to sound objective about the Monster 696. Riding up the Illawarra Highway from Wollongong towards Macquarie Pass takes you up a valley that is surely one of the most beautiful in God's creation. Riding it is a life-enriching experience. Riding it on a Ducati Monster 696 is an epiphany.
Yes, all right, I know I need to justify that description, at least a little.
I liked the bike's predecessor, the 695, a lot. A capacity of 600 to 1000cc seems just about perfect for a V-twin (or, as Ducati insists, L-twin) engine, to start with. Ducati put a sweet package around the littlest Monster's drive train to create the 695 and produced a highly enjoyable bike.
The 696 is better in every way. Sometimes the differences are very small, but they add up.
New styling is smart and very contemporary. Take a look at the headlight. The riding position is comfortable but not soporific. With its thinner waistline, low 770mm seat height and shorter reach to higher bars, the 696 fits someone of average height like me, like the proverbial kid glove. It's a biposto, or two-seater.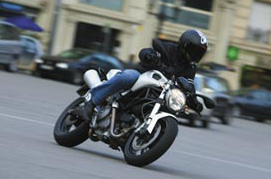 A little more weight on the front improves cornering. The chassis design, "taken directly from Ducati's MotoGP championship winning experience with Casey Stoner", according to the factory, is fitted with high-quality components. It runs inverted Showa forks, a Sachs monoshock with progressive spring, Brembo brakes (radial at the front) and Marchesini three-spoke wheels. With a dry weight of 161kgs, the 696 can also claim to be the lightest in its class.
As an added bonus, the 696 offers Ducati's extended service intervals, reducing costs by up to half from previous models. The price remains the same as the 695.
But that's all numbers, and there are few bikes (apart from racing machines) where numbers actually tell the whole story.
On the 696, all of the above features (and many more) combine to provide sheer pleasure. Now, to be fair, that's sheer pleasure for me. It may be that you are an unusual shape or a good and experienced enough rider to find the limited capacity (and therefore limited power) of the 696 disappointing. But for someone of average talent and perhaps just slightly above average experience such as myself, this bike is just right. And unlike a lot of bikes out there, the Monster 696 is fun to ride at legal speeds. Well, okay, it would be even more fun to ride faster, but it doesn't need to be ridden like a missile.
The closest you're going to get from me to an objective justification for this rave is this: it has been a very long time since I actually laughed out loud while riding up the notoriously treacherous Macquarie Pass. I did on the 696 and I can still raise a smile just thinking about it.
ARR
Specifications
Model: Ducati Monster 696 (and 696+ with seat cowl and bikini fairing)
Price: $12,995 ($13,595) both plus on-road charges
Warranty: Two years, unlimited distance
Power: 59kW @ 9000rpm
Torque: 69Nm @ 7750rpm
Engine: Air-cooled L-twin, four-stroke, two valves per cylinder desmodromic, fuel injection and digital ignition
Bore x stroke: 88 x 57.2mm
Displacement: 696cc
Compression: 10.7:1
Transmission: Six-speed, wet multi-plate slipper clutch, final drive by O-ring chain
Suspension: Front, 43mm upside down telescopic fork, travel 120mm. Rear, single shock, progressive spring, preload and rebound damping adjustable, 148mm travel.
Dimensions: Seat height 770mm, weight 161kg (dry), fuel capacity 15 litres, wheelbase 1452mm
Tyres: Front, 120/60 ZR 17. Rear, 160/60 ZR 17
Frame: Hybrid trellis
Brakes: Front, twin 320mm discs with radial four-piston calipers. Rear, 245mm disc with two-piston caliper.
Top speed: 210km/h
Acceleration:
0-100km/h: 4.2 sec
60-100km/h: 5.3 sec
Fuel consumption: 3.6 litres per 100km, premium unleaded
Theoretical range: 416km
Colours: Red, black, white
Verdict: Future looks good
Most Searched Terms: Ducati Monster 696, Cologne Motorcycle Show, Reviews of Best New Motorbikes, Motorcycles in Australia, Reviewed Riding up the Illawarra Highway from Wollongong to Macquarie Pass, Sydney Motorbikes, NSW's Best Motorbike Trails, Best Motorbike Trips Roads in New South Wales, Motorbikes in Australia, Motorcycles in Sydney, Bike Riding around Melbourne, Brisbane Motorbike Clubs, Perth Motorcyclists, Adelaide Hills, Canberra Motorbikes, Tasmania's Best Motorbike Tours, Motorbike Trips around Australia, Touring Australia on a Motorbike, Queensland Bike Tours, Victoria's Best Motorbike Trips, Motorbikes in New South Wales, Bike-riders in Western Australia, South Australia's Best Motorcycle Journeys, Road Rider Magazine, Road bikes, Cruisers, Trikes, Bike Touring, Bike Travel, Motorcycle Touring, Motorcycle travel, Bike Gear, Motorcycle Gear, Bike accommodation in Australia, Motorcycle Jackets.