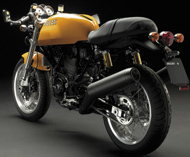 Magic Mongrel
Much more than just a Sport with a dual seat
A hybrid, according to one of my dictionaries, is "an organism that is the offspring of two parents that differ in one or more inheritable characteristics, especially the offspring of two different varieties of the same species … hybrids of different varieties and species are bred to combine the favorable characteristics of the parents. Hybrids often display hybrid vigor" [it's an American dictionary].
Considering we are discussing an Italian motorcycle, it seems appropriate the word should come from the Latin hybrida, a variation of ibrida or "mongrel". I'm not entirely happy about the fact it specifically means "the offspring of a tame sow and a wild boar", but there you go.
Dad is obviously the original Sport monoposto; mum is the GT 1000. From dad the bike gets its name and general aggressive appearance; from mum it gets the dual seat, the fact that it has twin shocks (although the shocks themselves are different), frame, footpegs and pipes. Engines and transmissions are the same on all three models.
The other main change to the genetic material is the 41mm higher handlebars, but they don't come from mum. Somehow they've snuck in from an accessory made available for dad when the complaints about the original low 'bars reached a crescendo.
I'm sure there are people out there who are riding SportClassic Sport 1000s and who are happy with the clip-on handlebars, but I'm equally sure I will never be one of them. My wrists ached after only a few minutes in the saddle. I was not the only one to feel like this, which is why the higher 'bars were made available. Congratulations to Ducati for reacting so quickly and congratulations for making the new 'bars standard on the biposto.
The offspring certainly displays that "hybrid vigor" the dictionary mentions.
Despite its new wet clutch, the bike has lost none of the urge and enthusiasm of the original Sport and the slightly more relaxed riding position only seems to make it a more enjoyable ride. Mind you, that's someone who is (just) beyond the first flush of youth talking. But there is no doubt the bike is much more versatile and not only because you can now carry a pillion. It can also be ridden much further with far more ease. One of our other riders thought the bike was a little too highly geared for city riding and although I hadn't really noticed that I do agree.
But consider that aside from that easier-to-use wet clutch, the bike also gets longer service intervals (reducing maintenance costs) and fully adjustable rear shocks with remote reservoirs and you begin to see a very attractive machine indeed.
It may be that the footpegs reduce cornering clearance slightly, but I never got anywhere near far enough over for this to be a problem. I suspect you won't either. For me, the handlebars are still a little low but I have dud wrists courtesy of a young woman who turned her car across my path quite unexpectedly some years ago. There is a very good chance you will not feel this. It's a pain that the mirrors seem to loosen themselves all the time and not even from vibration. Carry an Allen key!
Oh, there is also an "S" version of this bike, at a $1000 premium, with a fairing based on the Paul Smart limited edition bike, but I think this is a machine that looks better naked, like some other well-known Italians. Did I write that? What was I thinking of? Well, Silvana Magnano, for example… But enough, enough.
The Sport 1000 biposto is precisely what a hybrid should be: better than either of its parents.
ARR
Quickspecs
Model: Ducati SportClassic Sport 1000 biposto
Price: $18,995 (plus on-road charges)
Warranty: Two years, unlimited distance
Power: 68kW at 8000rpm
Torque: 93Nm at 6000rpm
Engine: Air-cooled, 90 degree "L" twin, four-stroke, two valves per cylinder,
Bore x stroke: 94 x 71.5mm
Displacement: 992cc
Compression ratio: 10:1
Transmission: Six-speed, wet multi-plate clutch, final drive by chain
Suspension: Front, 43mm telescopic fork, adjustment by "oil viscosity, oil level and preload spacers", travel 120mm. Rear, twin shock absorbers, fully adjustable, travel 133mm
Dimensions: Seat height 825mm, dry weight 182kg (excludes battery and oil), fuel capacity 15 litres, wheelbase 1425mm
Tyres: Front, 120/70 R17. Rear, 180/55 R17
Frame: Tubular steel trellis
Brakes: Front, twin 320mm discs with twin-piston floating calipers. Rear, single 245mm disc with single caliper.
Fuel consumption: Average 4.1 litres per 100km, premium unleaded
Range: 365km
Most Searched Terms: Motorbike Reviews in Australia, The Ducati Sport Biposto, Best New Motorcycles in Australia, Motorbike Hybrids, Ducati Sport 1000 biposto, Motorbikes in Sydney, Ducati Melbourne, Brisbane Bikers, Motorbikes in the Perth Market, Adelaide Motorbike Stores, Motorcycle Clubs in Canberra, Tasmania's Best Motorbike Rides for Scenery and Views, Motorbikes in Australia, Motorcycles in Sydney, Bike Riding around Melbourne, Brisbane Motorbike Clubs, Perth Motorcyclists, Adelaide Hills, Canberra Motorbikes, Tasmania's Best Motorbike Tours, Motorbike Trips around Australia, Touring Australia on a Motorbike, Queensland Bike Tours, Victoria's Best Motorbike Trips, Motorbikes in New South Wales, Bike-riders in Western Australia, South Australia's Best Motorcycle Journeys, Road Rider Magazine, Road bikes, Cruisers, Trikes, Bike Touring, Bike Travel, Motorcycle Touring, Motorcycle travel, Bike Gear, Motorcycle Gear, Bike accommodation in Australia, Motorcycle Jackets.