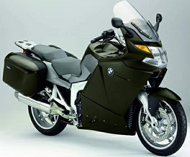 Weather? It's "what weather?" on a GT
It didn't rain quite as hard some of the time as it did the rest of the time, but it didn't entirely stop raining either while I was in Tasmania. I was glad to be on the GT borrowed from Launceston BMW, because the bike was ideal for the conditions.
Not only is the rider protection exemplary, but it's even adjustable with the electric screen. Slowing down? Just raise the screen a little to continue to keep the rain off. Add heated grips and I was comfortable even when it got cold, as it inevitably did. Not so cold that I was tempted by the heated seat, mind you.
The K1200 GT offers just about everything
you could possibly imagine if you spend up and go for the fully optioned SE version.Even standard, the bike has a height adjustable seat (which is too soft, in my opinion – fine for short runs, but not if you spend a long day on it); ABS; adjustable handlebars and so on.
The list is too long to go into here; if you want a fully equipped tourer, be assured that the GT is it. It even has pretty close to the best panniers in the class for volume and accessibility. BMW has learned from all those years of first fitting Krausers and then designing bespoke luggage.
If that were all, it would be pretty good. But the GT has still more to offer. It will run to more than 250km/h (BMW coyly says "more than 200km/h" in the spec sheet), almost as fast as a Kawasaki 1400 GTR, and gets from zero to 100km/h in something like 3.3 seconds. That's the same as a Yamaha FJR1300 and only 0.1 of a second slower than the GTR. It's sort of the Bentley of bikes. You will recall that some British motoring scribe once called the Bentley "the world's fastest truck", but it would be unkind to fit a similar sobriquet to the GT, which is truly a grand tourer.
You can get the bike with traction control, although I'd have to say that for me the jury is still out on the usefulness of that. Also available is electronic suspension adjustment – on the go – which is slowly but, I suspect, inevitably becoming a favourite of mine. At first I thought it was totally unnecessary and also hardly noticeable; having now used it for a few longer runs I disagree with myself and think it's a good thing. It's nice to be able to "tune" the suspension when a set of especially promising bends looms. BMW's unique Duolever suspension at the front and Paralever at the back combine to give a very smooth ride.
The total effect is a bike that's pure fun to ride pretty much as hard as you like, not that I did anything of the sort on Tasmania's wet and windy highways and byways.
Well, all right, I did give myself a bit of a shock every now and then when I looked down at the (rather too reflective even under overcast skies) instruments. The Tasman Highway from Bicheno to the B34 turnoff can be quite a tricky road, with at least two diabolical variable radius corners, but I hardly braked as I swung the big bike along through the rain. Cornering clearance is also exemplary; admittedly I'm not much of a scratcher anyway, but there's no way I'd get the GT down onto the deck. The brakes are excellent.
The bike is also well equipped for touring with simple things such as luggage hooks plus more sophisticated accessories like a power socket and an effective trip computer. Pillions should be happy and not only with the heated seat. They sit comfortably and in a relaxed position. I've already mentioned the high-quality panniers, which stayed dry through the constant downpour, and a matching top case is available. Fuel capacity of 24 litres gives a range of about 470km, which is possibly more than the seat will comfortably let you do.
Other complaints about the GT? Well, it looks a little odd with its bulky front and lean rear if you're not packing panniers, although I wouldn't go so far as to agree with one of my friends that it resembles a greyhound with his head and shoulders in a loaded rubbish bag.
You should run the pricey premium 98 octane unleaded, but the bike has automatic knock control which makes it capable of coping with 95 octane as well. The gearbox has improved enormously, but it's still as crunchy as a packet of corn chips.
There are many sports tourers on the market, because the manufacturers have all worked out that there is demand for these kinds of bikes – mainly from people like you, the typical ARR reader. So the GT has competition, but I would not be surprised if you came back to it after sampling the entire field.
ARR

Quickspecs
Model: BMW K 1200 GT
Price: $29,500 (plus on-road charges) standard, $30,750 for the Komfort version and $31,250 for the SE.
Warranty: Two years, unlimited distance
Power: 112kW @ 9500rpm
Torque: 1301Nm @ 7750rpm
Engine: Liquid-cooled 4 stroke inline four, 4 valves per cylinder DOHC, fuel injection and digital engine management
Bore x stroke: 79 x 59mm
Displacement: 1157cc
Compression: 13:1
Transmission: Six-speed, wet multi-plate clutch, final drive by shaft
Suspension: Front, Duolever, rebound damping electronically adjustable with optional ESA, travel 115mm. Rear, Paralever single shock with lever
system, preload adjustable and compression/rebound damping adjustable with optional ESA, 135mm travel.
Dimensions: Seat height 820 to 840mm (optional lower seat 800 to 820mm), weight 249kg (dry), fuel capacity 24 litres, wheelbase 1571mm
Tyres: Front, 120/70 ZR 17. Rear, 180/55 ZR 17
Frame: Die-cast aluminium bridging frame, load-bearing engine
Brakes: Front, twin floating 320mm discs with 4 piston calipers. Rear, 294 mm disc with 2 piston caliper.
Top speed: 252km/h
Acceleration:
0-100km/h: 3.3 sec
60-100km/h: 3.8 sec
Fuel consumption: 5 litres per 100km, premium unleaded
Theoretical range: 471km
Colours: Deep graphite metallic, deep blue metallic, crystal grey metallic
Most Searched Terms: Motorbike Touring in Tasmania, Best Tasmanian Motorcycle Trips, Bike Tours in Tasmania, Travel Travel by Motorbike, BMW GT, Launceston, Hobart, The Tasman Highway, Bicheno, New Motorbike Models in Australia, BMW K1200 GT, Tasmania's Best Motorbike Tours, Motorbike Trips around Australia, Touring Australia on a Motorbike, Queensland Bike Tours, Victoria's Best Motorbike Trips, Motorbikes in New South Wales, Bike-riders in Western Australia, South Australia's Best Motorcycle Journeys, Road Rider Magazine, Road bikes, Cruisers, Trikes, Bike Touring, Bike Travel, Motorcycle Touring, Motorcycle travel, Bike Gear, Motorcycle Gear, Bike accommodation in Australia, Motorcycle Jackets.