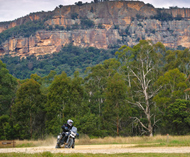 Adventure comparo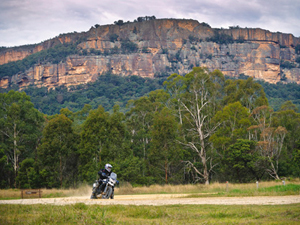 Triumph Tiger XC 800 vs BMW F800 GS vs Yamaha XT660Z Ténéré
Mucking about in the mud
Words: Stuart Woodbury
Photos: Nick Wood
We recently put the big adventure tourers through our torture test (ARR #65) and now it's the turn of the mid-size bikes to be hung out to dry.
These three, the BMW F 800 GS, Triumph Tiger XC and Yamaha's XT660Z Ténéré, are the next thing to full-on enduro bikes — there's some Dakar rally DNA in the mix — and they are capable of covering big distances, taking you anywhere you want to go.
To push them to the limit, we rode them out the back of Lithgow NSW where there is some seriously rugged terrain. We tested them on very fast fire trails, serious uphills, nasty, rocky downhills, deep-water crossings and jumps. It was definitely hardcore stuff.
We've tested the competent GS and Ténéré a couple of times but the newcomer, the Tiger XC, was eager to show what it could do.
My fellow test riders were Nick Wood and "Big Phil" who participated in our previous adventure tourer comparison. Phil is an enduro racer and was our guide through the "power line run" starting at the Zig Zag Railway at Lithgow, heading towards our lunch stop at the Capertee pub.
Engines
To refresh your memory: the BMW F 800 GS has the relatively new and super-flexible parallel twin powerplant and our previous testers loved its seamless spread of power and torque on all terrain.
With its big single 600cc thumper, the Ténéré has the more serious off-road-focused engine where its enormous engine braking helps keep things under control when negotiating steep descents.
The newcomer, Triumph's 800 Tiger XC, sticks with the marque's popular three-cylinder layout and has been built to deliver good low-midrange power — and when the track opens up there's still plenty of top-end to liven things up.
The test
As we headed off into the dirt, Nick hopped on the Tiger XC, Phil chose the Ténéré and I picked the GS. Due to recent heavy rain, the tracks had turned into a combination of mud and soft sand that kept us on our toes all day because, with bikes weighing over 200kg, total concentration was required to avoid eating some of Mother Nature's finest.
All three bikes handled the first big, loose, rocky downhill well. But what comes down must go up. When we stared at the way up the other side I thought, "Whoa, this is going to be hard!" Imagine looking almost straight up for 100 metres or so and knowing that if you stalled on any part of the hill you were like to come tumbling right back down again. Deep ruts and slushy mud made it look even more difficult.
Phil went first on the Ténéré. The bike's high ground clearance, grippy tyres and strong torque made his work easy. I was next on the GS but it hit the first really deep rut and got stuck on the centrestand. Then the bike sank and started to slide but, thanks to my wonderful TCX Combat boots, I managed to dig in and stop myself cartwheeling down.
Phil climbed down and we both, somehow, got the GS moving again. Meanwhile, Nick was waiting at the bottom, happily taking shots and thinking this was all very funny. Then it was his turn and the Tiger XC easily got to the top and surprised us all because its ground clearance was the same as the GS and we assumed it would get stuck as well.

Some conclusions
The best handler off-road was the Ténéré. Its long-travel suspension soaked up all we could throw at it throughout the day and with preload adjustment at both ends you can get seriously off-road.
The Tiger and GS were similar in the way they felt: both needed to be muscled around a bit more but they still coped very well. Both have non-adjustable front forks, which rules out individual fine tuning. You can adjust the rear preload on both bikes when you load up with gear and set off on the dirt (which is the name of the game).
We punted along miles of open fire trails and this is where these machines shine. We all found it easy to push them at highway speeds with both front and rear ends sliding predictably.
Brakes on all three machines were great off road. The ABS on the GS came in handy a couple of times along more open, flat fire trails but we preferred to turn its ABS off when negotiating rougher terrain because it tended to cut in too early.
The Ténéré had the best feel from the front brakes when tackling rocky downhill sections and its better ground clearance and grippier knobbies certainly helped.
We were united about the gearbox ratios on the bikes. The Ténéré's first-to-second ratio is rather too far apart for easy dirt riding. The GS's gears are well spread throughout the entire selection and the Tiger's six cogs are tightly set, so you can get the right gear for all situations.
The Tiger got our votes for comfort. Its lovely seat and forward and higher handlebar setup were good for stand-up riding and suited our different heights.
Comfort on the GS was good for the most part but by the end of the day the seat felt hard.
The Ténéré was uncomfortable after an hour or two because it locks you into one position, which is not so good for the dirty stuff. Substituting flatter bars would improve it out of sight.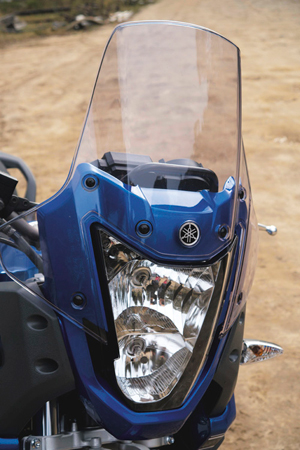 When we worked out the theoretical fuel ranges from each tank, the standout was the Ténéré with 423km, thanks to its large 23-litre-capacity tank.
All three machines were fitted with knobby tyres. The Ténéré had a set of Dunlops that were the most off-road orientated, whereas the GS's Continentals and the Tiger XC's Pirellis were still comfortable on the bitumen.
Windscreen protection on the Ténéré was excellent. It sits high (looking like a Dakar Rally weapon) and, whether you're sitting down or standing up, the screen deflects wind, dust and rocks.
The Tiger offers the next best protection. Its screen is set mid-high and Phil was thankful for it when my rear tyre threw up a large rock which bounced off the screen, saving what would otherwise have been a certain thunk in the face. If you feel the Tiger's standard screen is still not enough there's a higher, adjustable screen option.
The GS has the lowest screen and offers the least amount of protection and it doesn't push the wind and dirt away as much. BMW also offers a different screen, which we would advise if you were riding with others.
Handguards don't come standard on the Ténéré despite this being a necessary feature on an adventure bike. Factor these into your purchase.
The GS was fitted with heated grips and starting off the highway section of the day with warm hands was fantastic. Of course, the Tiger and Ténéré can be fitted with heated grips, too.
Turning circles proved to be a talking point. The Tiger's steering lock was more like a sports bike than adventure machine and when we took the wrong trail it was hard to turn around, whereas the GS and Ténéré turned easily in tight situations.
What did we think?
At the end of the trip, how did the three bikes rate?
Our unanimous choice as an outstanding dirt missile was the Ténéré because of its better ground clearance and generally better off-road capabilities.
The new boy Tiger did very well, too, and its great engine and outstanding comfort made it a real favourite with all of us as well.
Not that there is anything seriously wrong with the GS; it, too, has a great engine and one of the few grounds for complaint was its low ground clearance — which somehow saw it grounded where the Tiger went on. Hmm.
Putting them in any serious order would be nit picking, because the three bikes scored really close to each other. But if you really pressed us for advice on which one you should buy — or perhaps just which one you should look at first — this is what we think:
Hardcore adventurers should consider the Ténéré.
Serious adventurers who want better road manners should consider the Tiger.
Adventurers who want a greater mix of riding should consider the Beemer.
Adventure touring is absolutely booming worldwide and with our dirt roads we're sure to see a healthy growth in this market here. As we demonstrated, all three bikes will handle conditions once thought to be the domain of full-on dirtbikes; you just need to use a bit of muscle.
So go enjoy your adventure bike and chalk up those memories.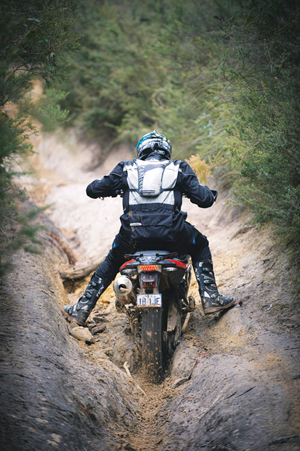 We tested them on very fast fire trails, serious uphills, nasty, rocky downhills, deep water crossings and jumps. It was definitely hardcore stuff.
It's got to be said
Even though Phil has ridden our test route many times he still managed to get us lost. So if you're thinking, "Yeah, a trip like that sounds good to me," we recommend you only do it if you have decent maps (Hema does a good range) and a compass, in case you do get lost.
Always go with someone else, preferably three riders, and only attempt a difficult trail if you are highly experienced. I cannot stress this enough. It is definitely likely that you will crash or at least drop your machine, so having mates to help pick the bike up is a blessing.
At a glance comparo
Engines
BMW: Liquid-cooled 798cc parallel twin — super-flexible engine
Triumph: Liquid-cooled 799cc three-cylinder — good torque and top speed
Yamaha: Liquid-cooled 659cc single — good torque and outstanding engine braking
Best and not so good
Most torque: BMW
Most power: Triumph
Best hill climber: Triumph
Best brakes: BMW — ABS/Yamaha on downhills
Best gearbox ratios: BMW/Triumph
Best suspension setup: Yamaha
Lightest: Yamaha
Tallest: Yamaha
Best fuel consumption: Yamaha
Best tyres off road: Yamaha
Best off-road handling: Yamaha
Most comfortable: Triumph
Best screen: Triumph
Widest turning circle: Triumph
Quickspecs
Model: BMW F 800 GS
Price: $17,250 (plus on-road charges)
Warranty: Two years, unlimited distance
Service intervals: 10,000km
Engine: Liquid-cooled 4 valve per cylinder DOHC, twin cylinder, 4-stroke
Bore × stroke: 82×75.6mm
Displacement: 798cc
Compression: 12.0:1
Power: 63kW @ 7,500rpm
Torque: 83Nm @ 5,750rpm
Transmission: Six-speed, wet multi-plate clutch, chain final drive
Suspension: Front, 45mm inverted fork, adjustable preload and rebound, travel 230mm. Rear, monoshock, adjustable preload and rebound, 215mm travel
Dimensions: Seat height 880mm, kerb weight 207kg, fuel capacity 16L, wheelbase 1578mm
Tyres: Front, 90/90/R21. Rear, 150/70/R17
Frame: Tubular steel space frame, load-bearing engine
Brakes: Front, twin 300mm discs with dual-piston ABS calipers. Rear, 265mm disc, single-piston ABS caliper
Fuel consumption: 5.28L per 100km, premium unleaded
Theoretical range: 303km
Colours: 30-year edition; Lava Orange Metallic/Black Satin; Alpine White
Verdict: Seamless power and torque
Quickspecs
Model: Triumph Tiger 800 XC
Price: $16,290 (plus on-road charges) $17,290 (ABS version)
Warranty: Two years, unlimited distance
Service intervals: 6000km
Engine: Liquid-cooled, 4 valve per cylinder DOHC, in-line three cylinder, 4-stroke
Bore × stroke: 74×61.9mm
Displacement: 799cc
Compression: 12.0:1
Power: 70kW @ 9,300rpm
Torque: 79Nm @ 7,850rpm
Transmission: Six-speed, wet multi-plate clutch, chain final drive
Suspension: Front, 45mm inverted fork, adjustable preload, compression and rebound, travel 220mm. Rear, monoshock, adjustable preload and rebound, 215mm travel
Dimensions: Seat height 845-865mm, kerb weight 215kg, fuel capacity 19L, wheelbase 1568mm
Tyres: Front, 90/90/ZR21. Rear, 150/70/ZR17
Frame: Tubular steel trellis frame
Brakes: Front, twin 308mm discs with four-piston calipers (optional ABS). Rear, 255mm disc, dual-piston caliper (optional ABS)
Fuel consumption: 6.36L per 100km, premium unleaded
Theoretical range: 298km
Colours: Phantom Black; Crystal White; Intense Orange
Verdict: Great engine, maximum comfort

Quickspecs
Model: Yamaha XT660Z Ténéré
Price: $13,999 (plus on-road charges)
Warranty: Two years, unlimited distance
Service intervals: 10,000km
Engine: Liquid-cooled, 4 valve per cylinder SOHC, single cylinder, 4-stroke
Bore × stroke: 100×84mm
Displacement: 659cc
Compression: 10.0:1
Torque: 58.4Nm @ 5,250rpm
Power: 35kW @ 6000
Transmission: Five-speed, wet multi-plate clutch, chain final drive
Suspension: Front, 43mm telescopic fork, adjustable preload, travel 210mm. Rear, monoshock, adjustable preload, 200mm travel
Dimensions: Seat height 895mm, kerb weight 206kg, fuel capacity 23L, wheelbase 1500mm
Tyres: Front, 90/90/R21. Rear, 130/80/R17
Frame: Steel tubular diamond frame with dual tank rails
Brakes: Front, twin 298mm discs with dual-piston calipers. Rear, 245mm disc, single-piston caliper
Fuel Ténéré consumption: 5.43L per 100km, premium unleaded
Theoretical range: 423km
Colours: Blue; Black
Verdict: It's (a) winner