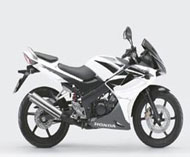 Why you need more than one
Mike Grant gets un-super-sized
When I was young enough to be saving pocket money to buy motorcycle magazines so I could drool over their pages and dream about the day I would actually be old enough to ride a motorcycle, a big bike – huge in fact – was 500, 650 or 750cc.
Even 250cc and 350cc bikes justified the tag of medium-sized. Ordinary, everyday, affordable motorcycles ranged from 90cc to 175cc, capacities that today (scooters aside) are regarded as tiddlers and ridiculously small.
How things change. My first motorcycle was a 175cc air-cooled twin. In the teen street scene of the time this was a perfectly credible-sized machine. But somewhere along the way since then we went the same way as fast food. We got super-sized. Now, to underwrite any sort of street credibility at all you need at least 600cc and even then you'll probably be parking up around the side of the café rather than out the front.
I'm as guilty as anyone when it comes to the big-is-better syndrome. If I had room in my garage and time to do it justice, my instant choice would be a Kawasaki ZX14, so you can imagine my reaction when I was asked to review Honda's new CBR125R. What the hell was I going to do with it? It's a bit hard to get excited about a bike with a horsepower figure that's struggling to get into double digits (about 12-13 bhp).
Well, I can tell you now after a few weeks of playing with it that this little bike has more uses than you can point a handlebar at. Certainly more than that big fat cruiser or high-powered sports bike you've got sitting in the back of your garage. Let me list them for you.
Urban fanging
Because it is so small and light (at just 118kg it makes the superlight CBR600RR seem positively porky at 155kg), it begs you to hop on at every opportunity.
You'll get on it to duck down to the shops and end up taking a detour around your local bay, or parkside road – anything with a few curves and a view – and have a ball revving it out and attacking the bends; all this at (comparatively) legal speeds. This was nostalgia for me – ripping through suburbia with the throttle hard against the stop.
The little 125cc SOHC water-cooled two-valver fairly belts along between 7000 and 10000rpm. The little single roars enthusiastically and dares you to flog it as hard as you can. It feels completely unburstable.
Compare this with your average hyper-sports outing. First you kit up in your leathers then struggle to restrain the beast for the first 30 odd kilometres while you find a road long enough and empty enough to wind it out a bit. You then scare yourself silly for an hour or so and come home with a speeding ticket.
Mad scoot-commute alternative
If you currently commute on a scooter (which I often do in the inner-city precinct where I live) you can sacrifice a bit of storage and have a whole lot more fun by trading your scoot for a CBR.
You still get the same filter-ability, fuel consumption and park-in-a-crevice practicality but on top of this you get proper motorcycle handling courtesy of a rigid chassis (twin-spar steel frame) and grown-up suspension, sharp responsive brakes, and big (ish) wheel ride comfort and security.
Don't get me wrong, I love my Vespa but around corners I swear a cardboard box would be stiffer. The little CBR is a seriously tempting alternative. It's probably worth switching just to trade the scooter's rubber-band auto for the Honda's delightful six-speed gearbox that relishes snickety clutch-less changes. You also get to keep your green halo because the little CBR has a catalytic converter and meets the strict Euro 3 emissions standard.
Oh, and did I mention the price? At $4290 less the $300 cash back offer that applied on the model's release, it's a $1000 cheaper than Honda's own 125cc scooter. This is amazing because there is no compromise in the quality of the components or finish. It is right up there with the usual Honda standard.
Accessorise your lifestyle
Most small capacity motorcycles are styling throwbacks to 1975; that is, plain-Jane nakeds with sit up and beg riding positions that look out of place everywhere but on the streets of Bangkok, Taipei, or Jakarta.
Yamaha's recently released 233cc Scorpio comes out of this mould and to my eye spells style d-o-r-k. With the little CBR on the other hand, Honda has made a big effort to give the bike a lot more visual appeal. It has a "Fireblade" style fairing, nicely tapered bodywork and a neat and attractive four-dial instrument binnacle.
Mix the good looks in with the price, which let's face it is about the cost of a couple of cartons of cigarettes these days and you can afford to get a CBR as an accessory to, say, keep at the holiday house up the coast, or mount on the back of the Winnebago or, of course, strap onto the deck of your super yacht to run around on while in port.
What the heck, it's so cute and cheap you should get one for each.
MG