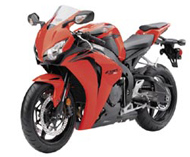 A whole New Cut
John Arens tackles the Island aboard Honda's newest, sharpest 'Blade
The first CBR was introduced back in early '90s when we thought technology was sooo advanced. Well, it's come along way since then and as technology continues to make leaps and bounds I often wonder how much further it will take us.
The motorcycle manufacturers just keep finding ways to impress and inspire us all with new tricks that get us running, not walking into dealerships to buy the latest. Sure, styling has a lot to do with it but it's definitely not everything.
If you want to see technology almost as it evolves, it's instructive to test the latest model against the previous one. Thanks to Honda, that's exactly what we were able to do at the FireBlade launch. I suppose Honda could have quite easily shot itself in the foot by providing last year's model alongside the new one, but I guess it knew it was on a winner. Honda also knew that if it held the launch at Phillip Island, the best place in Australia to hold such an event, everyone there would have a chance to find out just how good this bike actually is.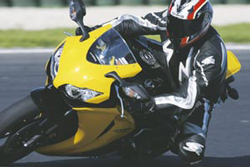 Now then, for those of you who have a '07 'Blade, there's nothing wrong with the earlier model. But it doesn't look as good as the new bike. When you compare the styling, the '08 is smooth and clean but nevertheless has a sharp, aggressive look about it.
The top fairing cowl has air ram ports on each side that feed the 46mm throttle bodies, along with a large radiator that sits just below for cooling the 130.7kW highperformance 16 valve inline four-cylinder engine.
And then there are the techno changes. The new bike is fitted with a cable-assisted slipper clutch that has teeth. Under heavy deceleration, clutch pressure is relieved and on acceleration the clutch is vacuum assisted and becomes tighter.
The main reason for fitting a slipper was to reduce back torque. This happens when the drive train is overloaded as a result of hard engine braking and results in rear wheel hop or locking up. Having a slipper makes entry into corners a lot smoother and cleaner without the necessary worry of what's happening with the rear wheel.
The FireBlade is equipped with radial brakes consisting of twin 320mm rotors with four-piston Hitachi monobloc calipers at the front mounted to the 43mm cartridge type adjustable forks. These look great and are lighter than the previous model's.
A 220mm rotor using a single piston sits at the rear and the bike has no problem coming to a stop at any speed. In fact, while testing at the track it was pretty common for several riders to brake too early and have to roll the throttle on once again!
The main aim during the design of this bike was mass centralisation, keeping the weight central and as low as possible to give it a much lighter feel through corners.Honda has done this well, with the engine set forward to place more weight on the front end. Most bikes have a large muffler
or mufflers that add considerable weight, so Honda used this to its advantage and placed a great looking dual-outlet muffler as low
as possible. The muffler is flat and runs at the same angle as the lower belly pan for maximum ground clearance and gives a nice smooth, clean look to a usually unattractive piece of equipment.
The '08 chassis is made up of four sections and is more rigid and 2.5 kilos lighter than the '07. The newly designed gull-shaped swinging arm ties it all together for strength, rigidity and better handling. The front and rear wheels are triple spoke hollow section cast aluminium for maximum strength and weight reduction. All together, this bike is 11 kilos lighter than the '07.
Mirrors are hinged and can be pulled back towards the fairing to get through those tight spots. They also house the indicators and LED clearance lamps. The fuel tank also looks great with a round, recessed Honda badge on each side; no matter where you look on the Blade there's something different.
This bike is clearly superior in every way to the previous model, whether it's brakes, chassis or engine development.
The seat is narrow and thin, yet quite comfortable and not especially high. As you would expect, the handlebars are low but they're comfortable and feel a touch higher than last year's model.
The instruments are a single compact unit comprising all the normal functions including a fuel gauge. They're also angled well within the fairing. One interesting thing I found was if you hit the kill switch by mistake or on purpose, the engine will still turn over but not start, so thank goodness it's fitted with a new, light yet powerful 7ah battery.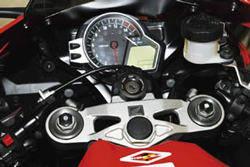 On the track it was like strapping yourself to a rocket and lighting the fuse. It's the most exhilarating bike I've yet ridden. I'm glad it was on a track, but it clearly does everything well. Built as a race bike, its handling, braking and power are superb and it feels very stable whether you're coming into or out of a corner or going in a straight line. It feels very stable, even at very high speed.
Because it does everything so well, it inspires you to try a little harder while it instils confidence.
We also wanted to see what the bike would be like on the road, so with the suspension left the way it was for the track, a few of us escaped to the roads around the Island. That proved to be the right thing to do; it really is a great bike to ride even on uneven surfaces. I tried a number of times to get on the bad edges where bitumen meets bitumen etc but the bike didn't flinch and handled it well.
Gravel roads didn't seem to worry the bike too much either, even with some fairly steep corrugations in places. The suspension soaked them up and smoothed them out, no harshness whatsoever.
The new FireBlade comes in two colour combinations, winning red and graphite black with a black front guard and black decals on the fairing, or yellow and black with a yellow guard and raised chrome decals. Both look stunning, although the red and black is my preference; there's also an
accessory range available and at $17,990 plus on road the price tag is not high for what you get.
JA
Photos: Lou Martin
Quickspecs
Model: Honda CBR1000 Fireblade
Price: $17,990 (plus on-road charges)
Warranty: Two years, unlimited distance
Power: 130.7kW @ 12000rpm
Torque: 113.8Nm @ 8500rpm
Engine: Liquid-cooled inline four-cylinder, four-stroke, 16valve, DOHC, fuel injection and digital ignition
Bore x stroke: 76 x 55.1mm
Displacement: 999.8cc
Compression: 12.3:1
Transmission: Six-speed, wet multi-plate clutch, final drive by chain
Suspension: Front, 43mm HMAS inverted cartridge type telescopic fork with steeples preload compression and rebound adjustment and 120mm axle travel Rear, Unit Pro Link gas-charged HMAS damper featuring 13-step preload and steeples compression and rebound damping adjustment, 135mm axle travel
Dimensions: Seat height 820mm, weight 199kg (dry), fuel capacity 17.7 litres, wheelbase 1405mm
Tyres: Front, 120/70 ZR 17. Rear, 190/50 ZR 17
Frame: Diamond aluminium composite twin spar
Brakes: Front, twin semi-floating 320mm dual-hydraulic discs with four-piston callipers Rear, 220mm hydraulic disc with singlepiston calliper
Top speed: 293km/h
Acceleration:
0-100km/h: 3.3 sec
60-100km/h: 3.5 sec
Fuel consumption: 5.1 litres per 100km, premium unleaded
Theoretical range: 347km
Colour: Winning red and black, yellow and black
Verdict: Smooth in every way