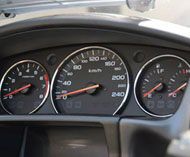 Still the way to fly
The Honda
GoldWing's airbag doesn't look elegant when it's deployed but what price your
life?

There are two reasons you do not ever want to see the airbag on your Honda GoldWing, Luxury Edition, deployed. One is that it looks like a giant, pink backside. The other is that you will just have had a crash.
But look at it this way. At least you're there to see the airbag. If you don't have one when you crash, there is a small but nevertheless definite chance that you'd never see anything again.
Consider the case of German motorcyclist Willi Hansel. He and his GoldWing Luxury were punted off the tar by a people mover that cut across in front of him on a country road.
"I crashed into one of the trees lining the road," said Hansel in a notable case of understatement. The bike was destroyed, with the impact snapping one of the fork legs and even smashing the engine as well as demolishing the GoldWing's entire front. Hansel received serious injuries, but he lived – something that one of the investigating police officers found hard to believe.
"The motorcycle was just scrap," he said. "The rider would definitely have been dead if not for the airbag."
Of course there are other reasons to buy a GoldWing. I recently spent a bit of time with a Luxury GoldWing, after some wingless years, and I kept finding reasons to like it.
The bike is 35 years old, although that probably should be corrected to "the name is 35 years old" – a 2010 GoldWing resembles a 1975 model only in that it has a horizontally opposed multi-cylinder engine. But a lot of the spirit of that original four-cylinder litre bike does live on in the current model: it's big, it's fast and it eats the miles. Oh, kilometres, now.
One major difference is the number of features the current bike offers. Let's run though a quick listing, not necessarily in order of importance.
A 2010 GoldWing Luxury offers the air bag, a unique safety device in the motorcycle market; anti-lock braking (ABS); combined (linked) braking; a trip computer with cruise control; heated handlebar grips and seat; a heater (using redirected engine cooling air); an audio system with front and rear speakers and a CD stacker; fully integrated GPS navigation system; push-button adjustable preload suspension; reverse gear; huge 147 litres of storage in the integrated panniers and top box; and outstandingly comfortable seats for both rider and pillion. GoldWing-branded fabric inner bags for the panniers and top box allow you to enter hotel lobbies in style at the end of the day.
There are other bikes on the market that have almost reached the GoldWing's level of equipment and sophistication, especially from the BMW stable, but none can match it completely – and what's more, none can match the GoldWing's secret weapon.
That weapon is the 1832cc flat six. Kawasaki's 1400cc powerhouse from the GTR and ZX offers staggering ooomph but it has yet to be installed in a full-house luxury tourer and BMW's K Series fours – be they in-line or across the frame – simply aren't in the same league as the GoldWing.
It will be interesting to see what BMW's supposed new GoldWing killer with its across the frame six brings to the table but it isn't here yet and it will presumably take a little while to establish itself in the market. Meanwhile Honda's flat six continues to rule the roost with outstanding bottom and top-end power and flexibility in between. This is a truly remarkable bike to ride, especially when you give it a fistful and that veritable mountain of metal, plastic and rubber just smokes the rest of the traffic.
Do this only under controlled conditions and not on public roads – even a GoldWing is not proof against the depredations of the highway patrol with their boring questions regarding your velocity along that stretch of road back there, sir … we were pushing it a little, weren't we?
The bike also handles remarkably well for such a big machine, especially with the rear suspension pumped up. The weak points here are ground clearance – helped somewhat by increasing the preload on the rear – and the front suspension. If the GoldWing has a weak spot it is this; not that it's bad, it just doesn't quite live up to the rest of the bike.
For various reasons (I do know at least one of them, but if I told you I'd have to kill you), Honda is keen to see many more GoldWings on the road. To help that along, it has been offering some remarkable finance deals.
Honda Finance is offering a 24 month loan with no application fee and – wait for it – zero interest, so long as you pony up a 50 per cent deposit. In other words, pay half now and half in two years, with no payments in between. Alternatively you can get a normal 9.99 per cent loan and there's no application fee for that, either. Both plans are available for the standard $37,990 and the $43,990 Luxury models.
Whether you choose the airbag is, of course, up to you. Willi Hansel has ordered it on his new GoldWing.
PT
Quickspecs
Model: Honda GL1800 GoldWing Luxury
Price: $43,990 (plus on-road charges)
Warranty: Two years, unlimited distance
Power: 87kW @ 5500rpm
Torque: 167Nm @ 4000rpm
Engine: Liquid-cooled, four-stroke, 12-valve, SOHC flat six
Bore x stroke: 74 x 71mm
Displacement: 1832cc
Compression: 9.8:1
Transmission: Five-speed, including overdrive, shaft final drive; electric reverse
Suspension: Front, 45mm air assist telescopic fork with hydraulic anti-dive, travel 140mm. Rear, Pro-Link Pro Arm with electronically controlled spring preload adjustment, travel 105mm.
Dimensions: Seat height 740mm, kerb weight 406-421kg (depending of options chosen), fuel capacity 25 litres, wheelbase 1690mm
Tyres: Front, 130/70R 18. Rear, 180/60R 16
Brakes: Front, twin 296mm floating discs with Combined three-piston calipers, ABS. Rear, 316mm ventilated disc, Combined three-piston caliper, ABS.
Fuel consumption: 6.8 litres per 100km, premium unleaded
Theoretical range: 367km
Colours: Caliente red, nebulous black
Verdict: Still the one
LABELS
The shaft-driven 1832cc flat six has no equal. It delivers outrageous bottom and top end power for a bike of this type.
The only snivels concern ground clearance, which can be improved by using the push-button adjuster to bump up the rear shock.
The GoldWing is packed with features and creature comforts.
Depending on options, the bike weighs from 406 to 421kg – so you will bless the reverse gear.
You'll get about 367km from a tank (6.8l/100 kilometres).
Your pillion will enjoy every minute of the ride – a big plus.
Very good pricing and finance deals make both standard and luxury models hard to resist.
Lou Martin Photo
Box
You don't want to see this
Honda is the only manufacturer to offer an airbag. Just the thought of plunging headfirst into that enormous pink backside is enough to make you do anything to avoid a crash – but it has already saved one grateful rider's life.