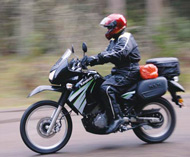 Hanging tough
Want more bike for your hard-earned? Kawasaki's KLR650 delivers
Times are tough, and your next new bike will need to deliver more bang per buck than ever, right?
Right. So are there any truly versatile new rides out there? Yep, several and while special offers are by no means uncommon in bike shops, one of the bikes I recently found is solid value even at full recommended whack.
That bike is the Kawasaki KLR650, which is priced at a mere $8499 (plus on-road costs). The secret of the low price is simple: this essentially is an older bike that's been very attractively re-skinned.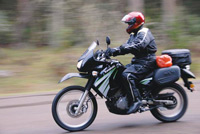 With the KLR you get what you really need, with none of the extras. If you don't think a clock or an LCD screen are necessary and if a plain but pleasant liquid-cooled thumper is enough for you, Kawasaki may just have your bike.
Despite its dirt-bike looks, the KLR is a versatile all-rounder. The bike is well up to anything from commuting to a bit of a weekend scratch. The power may not be too much to crow about but the cornering clearance is terrific! And of course the bike makes a terrific basis for a bush tourer. Kawasaki even has useful and affordable luggage designed for the bike.
The saddlebags are made of what Kawasaki calls a unique rubberised vinyl finish and on a recent and very rainy trip they proved effective if not completely waterproof. They are a little small but cost just $313.10. Made primarily of the same material, the Tail Bag costs even less at $212.70 and expands to take a heap of gear. There's also a $116.40 tank bag and a tall windshield at $145.40 – Kawasaki is serious about making this bike as versatile as possible. No hard fittings are required, everything straps on.
Parliamentarian and ARR regular Brendan Nelson rode the KLR on our recent camping trip.
"While the bike is high I could still touch the road comfortably at my average height," he writes. "The simple gauges were well within my vision behind a smart and useful small windscreen. The seat is what you'd expect for this kind of bike, with my backside getting a little sore after 90 minutes.
"Whether in pouring rain and winding roads or out on the freeway, the Dunlop Trailmax tyres seemed to suit all sorts of conditions.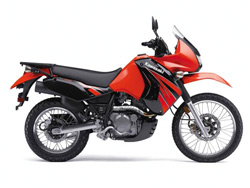 "The rear disc brake is solid and reliable although the front, along with the soft suspension, was a little spongy. The bike comfortably sits on the freeway at 100km/h but still has power for overtaking grey nomads, Kombis and semi-trailers at the 100km/h speed limit!
"You name it, nothing is too much for the bike. The fairing's excellent aerodynamics provide protection on the open road and notwithstanding the modest weight of the bike, it dealt happily with cross winds."
So tell us what you really think, Brendan.
"This bike is outstanding value. It is tough, mechanically simple, has great fuel range and looks good. If you want something that will tour, is versatile and very easy on the wallet, the KLR650 is it."
Can't say much better than that, can you?
Quickspecs
Model: Kawasaki KLR650
Price: $8499 (plus on-road charges)
Engine: Liquid-cooled four-valve four-stroke single, DOHC, TCBI ignition
Displacement: 651cc
Transmission: Five-speed, final drive by chain
Suspension: Front, 41mm leading-axle telescopic fork. Rear, Uni-Trak with five-way adjustable preload and stepless rebound damping
Dimensions: Seat height 890mm, wet weight 194kg, fuel capacity 22.1 litres, wheelbase 1480mm
Tyres: Front, 90/90 21. Rear, 130/80 17
Brakes: Front, 280mm petal disc. Rear, 240mm petal disc.
Verdict: Tough performer for tough times