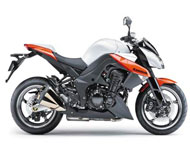 Attitude adjustment
The Kawasaki Z1000 could unleash your inner hooligan
All things come to those who wait. We have waited eight years for Kawasaki to restyle the Z1000, which was an impressive bike on debut and certainly at the time a worthy successor to the ZX-9R but with its sharp looks and weird pipes it got "old" fairly quickly.
Subsequent model Z1000s were still stylish and they went well but the model had lost its edge. Gather round and rejoice sinners, because not only has the Z1000 been reborn, it's brought the biff back with it!
The new 2010 Kawasaki Z1000 is just that – a new bike from the ground up. Kawasaki calls it a "Super Naked" but we're happy to just say it brings plenty of attitude and radical styling to the table, it's basically a sports bike for real-world conditions. And it's well priced, too, at $16,499 plus ORC.
The engine on the previous models was based on the ZX-9R and lacked power by today's standards. It also vibrated a fair bit. The all-new 1043cc engine makes up for that with staggering power in the mid-range. According to one rider, "it feels like a sledgehammer in the back of the head". Kawasaki claims 101.5kW of power and we have no reason to doubt this.
The induction howl is so seductive it makes you want to hit the 6000rpm plus mark all the time, just so you can hear it. We would compare it to a wolf howling at the full moon through a megaphone. Spine-tingling!
Silky smoothness has been built into this new engine, mainly due to a counter-balancer and, probably, the use of four engine mounts instead of three. There are absolutely no vibrations through the pegs or bars, as there were on the previous model. Regardless of whether you ride sedately or allow yourself to unleash its hooligan side, this bike can be used for any and all on-road activities, such as commuting, whipping down to the shops, weekend scratching, touring (with some good luggage hooks) or whatever you feel like.
The Z1000 changes gear with a perfect snick; it is one of the best changes we've encountered for a while. The ratios are set low and close together, which is perfect on the road. The clutch is medium weighted, giving good feel.
For the first time, both the anti-lock braking system and a radial pump master cylinder are standard on the Z1000. (Without those brakes, Stuart Woodbury would have converted a small wallaby into a million pieces and would certainly have ended up in hospital.) The initial bite isn't intimidating and you quickly get used to just how much stopping power there really is. The standard setup comes with the now famous petal discs, radial mounted front calipers and a lovely milled detail where the caliper pistons are.
The bodywork looks like something out of a Transformers movie – you want it to change into an evil-destroying machine with the exhaust pipes actually being laser guns that blast a hole clear for you in the traffic (if only). The paint looks spectacular in sunlight, the pearlescent white and orange just glow.
The Z1000 is so suited to just about any size rider, thanks to the comfortably set upright bars, slim bodywork and 815mm seat height. The suspension is fully adjustable on this bike but unless you are fussy, it's pretty good on the standard settings. The entire package is bolted to an aluminium frame similar in design to the ZX-10R's, where the beams go over the engine allowing a narrower construction. Rough roads do reveal the sportier springs but this is where we liked the setup of the valving, which smoothes the ride instead of throwing you around when you hit a bump. Kawasaki has opted for Pirelli Diablo Rosso tyres and they are an excellent choice for the bike, giving plenty of grip and feel.
A simple yet brilliant idea is the adjustable, LCD instrument panel. Its three-positions can be altered via a pull-out pin to reduce glare on the screen. We tried it on all three positions and found the middle setting worked well. The instruments include speedo, bar graph tacho, bar graph fuel gauge, clock and dual trip meters all encased in a black housing with an orange/yellow screen.
The sports bike styled seat is not going to provide the most comfortable ride but the frequent fuel stops enforced by the relatively small capacity tank will give you plenty of time to get off and walk around.
We conducted three fuel consumption runs, the average worked out to be 7.03 litres per 100km, which equates to about 210km from the 15 litres on offer. However, to achieve the best figures of 6.83l/100km we stayed just within the confines of the road limits. Revving it hard and using plenty of throttle got our worst result of 7.28l/100km.
The Z1000 is up against bikes such as the Yamaha FZ1N, Triumph Speed Triple, Honda CB1000R, Ducati Streetfighter and the Suzuki Bandit. It's the pick of them, except perhaps for the Ducati, which is ruled out of a direct comparison by its price.
Do we have reservations about the Z1000? Well, we do wonder how long that white pillion seat will stay clean. Apart from that, though, if you want a sports bike for the real world, you are missing out if you don't sample Kawasaki's new Z1000.
Kawasaki Z1000 ABS – Quickspecs
Model: Kawasaki Z1000 ABS
Price: $16,499 (plus on-road charges)
Warranty: Two years, unlimited distance
Power: 101.5kW @ 9,600rpm
Torque: 110Nm @ 7,800rpm
Engine: Liquid-cooled, four valves per cylinder DOHC, four-stroke, inline four cylinder
Bore x stroke: 77 x 56mm
Displacement: 1043cc
Compression: 11.8:1
Transmission: Six-speed, wet multi-plate clutch, chain final drive
Suspension: Front, 41mm inverted fork, adjustable preload, compression and rebound, travel 120mm. Rear, monoshock, adjustable preload and rebound, 135mm travel.
Dimensions: Seat height 815mm, kerb weight 221kg (wet), fuel capacity 15 litres, wheelbase 1,440mm
Tyres: Front, 120/70/ZR17. Rear, 190/50/ZR17
Frame: Aluminium twin-tube
Brakes: Front, twin 300mm discs with four-piston monobloc ABS calipers. Rear, 250mm disc, single-piston ABS caliper.
Top speed: 240km/h
Acceleration:
0-100km/h: 3.3 sec
60-100km/h: 3.3 sec
Fuel consumption: 7.03 litres per 100km, premium unleaded
Theoretical range: 210km
Colours: Pearl stardust white with candy burnt orange or metallic spark black with atomic silver
Verdict: The biff is back!