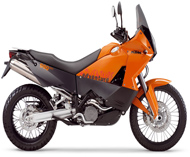 Go big adventuring
You can make a case for size
I once rode a 250cc trailbike around the world, about as adventurous a ride as you could find in those relatively peaceful times, so you might think I prefer small-capacity adventure bikes. Not so. I would have loved more engine capacity. Let's take a look at the negatives and positives of having a big adventure bike.
Weight is a very real problem, it's true. Were I, like Ted Simon, to repeat my ride, I would not take a bike like this — simply because it would cost a fortune to fly it between continents. I have no problem with the weight while traveling; after all, adventure riding is not the same thing as trials or motocross, where weight is critical.
There are only two sets of circumstances when a heavy bike is a disadvantage on tour: when you're negotiating really poor track conditions, such as stony river crossings, and when you're sick. The first case is fair enough, but you probably shouldn't be on the road if you're really sick, anyway.
The other major disadvantage of a large-capacity adventure bike is height, but since this is necessary if you're going to have long travel suspension (on a large or small bike), it's really a given that you need to live with.
My Honda XL250 was not high, but I would have much preferred the bike to be higher if I could have got more suspension travel!
A large bike has a lot of power and torque (which can get you out of lots of trouble), can carry huge amounts of gear and supplies (including fuel), is usually far more comfortable than a small machine and is, or certainly should be, solid and strong. By virtue of its mass, it should also be very much more capable of handling conditions like corrugated track surfaces.
But what about the KTM 990 Adventure itself?
This is a more user-friendly machine than the earlier versions. The suspension has been shortened, lopping something like 35mm off the seat height; the seat itself has been redesigned and is far more comfortable; and the fuel injection has lowered consumption and raised bottom-end torque. The bike is still nimble and trustworthy in poor road conditions, and feels considerably lighter than it is. While it is well balanced, the brakes are less precise than they could be. The luggage system from Touratech is basic but strong.
The bike doesn't have much in the way of obvious crash protection, but when we inevitably dropped it, we found it doesn't much need it, either. A broken but still usable clutch lever was the only damage.
It's a bit of a shame that the oil needs to be hot before you can check the level; I like early-morning checks before I take off for a day's ride, but that's complicated on this bike by the need to run the engine first. It's also a shame the bike lacks a fuel gauge. Considering the relatively small fuel tank — the BMW Adventure's is half as big again — it would be good to have constant information about fuel supply. The warning light comes on a bit early, reducing its usefulness.
Those are mainly niggles, though. And weight or no weight, I could imagine myself spending many hours on gravel and dirt tracks in the outback on a KTM 990 Adventure, enjoying every minute. Bigger might not necessarily be better, but it's not necessarily worse, either.
PT

Quickspecs
Model: KTM 990 Adventure
Price: $ (plus on-road charges)
Warranty: Two years, unlimited distance
Power: 72kW at 8500rpm
Torque: 95Nm at 6500rpm
Engine: Liquid-cooled 75-degree vee twin, 4-stroke, DOHC, balancer shaft, electronic fuel injection
Bore x stroke: 101mm x 62.4mm
Displacement: 999cc
Compression ratio: 11.5:1
Transmission: 6-speed, hydraulic multi-plate wet clutch, final drive by O-ring chain
Suspension: Front, 48mm upside-down fork, fully adjustable, travel 210mm. Rear, single shock absorber, fully adjustable, travel 210mm
Dimensions: Seat height 860mm, dry weight 199kg, fuel capacity 22 litres, wheelbase 1570mm
Tyres: Front, 90/90 21. Rear, 150/70 18
Frame: Tubular chromoly space frame
Brakes: Front, twin 300mm discs with two-piston floating callipers. Rear, single 240mm floating disc with floating caliper. Brembo two-channel ABS
Top speed: 210km/h
Acceleration:
0-100km/h — 3.6 sec
60-100km/h — 5 sec
Fuel consumption: Average on test 6.2 litres per 100km, premium unleaded
Range: 354km
Colour/s: Orange, black, blue
Verdict: The worse the road, the more you'll like this bike