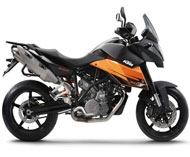 Maverick

The mission: turn a KTM Supermoto into a tourer. Did it work?
What do you get when you cross a sheep with a kangaroo? A "woolly jumper", right? But what do you get when you cross a supermotard with a touring bike? Well, KTM is hoping that the result will be a "super tourer".
But what were they thinking? Sure, more than one-quarter of a century ago BMW produced a new motorcycle category by crossing a dirt bike with a tourer to create the dual-sports bike. But is it really possible to mate such unlikely contenders as a supermotard and a tourer? Even KTM sounds doubtful initially.
"Supermotos are a very specialised type of motorcycle," says the factory, "long-legged, uncomfortable and not exactly suitable for everyday riding… now, the KTM engineers have developed a global innovation… the goal was clear. Like its nearest relative, the 990 Supermoto, the KTM Supermoto T should remain a pure-bred supermoto. But… (it) should also satisfy the craving for a pure supermoto feeling during long-distance travel."
That's a big call. The supermotard concept includes more than just an uncomfortable seat and tall suspension. The bikes are naked, they have close ratio gearboxes, the front wheels are small and pillions are catered for with derision if at all. The whole idea of luggage is foreign to the type.
How do you turn that into a tourer? And perhaps above all, why?
I suspect the "why" is simple: for the same reason George Mallory came up with when he was asked why he wanted to climb Mt Everest: because it is there. If you want to quantify the rewards for coming up with a new type of bike, look at what BMW has made out of the GS series. I'm sure KTM would be happy to create such a big seller as well.
What has it done?
Well, let's see, a sight glass has been added so you can check the oil without using a dipstick. No, seriously. "It gives you a good view of the current oil level," says KTM. This is clearly important, because it is mentioned twice in the brochure. The front mudguard is from the Superduke. KTM made only minor changes to the frame and running gear, although the springs are now considerably stiffer to accommodate luggage and potentially a pillion.
But there are also some visible differences. The most obvious is the frame-mounted fairing with its small but effective windscreen. KTM suggests that the fairing helps with high-speed stability, which may well be true. The bike is certainly stable at all speeds we were game to try out. The hand guards are welcome for touring, too.
And so is the gel seat. Actually thinner than on the Supermoto, with a distinctive saddle for the rider's backside, this is nevertheless wider and more comfortable. It's an unexpected pleasure to be able to say about a KTM seat that I wouldn't mind spending a full day on it.
No changes have been made to the knockout LC8 short stroke V-twin that powers both bikes. This is one of the great bike engines of all times, even though it's a little reluctant to run entirely smoothly below about 2500 rpm and responds rather sharply to the throttle. All is forgiven when it hits its stride, whether in the back streets as a supermotard or out in the mountains as a tourer. Keep a firm grip on your licence. The only real negative here is that the LC8 is rather thirsty.
Touring equipment as such is fairly limited and consists of a tank bag as well as a small rack and a pair of small, soft panniers that clip onto brackets on the exhaust heat shields. The importer didn't have the rack and panniers when we got the bike but I've seen photos. We're talking high-end touring, then, staying in hotels where you don't need to bring anything other than a toothbrush. If there are two of you, forget camping out. If you're by yourself it just depends on how good you are at packing. Or rather not packing.
And so, can we answer the question? Have KTM's engineers been successful at mating the supermotard and the tourer and have they created a "super tourer"?
I'd say they have. From the excellent, fully adjustable suspension by way of that great engine to the brilliant brakes, this is a bike that provides all the excitement of supermotard. And the quick steering and small front wheel certainly don't disqualify it from the ranks of the tourers. The SM T is not a super tourer in the mould of a BMW GT or a Kawasaki GTS, or even a Triumph Tiger or a Honda VFR800. But it is perfectly capable of taking you and your pillion a long way. Not only in distance, but also in enjoyment of the ride.
Quickspecs
Model: KTM 990 SM T
Price: For legal reasons I can't tell you the price of this, or any other bike. Don't blame me – blame the Trade Practices Act.
Warranty: Two years, unlimited distance
Power: 85kW @ 9000rpm
Torque: 97Nm @ 7000rpm
Engine: Liquid-cooled 75 degree V-twin, four stroke, four valves per cylinder DOHC, fuel injection and digital ignition
Bore x stroke: 101 x 62.4mm
Displacement: 999cc
Compression: 11.5:1
Transmission: Six-speed, wet multi-plate clutch, final drive by X-ring chain
Suspension: Front, 48mm White Power upside down telescopic fork, fully adjustable, travel 160mm. Rear, White Power monoshock, fully adjustable, 180mm travel.
Dimensions: Seat height 855mm, weight 196kg without fuel, fuel capacity 19 litres, wheelbase 1505mm
Tyres: Front, 120/70 ZR 17. Rear, 180/55 ZR 17
Frame: Chrome moly trellis
Brakes: Front, twin radial mounted floating Brembo 305mm discs with four-piston calipers. Rear, Brembo 240mm disc with two-piston floating caliper.
Top speed: 220km/h
Acceleration:
0-100km/h 4.1 sec
60-100km/h 4.6 sec
Fuel consumption: 6.5 litres per 100 km, premium unleaded
Theoretical range: 292 km
Colour: Orange/black; silver/black.
Verdict: A pub drinking "what if?" session come true