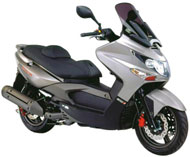 Feet-forward travelling
A scooter can take you a long way – if it's a maxi
How many different kinds of scooters are there? The equivalent question will always get you an argument among motorcyclists. Some will say you need sports, touring, dual-purpose, dirt and cruiser bikes. Others will want to add naked bikes and perhaps sports tourers and power cruisers and supersports (or even hypersports) bikes. The list can go on and on.
It's very different with scooterists. As likely as not, if you raise the same question regarding scooters all you'll get is a quizzical look. A scooter is a scooter, surely?
Well, no.
The reaction demonstrates that there is a whole category of scooters that is generally overlooked by scooterists themselves. I'm referring to maxi scooters and the reason they're overlooked is that very few riders of the common and everyday scooters you see in the city even realise consciously that they exist.
The reason for that, in turn, is that maxi scooters are very rarely bought by the people who consider themselves scooterists. In my experience, they're bought by motorcyclists for their comfort and ease of use.
I suppose we'd better consider what maxi scooters actually are.
As the name suggests, they're big. Engine capacity can be as large as 950cc in Europe, although in Australia at the time of writing they top out with the 650cc Suzuki Burgman. It's difficult to set a lower limit to the engine size because design considerations come into play but nothing below about 300cc would really be considered a maxi. Most of them are 400s or 500s.
The styling tends to include substantial bodywork, offering a lot of weather protection. Most maxis have windscreens and many have hand protection as well. Some of the Piaggios have two wheels at the front. Accommodation for the rider and especially the pillion is comfortable with ample support for long stretches on the road. On the Xciting 500, the front seat's back support can be moved forward or back to suit the rider.
And right there is probably the most important feature: they are intended to do distances, to go travelling out on the open road.
In the city, their bulk removes one of the greatest assets a scooter has, namely the ability to slip through traffic and park in the tiniest space. A maxi scooter can easily take up more room than a motorcycle, even one of quite substantial capacity. Suzuki has recognised the problem of vehicle width by equipping its Executive version of the big Burgman with electrically retractable mirrors. They're useful, too!
Having said all that I also need to point out that a maxi is still just as effective at commuting as a motorcycle – it's just not quite as handy as a smaller scooter.
Apart from all this, maxi scooters are generally still identical to other scooters. That means they have a "step-through" kind of frame, they (mainly) have their engine mounted on the swingarm and they have one or another type of automatic transmission. There are no foot pedals these days and the levers on the handlebars activate the front and rear brakes. On the Xciting, the left lever actuates both front and rear brakes while the one on the right applies only the front brake. The levers are adjustable, a welcome feature for anyone who has "non-standard" length fingers.
Most of them have substantial luggage space under the seat (sometimes enough for a helmet or even two) and a glove box or two. They also usually provide that most convenient of all scooter features, the shopping bag hook on the leg shield between the rider's knees.
Kymco's Taiwan-made Xciting 500 offers all of the above features and advantages, although there is relatively little room under the seat. It adds smart-looking petal-style brake discs and a second glove box, this one between the rider's legs. You can charge your mobile phone from the socket under the seat.
Like a lot of other maxis, the Xciting also has a convenient hand brake. Rear suspension preload is adjustable, which means you can set the scooter up to handle better with or without a load (or a pillion) on board. The fuel filler is conveniently in the top of the leg shield, on the right. Mind you, Kymco says that "there should be no fuel in the filler neck" after refuelling; I'm not sure how you can achieve that.
The instruments are very comprehensive; there's even a light that tells you that your phone is being charged. Naturally there's a clock function for the instruments' LED readout. A diagnostic tool connector allows problems with the fuel injection to be assessed, should they occur. The battery is maintenance-free.
The single-cylinder, four-stroke engine actually displaces 498.5cc, the wheels are 15 inch at the front and 14 inch at the rear – big enough to ride over a lot of rough roads – and the fuel capacity is a reasonable 12.8 litres. The cost is $8990 plus on-road charges and you get a two-year, unlimited distance warranty.
And how's it go?
We were originally warned that the Xciting would be a bit too, well, exciting for someone of less than average height but even with a seat height of 810mm it turned out to be perfectly manageable by shorter riders. The fuel injected engine starts willingly in all sorts of different temperatures (we were having some truly weird weather when I had it) and runs smoothly at all engine speeds. It pulls away willingly and keeps up even with quick traffic quite effortlessly. The handling is remarkably effortless and the steering is light.
Out on the open road, the weather protection is pretty much the same as I've found on similar scooters. Fortunately, the Xciting is anything but when you're on the freeway, even with side winds. Maybe it should be called the Rlaxing. It's no wonder that many motorcyclists who are either getting a little old to handle big touring bikes or just prefer not to be confronted by the Speed Demon's temptation each time they go for a ride, are switching to maxi scooters such as the Kymco Xciting 500.
And seeing that maxi scooters are used mainly by motorcycle riders, maybe they should be considered yet another category of bike!
Quickspecs
Kymco XcitingR 500
Model: Kymco Xciting R 500
Price: $8990
Warranty: Two-year unlimited distance
Engine: Liquid-cooled, four-stroke DOHC fuel-injected single
Displacement: 498.5cc
Transmission: Auto CVT
Suspension: Telescopic fork, twin rear shock
Dimensions: Seat height 810mm, weight 215kg
Tyres: Low profile, front 20/70-15 alloy, rear 50/70-14 alloy
Brakes: Front twin calliper twin wave disks, rear single disk
Fuel capacity: 12.8l
Features: Centre and sidestand halogen headlight, ignition activated storage locking, luggage rack, pillion grab bar, mobile phone charger.
Colours: Silver
Verdict: Will go the distance