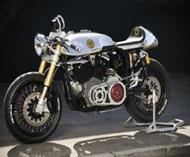 Ace Cafe Racer

The Poms have not forgotten how to build great cafe racers
I would have loved to have been a fly on the wall when Mark Wilsmore, owner of Ace Cafe in London, sat down with custom bike builder Nick Gale and Ace investor George Tsuchnikas to plan the celebration of the Ace Café's 70 years of existence. They decided to do it by producing Ace's very own branded motorcycle, the aptly named Ace Café Racer.
Operating under the name of Stonebridge Motor Company, they put together a bike they describe as "a light, powerful, agile, go-fast motorcycle that is based on the speed thrills and burn up legacy, the very core essence of Ace Cafe London, its culture and its heritage".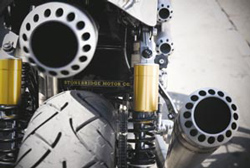 Sound cool? As you can see from the photos, it's even better in the metal. The Ace Café Racer features an S&S Cycle built air-cooled, 100 cubic inch SB V-Twin engine. It has a featherbed style frame and Manx-style bodywork, with brake and suspension set-up to match the performance of the
engine. The first bike is the one in these photos, Little Miss Dynamite. It appeared at S&S Cycle's 50th anniversary custom bike contest in La Crosse, Wisconsin, in June as well as at Champions Park, Sturgis, South Dakota, and for the AMD World Championship in August.
Stonebridge Motor Company plans to produce a limited run of 100 production bikes to be sold in Europe, Japan and America. I was unable to reach anyone who could tell me why Australia was a not included in that list, but you know how the Poms are.
Never mind. We wish them well anyway. If all goes according to plan, Stonebridge Motor Company will then look at creating more models for the custom bike market in the future; maybe with British engines next time?
Mark Wilsmore said that on her return from the USA, Little Miss Dynamite was to have debuted at the cafe in September, with an opportunity to meet the builders, Nick Gale and his team. Pity we missed that one, as well as the bike's appearance on Madeira Drive at the Brighton Burn Up. Ah well, can't be everywhere.

PC
Photos: Ace Cafe
Specifications
Little Miss Dynamite, built by Nick Gale and his team at Stonebridge, is based on a Norton featherbed style frame with power from an S&S V-twin and just the right cafe look.
Frame: StoMoCo Featherbed 'Super' Wideline
Engine: S&S 100ci SB Sportster (1650cc)
Gearbox: Six-speed Baker XL
Suspension: Ohlins
Wheels: 18˝
Rubber: 120 front + 160 rear
Dyno Report (Urbane Racing): 105lbs/sq ft + 135bhp @ rear wheel @ 75% throttle. 140mph @ 5000rpm in 5th gear.
You'll find more information at www.stonebridgemotorcompany.com Also see www.ace-cafe-london.com