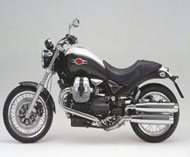 It's-a cruis-a!

Moto Guzzi's latest cruiser is a blast
I have always liked Moto Guzzi's Californias – laid-back machines with big saddles, upright riding positions and surprisingly (for the class) good handling. But the perennial California range was showing its age and the lack of development funding. The bikes were pretty much all the same, with different bits removed or bolted on to make a naked bike, a tourer or whatever.
The Bellagio is something new. Named after a pretty tourist town just across the lake from Moto Guzzi's home in Mandello, it wears only the latest in a long series of odd cognomens.
I mean, there is not much mystery about such names as Le Mans or Monza with their racing connotations and California makes a lot of sense when you're trying to sell a bike into the West Coast.
Bellagio seems to be a deliberately obscurantist choice, beaten only by Lario, one of the names of the lake that separates Mandello and Bellagio. The Lario was a mid-sized high-performance bike, an especially odd choice for an aquatic appellation.
Never mind. At least Bellagio sounds absolutely right: laid-back with that "bella" beginning and yet a little aggressive. The flat black bike is as much a classic cruiser as any Harley-Davidson and Moto Guzzi began its cruiser production at the beginning of the '70s, just when H-D did.
The Bellagio's looks are not for everybody, I know, but I think the bike is visually well conceived – and of course these days Moto Guzzis are also well put together. Thanks go to Aprilia for improvements made after it took over. The look is basic black with chrome and polished aluminium and to my eyes it works.
The ergonomics are outstanding, with a relaxed but in-control riding position and a comfortable seat for the rider, anyway. The unfortunate pillion makes do with one of those diabolical seat "tails" that slopes away to the back. Rear footpegs are high, too, and there's nothing except the rider to hang onto. If you have a regular pillion, he or she had better be a dwarf or a contortionist or you'll be looking for an aftermarket seat.
It's a shame, really, because the seat does look good.
There was a time when it was really hard to justify the price of any Moto Guzzi in Australia. With significant improvements in the design, equipment levels and especially the build quality, this has become less of a problem but the Bellagio is still quite expensive at $17,990. Whether you'll be happy to pony up or not will depend on whether Moto Guzzis ring your bell; you should sample a Bellagio to find out.
ARR
Specifications:
Model: Moto Guzzi Bellagio
Price: $17,990 (plus on-road charges)
Warranty: Two years, unlimited distance
Power: 55kW@7200rpm
Torque: 78Nm@6000rpm
Engine: Air-cooled, 90 degree V-twin, four-stroke, fuel injection and digital ignition
Bore x stroke: 95mm x 66mm
Displacement: 936cc
Compression: 10:1
Transmission: Six-speed, twin-plate dry clutch, final drive by shaft
Suspension: Front, 45mm hydraulic telescopic fork, fully adjustable, travel 140mm. Rear, single link-type shock, preload and rebound damping adjustable, 120mm travel.
Dimensions: Seat height 780mm, weight 224kg (dry), fuel capacity 19 litres, wheelbase 1570mm
Tyres: Front, 120/70 ZR18. Rear, 180/55 ZR17
Frame: High tensile steel tubular twin cradle
Brakes: Front, twin 320mm floating discs with two-piston calipers. Rear, 282mm single disc with single-piston floating caliper.
Colour/s: Flat Black
Verdict: Better Cali