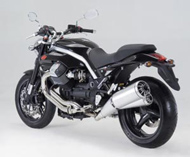 Straight to the top
Want more bottom end or midrange? Wimp.
The original Griso was a powerful machine, a dyed-in-the-wool GT (Grand Tourer), and the new "Quattrovalvole" engine of this bike, with four valves to each cylinder, makes it even more so.
But there's an interesting difference between the kinds of upgrades most bikes have been getting and the changes to the Griso. Except for out-and-out sports bikes, which is something the Griso is not, motorcycle engineers have been keen to increase bottom end and midrange power to make bikes more rideable, more accessible.
Not the eight-valve Griso. The most powerful Griso yet gets its extra punch at the top end. Like the earlier 1100, but more forcefully, it delivers a good spread of power from practically nothing to about 6500rpm. At that point it picks itself up, dusts itself off and starts all over again. It accelerates with the kind of brutal thrust I've never encountered from a Guzzi before, right to redline at 8000rpm.
Not that I'd suggest you try to use any of that performance on public roads, of course.
Despite raising power output from the 1100's 65Nm to 81Nm, the new engine is designed along traditional Moto Guzzi lines as a transverse V-twin.
Its development is rather reminiscent of another GT – in the '30s Bentley found it wasn't keep up with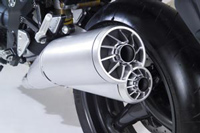 the pack, so it added a supercharger. There was no need for that with this bike. Visually, the Griso was a stunner from the very first model and it's even betterlooking now.
On the road, the bike gives you that wonderful thumping feeling that big Guzzis have always provided. There is some vibration, but it is not intrusive and soon becomes part of the background. Torque twist has been reduced but it's also still there and I'm glad; having the bike tip to one side when you rev it at the lights is part of the experience.
Suspension is sports bike stiff. And when you get up it, it flies – not, admittedly with the performance of a Japanese Superbike. It's a GT, after all. Sports bikes come and go as they become outdated and outgunned; a Moto Guzzi Griso 8v should, instead, keep its owner happy for a very long time.
ARR
Quickspecs
Model: Moto Guzzi Griso 8v
Price: $22,990 (plus on-road charges)
Warranty: Two years, unlimited distance
Power: 80.8kW @ 7500rpm
Torque: 108Nm @ 6400rpm
Engine: Air/oil-cooled 90 degree V-twin, four- stroke, four valves per cylinder DOHC, fuel injection and digital ignition
Bore x stroke: 95 x 81.20mm
Displacement: 1151cc
Compression: 11:1
Transmission: Six-speed, single-plate clutch, final drive by CARC shaft
Suspension: Front, 43mm upside down telescopic fork, fully adjustable, travel 120mm. Rear, lever-type monoshock, fully adjustable, 110mm travel.
Dimensions: Seat height 800mm, weight 222kg (dry), fuel capacity 16.7 litres, wheelbase 1554mm
Tyres: Front, 120/70 ZR 17. Rear, 180/55 ZR 17
Frame: Twin-cradle high tensile steel tubing
Brakes: Front, twin floating 320mm wave discs with four-piston radial calipers. Rear, 228mm disc with two-piston caliper.
Top speed: 233km/h
Colours: Jet black; moon white
Verdict: A hotter GT