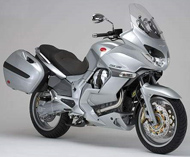 Northerly coming
Good for any compass direction
You have to hand it to the Italians. They try to make the English language work, they really do. But when you read a press release that tells you that "the 2007 Moto Guzzis simply ooze the dynamism behind this legendary name", you realise that some of the finer points of English still elude them.
Mind you, if you listen to what a few Australian owners have to say then so do some of the finer points of the motorcycle business. While complaints about poor workmanship, peeling paint and gremlin-haunted electrics have been pretty much eliminated these days I still hear about riders who are waiting far too long for
spares. The delays could easily be described as "oozing dynamism", but I'm not sure that's a really good thing.
I think the importers are doing what they can to fix it, but it's a bit like NSW — not all fixed yet.
And we're looking at a bike here that deserves the best. The Norge is a pretty seriously well sorted motorcycle in a category that the Italians usually understand as well as they write English. Go on, name some great Italian touring bikes. The Ducati ST series, obviously. And the, err… um. Right.
There's another one now, though.
Named in honour of the first "tourer" built in Mandello and ridden north to the Arctic Circle on a proving trip by Carlo Guzzi himself, this is a bike in the mould of BMW's RT bikes. It has the full, wind tunnel tested fairing, comfortable ergonomics and relaxed engine. There's even a second model, a premium bike a bit more like an LT; the GTL costs $2000 extra and has things such as an electric screen and satnav fitted as standard.
It's worth keeping in mind that this is very much a first model. That explains why the screen, easily adjustable though it is, doesn't really do very much unless it's at maximum height and why the rider's legs get heated whether you want them to or not. The smart-looking panniers leak a little bit, too (wasn't it great to get some rain!).
This is still a Moto Guzzi, so the usual complaint about excessive drivetrain lash applies despite the new technology of the massive swingarm. Oh, and why is it so hard to check the oil?
The bike is steady up to significantly illegal speeds, when it gets a little bit of a weave up. This may be because of the rather soft rear suspension. More importantly, the centre stand scrapes as soon as you see a corner. This is the one thing I would change if I owned a Norge: ciao, centre stand. It's no great loss; after all, there's no chain to look after.
But I certainly wouldn't mind owning one of these, despite those Norge niggles.
It looks good, both at a distance and close up. It sounds terrific. It goes well. Things like the gearbox and brakes work pleasingly well, ABS is standard and both rider and pillion are well accommodated. Travel is a pleasure, as it should be on this kind of bike.
Yes, I'm known as a Guzzi enthusiast but I think I'm being fairly unemotional here. Try a Norge. As with all Guzzis, if you can bear to give it back after half a day it probably isn't for you — but if you can't…
Quickspecs
Model: Moto Guzzi Norge 1200 GT
Price: $24,990 (plus on-road charges)
Warranty: Two years, unlimited distance
Power: "Over" 66kW at 7500rpm (strange way to put it, right)
Torque: "Over" 100Nm at 5800rpm (as above)
Engine: Air-cooled, 90 degree vee-twin, four stroke, four valves, electronic fuel injection and digital ignition, twin spark
Bore x stroke: 95 x 81.2mm
Displacement: 1151cc
Compression ratio: 9.8:1
Rake/trail: 25.3 degrees/120mm
Transmission: Six-speed, dry clutch, final drive by Compact Reactive Shaft Drive
Suspension: Front, 45mm telescopic fork, adjustable preload, travel 120mm. Rear, single arm suspension with progressive linkage, adjustable rebound damping and pre-load, travel 140mm
Dimensions: Seat height 800mm, dry weight 246kg, fuel capacity 23 litres, wheelbase 1495mm
Tyres: Front, 120/70 ZR17. Rear, 180/55 ZR17
Frame: Tubular cradle, high tensile steel
Brakes: Front, twin 320mm floating discs with four-piston calipers, ABS. Rear, single 282 mm disc with dual-piston caliper, ABS.
Fuel consumption: Average 5.8 litres per 100km, unleaded
Range: 396km
Colour/s: Silver, red
Verdict: A choice for Italian touring.