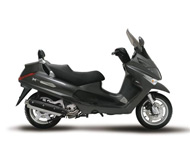 Singapore sling
Putting Piaggio's agile style to work in the tropics

It was all very different from my last ride in Singapore, when my long-serving XL250 Honda refused to fire at the start of the long overland ride to the Guinness brewery in Dublin.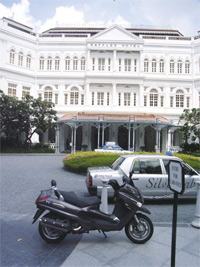 For a start, the 400cc Piaggio XEvo scooter I had borrowed from Piaggio Singapore sprang keenly into life when I pressed its electric starter. And then, at the very first roundabout, I saw my first crashed two-wheeler.
It was a small scooter and looked like a cardboard model that had been torn apart by a couple of playful Dobermans. It probably had been "nudged" by a car and gone end over end a few times, ending up not far from its rider who was receiving the undivided attention of two ambulance men. He wasn't moving.
I was to see several more crashes in the days ahead – enough to convince me that borrowing the XEvo rather than one of the more common small scooters had been a good idea. Its pleasantly quick but not snappy acceleration is the best way I could think of to stay away from the rest of the traffic and therefore out of trouble.
The suspension quality is about motorcycle standard, meaning quite good. The 14-inch wheels and 1540mm wheelbase make the XEvo stable at speed – not that I sampled too much speed in tightly policed Singapore – without making it awkward to turn. Feet-up U-turns are easy on the XEvo, even in quite narrow Singapore alleys. And unlike maxi scooters it's narrow enough to fit through all but the tightest of traffic jams, yet has good road presence.
Despite the narrow body, the XEvo's leg shield and windscreen provide good protection. This is useful in several ways. It keeps some of the airborne grit off you – despite its obsessive cleanliness, Singapore has almost the usual "thick" South-East Asian air. The little cocoon also kept some of the effects of the all-pervasive humidity at bay and it even kept me dry when a light version of the afternoon downpour caught me unawares.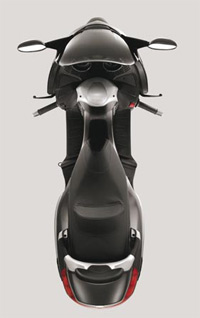 There's a lot of storage under the seat, enough for two full-face helmets, says Piaggio, and it's also accessible by way of a neat hatch at the back of the scooter. Both the seat and the hatch open by a remote control on the key. The seat is broad and comfortable for both rider and pillion and the riding position is typically Piaggio scooter – relaxed and not too restrictive.
Modern scooters can be a bit anodyne; their styling (unless they're Vespas) and their operation are so much alike that I occasionally find myself looking at the badge to see what I'm riding. The XEvo is likewise afflicted but maybe it's a good thing – after all, there is nothing wrong with being like something else if that something else is the best there is.
The XEvo's nine-grand price tag seems reasonable, especially as there are no obvious signs of corners being cut with design or build quality. The XEvo 400 lets you mix it with some of the toughest traffic in the world – Singapore and Sydney – and that alone is a meaningful recommendation.

Quickspecs

Model: Piaggio XEvo 400

Price: $8990 (plus on-road charges)

Warranty: Two years, unlimited distance

Power: 25kW @ 7500rpm

Torque: 37.6Nm @ 5500rpm

Engine: Liquid-cooled Piaggio Master single, four valves, electronic fuel injection and digital ignition

Bore x stroke: 85.8 x 69mm

Displacement: 399cc

Compression: 10.5:1

Transmission: Continuously variable automatic transmission (CVT) with torque server

Suspension: Front, 35mm telescopic fork, travel 94mm. Rear, twin shocks, preload four-position adjustable, 90mm travel.

Dimensions: Seat height 790mm, weight 198kg (dry), fuel capacity 12 litres, wheelbase 1540mm

Tyres: Front, 120/70-14. Rear, 140/70-14

Frame: Steel tube double cradle

Brakes: Front, twin 240mm discs. Rear, 240mm disc

Top speed: 155km/h

Fuel consumption: About 3.2 litres per 100km, unleaded, mainly in traffic

Theoretical range: 375km

Colours: Sirio grey, graphite black, midnight blue

Verdict: Chic with charm