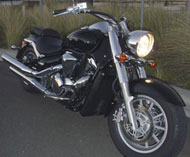 Lord, but it's hard
If you see someone on one of these – respect!
There is a lot of techno stuff I should probably tell you about this bike, but I've covered most of it when I wrote about its sister ship, the M109R. Let me try to get its essence across to you instead.
This is a big motorcycle, but there are many big motorcycles on the market. This is a powerful machine, but not as powerful as fancy-pants sister M109R. This is – and forgive me, sisters, please – a man's bike.
The Boulevard C109R demands that you work it. Despite the low centre of gravity, just picking it up off the sidestand is a commitment.
How about sampling the performance of the slightly detuned (!) version of the 54 degree V-twin that powers the M109R? The lower gears are governed down, like the Triumph Rocket III's, to ensure you don't just flip the thing over backwards when you drop the clutch. But in fourth or fifth it's like waking a natural force as the bike hammers its way to its top speed. Open it up and reach for Warp Factor six, well over 200km/h.
Of course before you get anywhere near that you will be flapping off the back of the C like a wet chenille bedspread in a hurricane but hey – why did the good Lord give you thigh muscles? Hold on!
So, all right, the C is not for everyone. It is not for small or weak riders; it requires you to work for the pleasure of riding it. It is not for tentative riders; it doesn't help you much and it needs to be made to do things.
On the other hand it is certainly not rough and ready in any way. The throttle action is smoother than on the M109R, the transmission is impeccable and the suspension is pleasantly compliant. Even the brakes are progressive and smooth but it's not as if they're pampering you. They just allow you to concentrate on taming the beast.
There is plenty of opportunity to personalise the C, whereas the M's design is so integrated that changing anything would take a tremendous amount of thought – and design talent. The bike will respond really well to custom paint: I can see one now, completely enveloped in airbrushed flickering flames.
ARR

Specifications:

Model: Suzuki VLR1800K8 Boulevard C190R
Price: $17,990 (plus on-road charges)
Warranty: Two years, unlimited distance
Power: 83kW @ 6000rpm
Torque: 115Nm @ 3500rpm
Engine: Liquid cooled 54 degree V-twin, four stroke, four valves per cylinder DOHC, fuel injection and electronic ignition
Bore x stroke: 112 x 90.5mm
Displacement: 1783cc
Compression: 10.5:1
Transmission: Five-speed, wet multi-plate clutch, final drive by shaft
Suspension: Front, 46mm upside down telescopic fork, travel 130mm. Rear, link-type single shock, preload seven-way adjustable, 118mm travel.
Dimensions: Seat height 705mm, weight 357kg (dry), fuel capacity 19 litres, wheelbase 1755mm
Tyres: Front, 150/80 16. Rear, 240/55 16
Frame: High tensile steel double cradle
Brakes: Front, twin 290mm discs with radial mounted three-piston calipers. Rear, 2750mm disc with twin-piston caliper.
Top speed: 210km/h
Acceleration:
0-100km/h: 4.4 sec
60-100km/h: 5.3 sec
Fuel consumption: 5.5 litres per 100km, premium unleaded
Theoretical range: 345km
Colour: Pearl black, cherry red
Verdict: Personality plus