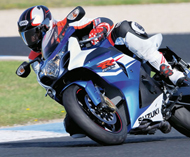 Gixxer Lightning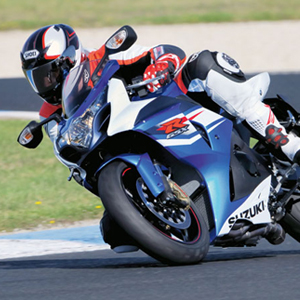 Refinement is the go for 2012
Photos Keith Muir
The legend that is Suzuki's GSX-R range has been at the forefront of superbike and supersport racing for many years now. For 2012, the GSX-R1000 has not been totally redesigned but rather refined in a way that makes it lightning fast, yet easy to control. As they say, "If it ain't broke, don't fix it."
Like Honda with the CBR1000RR Fireblade and BMW with the S 1000 RR, Suzuki hasn't felt the need to increase peak power, but as with Honda and BMW, the 2012 GSX-R1000 has seen many improvements in low- to midrange power and torque.
The most obvious visual change for 2012 is the return to a single-sided exhaust. Not only does it make the new GSX-R1000 lighter; it helps with other changes within the engine to produce that stronger punch at low- to midrange. It has also removed the previous model's dip in power between 6000 and 7000rpm.
The amount of pull in the midrange really makes this bike. I found myself exiting the higher-speed corners at Phillip Island much faster than previously. On the road, which is where you're going to be riding a bike like this, it will make a lot of difference.
Matching the new exhaust required a new profile on the exhaust camshaft. The duration of valve overlap has been reduced to improve the low- to midrange but also to keep the overall peak power output.
Thinner materials for the tappet skirts have resulted in weight savings of 2.5 grams per tappet. This may not sound like a lot but, when you're talking about high-powered and high-revving engines, every little saving makes a huge difference.
Piston skirts and the pin boss width have been redesigned and reduced. This makes a stronger and 11 per cent lighter piston but also makes the engine run a touch cooler.
Valve recesses are smoother for better combustion efficiency and the compression ratio has been increased from 12.8:1 to 12.9:1. Suzuki claims 8 per cent better fuel consumption.
Larger pentagonal cut-outs than on the 2011 model in the side of each cylinder bore help reduce pumping losses with the oil circulation, making the already bulletproof engine even more so. Master Suzuki tuner Phil Tainton was on hand at the launch and he said what this really translates to is a more consistent level of power being available for race engines. This was quite evident at the first round of the Australian Superbike Championship with Josh Waters winning on the 2012 GSX-R1000.
How does this engine technology translate to riding on the road? It makes riding the GSX-R1000 an easy proposition to ride slow or fast. I would even have no problems touring on the 2012 model, if I was that way inclined.
Unchanged from the 2011 GSX-R1000 is the Suzuki Drive Mode Selector (S-DMS). This gives you three power modes to choose from but, unless I was after maximum fuel efficiency, I wouldn't ever change out of A mode (full power) and even then only go down to B mode. As with all other bikes with this type of option, I find the low-powered modes pretty much a waste of time.
Suzuki's SDTV throttle body and SRAD (Suzuki Ram Air System) are retained, but the SRAD vents on the front of the bike are closer together towards the centreline of the bike for maximum intake efficiency.
The wheelbase of the GSX-R1000 is unchanged from 2011 and was already the shortest in class. This gives the GSX-R1000 fast turn-in and the electronic steering damper makes it nimble enough for tight switchbacks. Weight distribution has seen a 1 per cent increase to the front to give more feel at all speeds.
Braking performance is the big change with the addition of Brembo radial-mounted calipers on the front. The brakes have great amounts of feel and power; so much feel and power, in fact, that I found myself braking into Turn 4 at Phillip Island (an extremely hard braking corner) around 20 to 30 metres deeper than any of the other current litre bikes.
As with just about everyone else with a litre bike, Suzuki has fitted Big Piston Forks to the 2012 model. The overall setup (front and rear) is slightly softer than the 2011 model, the main reason being to make the 2012 model much easier to ride on the road while supplying more grip and feedback to the rider.
On the track, I found the settings too soft for my liking. I called on the master Phil Tainton to whirl the spanners and the result was relatively minor but still enough to change how the GSX-R1000 handled. In the front, we first tried two turns of preload, but I found I had some chatter through the front tyre under extremely hard braking. Phil changed this to one turn of compression and back to one turn of preload over the standard settings. I had no more chatter but, more importantly, I had a lot more feedback from the front end.
On the rear, two turns were wound into the collet of the spring and half a turn of rebound added. This reduced the amount of wheel spin I was having due to the rear squatting too much with my weight.
Bridgestone made a new tyre specifically for the 2012 GSX-R1000, the Battlax Hypersport S20. This particular tyre features a new tread pattern and is claimed to give better wet-weather performance and have longer life, while the front tyre is lighter compared with what was on the 2011 model.
The S20 is not really a track hoop, more of a road sports tyre which will handle a track day if need be. As a result, the levels of grip available from the Metzeler K3 and K2 tyres fitted on the Fireblade and S 1000 RR just weren't there. Despite this, lap times were comparable and, if the GSX-R1000 had had the sticky rubber fitted, I dare say it would've been faster than the others. But hey, we're talking about one second or so — OK if you want to race for sheep stations but it don't mean much in the real world.
If you're a taller rider (or any size for that matter), the GSX-R1000 will accommodate you. Adjustable footpegs and a new gripper seat material really allow you to get into the right position. For my first session I left the footpegs in their highest, most forward position and I did struggle a little with changing gears. From then on I had them changed to the lowest, most rearward position and the amount of freedom I had to move around and get into the right position for swift cornering was fantastic! That's why I could see myself touring on the GSX-R1000.
For 2012, Suzuki has refined the GSX-R1000 into one of the sharpest litre bikes available. If you want to slap some sticky tyres on it and compare lap times, then you have a damn good chance of being in front on this bike. And if you want a sensible (if you can call it that!) litre sports bike for the road, then the GSX-R1000, in its 12th year of production, is also going to be a contender.
SW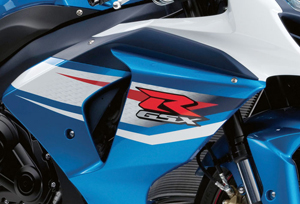 Quickspecs
Model: Suzuki GSX-R1000
Price: $17,990 (plus on-road charges)
Warranty: Two years, unlimited distance
Servicing km intervals: Every 10,000km or 12 months
Engine: Liquid-cooled in-line 4-cylinder, 4-stroke, DOHC, 4 valves per cylinder
Bore/stroke: 74.5×57.3mm
Displacement: 999cc
Compression: 12.9:1
Power: 136kW @ 11,500rpm
Torque: 117Nm @ 10,000rpm
Transmission: 6-speed, wet multi-plate slipper clutch, chain final drive
Suspension: Front, 43mm inverted fork, adjustable preload, compression and rebound, travel 120mm; rear, monoshock, adjustable preload, compression and rebound, travel 130mm
Dimensions: Seat height 810mm, kerb weight 203kg (wet), fuel capacity 17.5L, wheelbase 1405mm
Tyres: Front, 120/70/ZR17; rear, 190/50/ZR17
Frame: Twin-spar aluminium-alloy
Brakes: Front, twin 310mm discs with four-piston radial mount calipers; rear, 220mm disc, twin-piston caliper
Fuel consumption: n/a
Theoretical range: n/a
Colours: Metallic Triton Blue/ Glass Splash White; Metallic Matt Black/Glass Sparkle Black
Verdict: Lightning fast
On the back!
I was fortunate enough to be offered a pillion ride with three-time Australian Superbike Champion Shawn Giles on a full-blown superbike spec machine. As I am the tallest person ever to have been on the back of the bike, Phil Tainton wound in a stack more preload so we wouldn't be doing a world-record wheel stand around the entire Phillip Island circuit.
I got onto the bike with no problems, but getting my long legs scrunched up onto the pegs was another matter. Onlookers came to my rescue and got me into position.
While Shawn did lap more slowly than I usually get around the Island, the immense power from the 210-odd horsepower engine and supreme grip offered through the super-soft slicks were great to experience. I gave Shawn a bit of a liven-up coming out of Siberia. I sat up and gave the tank mounted pillion bars a little pull, launching the front wheel skyward. The result? Shawn slammed on the rear brake to bring us back to earth quick smart — and a massive laugh between us afterwards!
As you can see from the pics, I look like a praying mantis ready to pounce. Now I know why Alana used to hate my sports bikes many years ago, even though she's a lot shorter than I am. If you ever get the chance to have a pillion ride on any of the current race bikes, don't think twice, because you're never going to forget it.
SW