The bikes with a sporty engine, road wheels and tyres yet with an upright almost adventure bike riding position are being classed as sports crossover bikes, and Suzuki has announced one, the GSX-S1000GX.
Comfortable, fast and versatile, these are (in many ways) the new generation of sports-tourer. The upright riding position is comfortable, even in traffic, the performance is blistering from the modern engines, there's often more suspension travel than sports bikes and you can usually get panniers to go touring.
The new GSX-S1000GX ticks all of those boxes and also features Suzuki Advanced Electronic Suspension (SAES), the first Suzuki to do so.
Indeed, the $25,890 (ride away) price gets you lots of tech including a bunch of things we've not see before: Suzuki Floating Ride Control (SFRC), Suzuki Velocity Dependent Control (SVDC), Suzuki Deceleration Damping Control (SDDC) and Smart TLR Control.
Here's the press release… and check out the gallery at the end of the article
ALL-NEW MY24 SUZUKI GSX-S1000GX
THE SUPREME SPORT CROSSOVER
• Suzuki Advanced Electronic Suspension (SAES) with 150mm of travel Front/Rear, leverages Hitachi Astemo (SHOWA) SFF-CA™ inverted telescopic front forks and a BFRC-lite® link-type mono-shock rear shock
• Suzuki Intelligent Ride System (S.I.R.S)
• SDMS-α, which carries out integrated management of multiple advanced electronic control systems:
• Suzuki Floating Ride Control (SFRC)*1
• Suzuki Velocity Dependent Control (SVDC)*1
• Suzuki Deceleration Damping Control (SDDC)*1
• Smart TLR Control*1
• Lift Control*2
• Roll Torque Control*2
• The Suzuki Road Adaptive Stabilization (SRAS) control program*3
• Automatic Rear Suspension Modes
• Smart Cruise Control – allows for uninterrupted clutchless gear change
• Motion Track Brake System as featured on GSX-R1000R
*1 is a first for a motorcycle manufacturer since it features Suzuki's original control program.
*2 is the first system of its type to include multiple controls other than traction control (for this model, functions lift control and roll control).
*3 operates silently in the background of the Suzuki Traction Control System. It is adopted on this series as a stand-alone control for the first time.
• 112kW (152ps) 999cm in-line four-cylinder motor
• Suzuki Drive Mode Selector Alpha (SDMS) -3 modes of power delivery
• Suzuki Traction Control System (STCS) – 7 modes and off function
• Active Damping Control (ADC) – Hard, Medium Soft and adjustable user settings
• Bi-directional Quick Shift System
• Slope dependent control system
• Handlebars featuring a wider grip and optimised position
• Standard-equipment rear carrier
• Standard-equipment knuckle covers
• 6.5-inch TFT LCD screen
• Smartphone connectivity via SUZUKI mySPIN app – Phone,
• USB outlet at the dash
• E.T.A. April 2024 – Colour Metallic Triton Blue, $25,890 Ride Away
I N T R O D U C T I O N
"The Supreme Sport Crossover" product concept, envisions the GX's role in the lineup as a new model that represents Suzuki's vision of what a luxury crossover bike should offer.
Strategically combining the best attributes of the GSX-S1000GT grand tourer and V-STROM 1050 sport adventure tourer, this new model offers riders the versatility of a bike built to be comfortable and easy to control and equally adept at satisfying the rider's needs and mood, whether enjoying an aggressive sport run or touring long distances on most any kind of road the rider chooses to take.
While sharing its core elements with the other models in the GSX-S series, the GSX-S1000GX introduces new features and advanced functions that give it a unique position as Suzuki's new crossover proposition.
Like the GSX-S1000GT, it features the superbike-level performance, confidence-inspiring controllability, optimised comfort, connectivity, and attention to detail one expects of a premium sport touring experience.
Though both the GX and GT belong to the GSX-S series, the differences are also significant. The GX features a longer suspension stroke that contributes to its extended front and rear wheel travel, increased ground clearance and comfortable upright riding position. Furthermore, it achieves a whole new level of suspension performance by introducing Suzuki Advanced Electronic Suspension (SAES) — Suzuki's first electronic suspension — and by adopting Suzuki's original new Suzuki Road Adaptive Stabilisation (SRAS) system.
These technologies combine to make the GX comfortable and controllable on road surfaces ranging from urban asphalt and cobblestones to paved country and winding mountain roads.
The result is an exciting new crossover machine that sits comfortably between the sport tourers and adventure tourers. While delivering the aggressive superbike performance and sporty looks that distinguishes the GSX-S series, the GX also provides long-distance touring comfort thanks in part to its upright riding position and equipment features.
Suzuki Advanced Electronic Suspension (SAES), the integrated riding modes and control provided by Suzuki Drive Mode Selector Alpha (SDMS-α) and other advanced systems help ensure comfort and controllability, even on cobblestones and other less than ideal road surfaces.
This new model is well worthy of taking its place as the king of crossover touring comfort and riding pleasure, with a level of aggressive- looking supersport styling and attention to detail that will resonate soundly with discerning riders.
E L E C T R O N I C S
The Suzuki Intelligent Ride System (S.I.R.S.) introduces a collection of advanced electronic systems that lets the rider easily optimise the performance characteristics to best suit their riding style and level of riding experience. S.I.R.S. brings greater confidence and enjoyment by allowing the GX to be more controllable and predictable whilst also being less fatiguing.
The GSX-S1000GX is the first Suzuki motorcycle to adopt Suzuki Advanced Electronic Suspension (SAES), which offers a boar range of settings that ably support everything from aggressive sport riding to long-distance touring. The suspension features a long 150mm front fork stroke and 150mm of rear wheel travel that provides greater comfort, even when touring for long distances. The longer suspension also makes the GX capable of absorbing larger bumps when riding over cobblestones and other uneven surfaces.
Suzuki Road Adaptive Stabilisation (SRAS) works in conjunction with SDMS to seamlessly switch between settings that emphasise responsiveness when riding on normal road surface, and those that better smooth out bumps when riding over cobblestones or other uneven surface. When SRAS detects a change to cobblestones, it automatically triggers stronger Suzuki Floating Ride Control (SFRC) to help smooth out the ride and adjusts the Electronic Throttle Valve settings to deliver softer, more controllable throttle response. When the GX returns to a smooth surface, SRAS is disabled and SFRC returns to a setting that does not interfere with on-road dynamic performance.
Detects changes in road surface
Selectable Automatic Rear Suspension Modes – Electronic control over the rear suspension's spring preload settings lets you quickly and easily select among four available modes designed to suit your preferences or the immediate needs of the situation. AUTO mode is a user-friendly mode that allows anyone to easily enjoy the recommended automatic settings.
Suzuki Drive Mode Selector (SDMS) is designed to offer the rider a choice between three different modes that change output characteristics to match riding conditions or preferences.
A (Active) mode is designed for the more aggressive riding style of a sporty run on good roads
B (Basic) mode is set up to deliver a satisfying balance of settings good for a broad range of riding situations
C (Comfort) mode aims to prioritise comfort and controllability, particularly when riding long distances or carrying a passenger and gear
Equipped with a Suzuki Traction Control System (STCS) with a wider selection of 5 mode settings (+ OFF). The finer incremental control over settings allows the new 5-mode traction control system to better fit a more diverse variety of riding conditions and styles.
A ride-by-wire throttle system provides finer control also allows optimum settings to best match each of the SDMS modes. The overall result is linear power delivery that responds faithfully to the rider's intentions, whether riding on the street or heading out to enjoy a spirited run, as well as improved controllability when opening the throttle while cornering.
Cruise control is a convenient new system that lets the rider maintain a set speed without needed to operate the throttle. This helps reduce fatigue when touring long distances, particularly when travelling at constant speed on highways. Speed setting can easily be adjusted up or down using the (+/-) select switch on the left handlebar and confirm the current setting on the TFT LCD instrument screen by pressing the left handlebar switch's RES button. Cruise Control can be set at speeds between 30km/h to 180km/h while riding above 2,000rpm in second gear or higher.
The bi-directional quick shift system allows the rider to shift up or down more quickly and easily without the need to operate the clutch or throttle. When decelerating, the system automatically opens the throttle valves just enough to increase rpm and match engine speed to the next-lower gear ratio. The result of this hands-free automatic blipping function combines seamlessly with engine braking to create a highly satisfying experience when downshifting.
Suzuki's Easy Start System lets the rider effortlessly start the motorcycle with one quick press of the starter button. There is no need to continually hold the starter button down nor need to pull in the clutch lever when the transmission is in neutral.
Other niceties include Suzuki's Low RPM Assist system which monitors and automatically raises the idle speed when taking off from a stop or when riding slowly through traffic to reduce surging and chances of engine stalls.
The GX features a full-colour TFT LCD screen. The new 6.5" screen has been developed as a large multi-information display for specific use on motorcycles, whereby the TFT LCD panel features an anti-reflective coating for improved visibility in bright light and a scratch resistance surface.
Smartphone connectivity that allows access to a variety of apps and functions that bring greater convenience, functionality, and fun to the ride. In addition to Day/Night display schemes and adjustable brightness, the screen's custom display features buttery-smooth tachometer movement and exclusive graphics.
The SUZUKI mySPIN app connects the rider's smartphone enabling it to transfer its display to the GT's large TFT screen where the contents of the phone can be viewed such as contacts, calendar, music, and map apps. The app also has the capability to utilise a selection of supported third-party apps optimised for use by motorcycle riders and take advantage of additional services that bring greater convenience and fun to the touring experience. These include navigation, rider assistance, music streaming, tracking, route sharing, and weather information services. SUZUKI mySPIN is compatible with iOS and Android™.
Smartphones can be connected via USB, Wireless LAN or Bluetooth®, and charged using the dedicated USB outlet on the left side of the TFT LCD panel.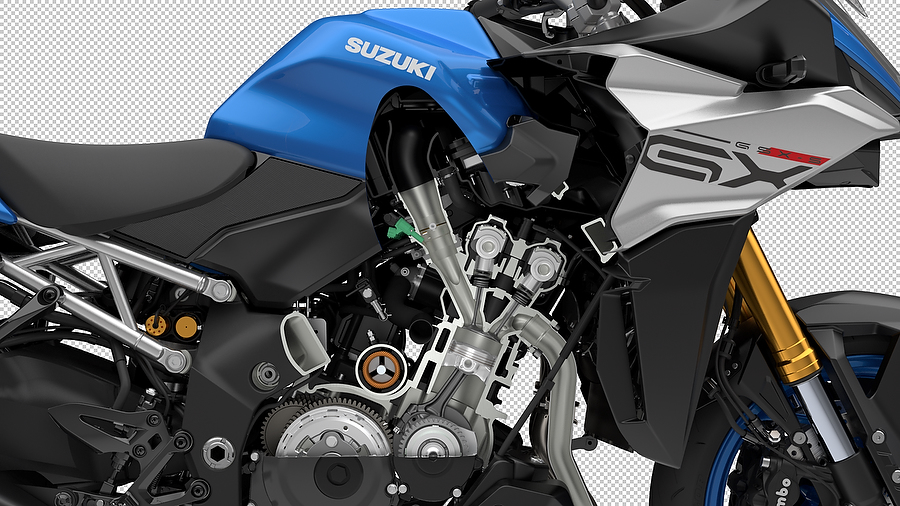 E N G I N E
The GX is powered by a 112kW (152ps) 999cc liquid-cooled DOHC inline-four engine engineered to perform optimally under diverse riding conditions and in all kinds of traffic.
Derived from the engine that helped carry the GSX-R1000 supersport machine to countless racing championship title, this street-tuned powerplant benefits from a fusion of race-proven engineering and the latest in technological advances to achieve the durability and balanced performance needed to support both long-distant touring and aggressive sport riding, while also satisfying EURO 5 emission standards.
Features include superbike- level performance and a broad, smooth torque curve throughout the engine's operating range. Vibration is also minimised to make riding more comfortable and less tiring. This combines with a variety of electronic control technologies that enable you to match torque output to the type of ride or your preferred riding style at any given time, and includes the excitement of powerful acceleration to support aggressive sport riding when desired.
C H A S S I S
The new GX delivers nimble handling and confidence-inspiring controllability, whether out touring long distances on the highway, negotiating twisty roads, or simply enjoying its sporty performance on the streets. Every component of the chassis and running gear is engineered to bring the right balance of agility, stability, and comfort for a true supreme sport crossover experience.
At the core is the compact, lightweight chassis design. The rigid twin-spar aluminium frame and ruggedly braced aluminium-alloy swingarm are key to great road holding ability that will go the distance, even when carrying a passenger and a full load of gear.
Lightweight, six-spoke cast aluminium wheels contribute to positive handling and sporty performance. They shod with the latest generation of Dunlop SPORTMAX Roadsport 2 radial tyres. Engineered to perform optimally and provide sure grip, the tyres have been fine-tuned to match the weight and performance characteristics of the GX and deliver the right combination of agility and stability. These tyres are a perfect match for Suzuki's new crossover proposition.
An antilock braking system (ABS) helps the rider stay in directional control even during hard braking. The system is programmed to monitor wheel speed and match stopping power to the available traction. The ABS control unit has a compact, lightweight design that contributes to the bike's nimbleness.
The GX is designed to isolate you and the passenger from vibration that might otherwise by transmitted from the engine or chassis. Details include the use of floating handlebars, floating mirror mounts and rubber footrests that reduce vibration wherever you or your passenger come into contact with the bike.
These efforts to maximise comfort for a more relaxing and less tiring ride also extend to an optimized new design for both the rider and pillion seats. The seat cushion is thick yet stiff enough to support you well. Its relatively flat top surface means there is more area supporting your weight for greater comfort. And it is tapered at the front to provide you with freedom of movement when enjoying a more aggressive sporty run.
S T Y L I N G
The design concept for the GSX-S1000GX, "Unbridled Elegance", aims to create a new crossover expression, featuring styling that visually conveys both the potential of liberating superbike-level performance and of a capable adventure tourer that is ready to go anywhere. This blends harmoniously with attention to detail that reflects the level of elegance and sophistication that delivers comfort on long rides and makes touring a pleasure wherever the rider wishes to go.
The all-new GSX-S1000GX features a sharp front cowl, protruding nose that culminates at the compact LED low- beam headlight. The headlight is flanked by LED position lights with the look of a sharp pair of "eyes" that introduce a dynamic sense of movement and express a youthful, sporty image.
The Metallic Blue colour is representing Suzuki's brand identity and competitive road racing history, this colour features a sporty look that symbolises performance, speed and agility.
The logos on the side cowling panels adopt a design that is immediately recognisable as belonging to the GSX-S series, presenting the model name in large, bold fashion that adds a tasteful accent to the luxurious styling of this new crossover machine. Custom-designed ignition key presents the owner with the GX logo in black lettering on a gold background. This adds a luxurious touch and aims to instill greater pride of ownership.
Aerodynamics and wind protection are critically important to achieving the dynamic performance and level of comfort desired when touring for long distances on a large-displacement crossover machine.
The front cowl, windscreen and knuckle covers were all designed through a process that involved both wind tunnel testing and feedback from test riders. This was performed while still paying keen attention to achieving attractive styling. The goal was to maximise wind protection and make the rider more comfortable by reducing sources of stress such as exposure to the cold and elements. This reduces fatigue when touring for long distances at speed and frees the rider to concentrate on enjoying each outing.
While aerodynamic performance was a given, design priorities for the GX's new windscreen focused keenly on maximising wind protection to deliver relaxing comfort that minimises fatigue on long rides. Another design concern was to keep the form as compact as possible and to create and attractive screen that would enhance the appearance of the face.
Development involved repeated rounds of wind tunnel testing and analysis as the design was refined until it achieved just the right overall balance of rider comfort and aerodynamic performance.
The windscreen's 3-step adjustment allows it 50mm of travel, which raises or lowers the height by up to 43mm.
The fuel tank boasts a capacity of 19L and a design that makes it appear compact. Its large capacity combines with the engine's excellent fuel efficiency to bring the rider great peace of mind by blessing the GSX-S1000GX with superior touring range per tank of fuel.
A U S T R A L I A N  R E L E A S E
The MY24 Suzuki GSX-S1000GX is estimated to arrive in April 2024 and will be available in one colour – Metallic Triton Blue with a manufacturer's recommended price of $25,890 Ride Away.
Customers can reserve their GSX-S1000GX by selecting options from the wide range of Suzuki Genuine accessories available for this model via the Build Your Bike online tool on the Suzuki Motorcycles Australia website. As a gesture of Suzuki's appreciation for customer commitment, online pre-order customers will receive a bonus "SIDE CASE SET" valued at over $1800.