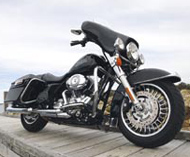 The Year of Living Safely

Lots of innovation in the Touring range, much of it about safety
Believe it or not, running a motorcycle magazine is not all hard slog for poor pay in appalling, Dickensian conditions under the constant lash of a cruel – and only intermittently fair – publisher. Mostly it is, true. But, yes, there are occasions you look back on with wry affection.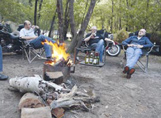 Just recently I found myself sitting out on the timber deck at the Honeymoon Pool campsite in WA's Wellington National Park at night with half a dozen other reptiles of the motorcycle press. Before us was a silver service dinner table, groaning (even before the meal began) under enough glassware to equip the average Michelin three-star restaurant for a decade.
We were about to tackle a nine-course meal of mostly local produce, each course matched to a carefully selected Western Australian wine, before retiring to our "five star" campsite set up by the good folk from Coleman camping supplies. Their tents are excellent, by the way, and both the inflatable mattresses and the sleeping bags were comfortable.
It's just as well that the new H-D Touring range is pretty damn good, or I'd be embarrassed about having to criticise it after such a top night.
One interesting thing I discovered during the course of an entertaining evening was that out of the nine riders, five were ex-policemen. Now you finally know what happens to coppers when they retire – they go to work for Harley-Davidson or they write about motorcycles.
"Look at it this way," said one of the H-D blokes. "If anything goes wrong, you're in good hands. We're all fully trained in first aid."
Gosh, am I lucky, or what.
Yes, sometimes there are worse things than running a motorcycle magazine. I just thought you'd like to know that, seeing that some of you have been concerned about my well-being. Or was that my weight you were concerned about? But seriously, the bikes have been improved significantly and many of those improvements are about increased safety.
We weren't especially concerned about safety at the beginning of the launch when we were heading south from Perth in bright sunshine with a couple of days' riding ahead. But we had certainly changed our priorities when we found ourselves returning to Perth in bucketing rain that reduced visibility to a matter of feet and insinuated its way into even the best wet weather gear.
I must admit I was half expecting some rain. First, H-D had arranged a camping trip. Second, Perth gets its rain in winter and spring, and this was spring.
In the event it wasn't too bad. We got the photos done on the first day, so the rain on the second just gave the new Harley-Davidson Touring range a chance to show off its weather protection. The 2009 range has quite a few innovations to offer, too, among them anti-lock braking and new tyres, both of which were most welcome in the WA rain.
The Touring frame, swingarm, engine mounts, exhaust system, wheels and tyres have all been redesigned. Key styling elements – including the front end, large volume fuel tank, saddlebags and top box – are essentially unchanged, so these Touring models are visually similar to the timeless motorcycles that preceded them.
Forming the core of the 2009 Touring chassis is a new frame with a single-spar, rigid backbone designed to sustain the demands of long-haul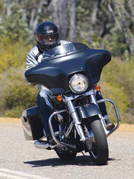 touring riders and today's more-powerful engines.
The frame is manufactured with the latest robotic welding process, which offers outstanding dimensional accuracy and weld quality, and improved chassis alignment. The new design uses half the parts and half the length of welds. Bent frame tubes and T-studs have been eliminated. The new frame is about 20 per cent stiffer than the frame used in 2008, a key factor behind the improved handling of all the new Touring models.
A separate bolt-on tail section improves the fit of the rear of the motorcycle through more precise alignment of the rear fender over the rear wheel.
The new swingarm is formed with a two-piece, deep-drawn shell with a forged pivot section. It is 60 per cent stiffer than the rectangular box-section design it replaces and also helps with the handling. The overall chassis stiffness is increased by 67 per cent.
The engine-isolation system has also been revised, resulting in reduced engine and vehicle shaking at idle speed. The new system replaces a single front isolator with twin front isolators with a single tie link. Both front and rear mounts are designed to last the life of the motorcycle.
Front wheel diameter has been increased to 17 inches from 16, except for the Road King Classic which has 16 inch wheels front and rear. New cast aluminium wheels provide maximum stiffness with minimum weight.
All 2009 Touring models run the new Dunlop Multi-Tread tyres designed specifically for them. The harder centre tread compound and softer shoulder compound improve handling and are expected to offer up to 25 per cent more rear tyre tread life. Both tyres have a lower aspect ratio for a more modern look and enhanced handling. Front and rear suspension has been recalibrated to match the dynamics of the new chassis, wheels and tyres.
All 2009 Touring models are powered by the twin cam 96 V-twin engine with electronic throttle control (ETC) mated to the six-speed Cruise Drive transmission and breathing through an active intake and exhaust system. Acceleration is better on all of these bikes due to a lower final drive ratio, as a 68-tooth rear sprocket replaces the previous 66-tooth one.
An increase in wheelbase allows the saddlebags to be moved back to increase passenger legroom in front of them. The elimination of the left-rear exhaust pipe and the new routing of the right-rear exhaust pipe creates more foot room for the passenger and reduces the heat on the rider's thighs and the passenger's calves.
The new Tour-Pak (top box) support rack is significantly stronger, with no holes in the tubes for Tour-Pak attachment. The new design uses fewer fasteners and hardware and makes it easier to adjust the Tour-Pak fore and aft for passenger comfort. Tour-Pak capacity is increased by 2.3kg. Saddlebag capacity is increased by 2.3kg per side.
It's interesting to note that these changes continue a series of innovations that go back to a research study conducted by the company in 2002 and to face-to-face discussions with customers who rode an estimate 50 million miles during the Harley-Davidson 100th Anniversary event in 2003.
Armed with this feedback, Harley-Davidson made improvements such as the twin cam 96 engine with six-speed Cruise Drive transmission and the active intake and exhaust system, the rear wheel isolated drive system, electronic throttle control, Brembo brakes with ABS, a 22.7 litre fuel tank, reduced clutch lever effort, the Advanced Audio System by Harman-Kardon, GPS navigation and a high-output charging system to supply new heated seats and grips.
Harley-Davidson, it seems, really does listen to its customers.
Individual models have had other updates.

Road King
The large detachable windshield and injection-moulded saddlebags make a versatile motorcycle suitable for touring, commuting or cruising. Classic styling touches include the chrome "Hiawatha" headlamp and clear-lens blinkers, chrome engine covers, a deep-skirted FL front fender and white-stripe tyres. The seat has been restyled with diamond shaped highlights. The price is $28,495, or $29,095 with two-tone paint. In my opinion, this is the pick of a very impressive range.

Road King Classic
The 2009 Road King Classic retains its 16-inch front and rear profile laced wheels and wide-whitewall tyres for a classic, retro look. Tooled leather covers the seat and hard-shell saddlebags. Touring features include a large detachable windshield, auxiliary passing lights, and cruise control as standard. Two-tone fender graphics are new for 2009 and the price is $31,350 or $31,950 two-tone.
Street Glide
A stylishly stripped-down dresser, the $30,995 Street Glide features lowered rear suspension, a smoked mini-wind deflector and a stylish trim at the bottom of the rear fender for a low, lean profile. A traditional "batwing" fairing holds the 40-watt Advanced Audio System by Harman-Kardon. Other features are the stretched, chrome fuel tank console and Streamliner footboards, brake pedal and passenger pegs as well as black slotted disc cast aluminium wheels.
Electra Glide
Checking in at $26,100, the Electra Glide Standard is the cheapest of the range. It's also a no-nonsense, long-haul motorcycle you can grow with or build on. Standard equipment includes locking hard saddlebags, a fork-mounted "batwing" touring fairing with instrumentation and auxiliary lamps.

Ultra Classic
The ultimate touring model from Harley-Davidson, the Ultra Classic Electra Glide at $33,850, or $34,450 two-tone, adds electronic cruise control, 80 watt Advanced Audio System by Harman-Kardon with passenger sound system, vented removable fairing lowers and adjustable fairing wind deflectors. Luggage liners and intercom are standard equipment. The Tour-Pak rack has been redesigned and Tour-Pak capacity increased by 2.3kg. New features for 2009 include shorty dual antennas and mid-frame air deflectors that project radiant engine heat away from the rider.
ARR