From its bevel-driven cam to the drop 'bars to the crossply tyres and more, nothing is as truly retro as the W800 cafe.
TEST BY: PHIL JAMES   |  Photography: NIGEL PATERSON
With the W800 Cafe, Kawasaki has successfully built a machine that doesn't just have retro styling, it is also about as close to its 1960s W series 650cc twin as possible — within the constraints imposed by the modern world. Kawasaki is offering a full retro experience.
During my time with the bike, I'd fire it up and let it idle while I suited up. It would sit there idling, the whine from the bevel-driven valve train providing treble to balance the bass burble from the iconic peashooter exhausts. I'd listen and feel a sense of anticipation for the ride ahead — excitement even.
Doing so created an emotional connection with the bike, making it far
more than just transportation.
TRULY RETRO…
Given it's not trying to be a modern design, it would be unfair to judge the W800 Cafe as a modern bike. It would be like criticising a Morris Minor for falling short of a Toyota Yaris. Best of all, by using modern materials, production techniques and quality control, the less endearing traits of classic bikes are avoided. At the time, the British couldn't even keep oil in the engine and Lucas electrics were deemed to be the work of "The Prince of Darkness".
We're not in the 1960s now, so how does it work today? The homage paid to the air-cooled twin theme is on the mark. Details like the footpegs, seat, exhaust and twin clock instruments are spot on. Its styling works too, as it passed the acid test: my 23-year-old daughter thinks it looks "very cool". Possibly cool enough to make its rider look cool. That's one job done.
I think it looks terrific, although the "I couldn't afford to paint it" nose fairing is a bit too 1960s authentic and would be better if it were colour matched to the rest of the bike.
Riding the machine was initially an underwhelming experience, but by the time I'd run it through a tank of gas it had won me over completely. Provided you stay within its design envelope it's great fun to ride. It's important to remember it's an interpretation of a 1960s cafe racer, which doesn't make it a sports bike today. Try riding it quickly through corners and it could scare you (again… 1960s authentic). It's not frame flex, as it's engineered to look period, with modern strength. It's more a case of the of old-style tyres and limited cornering clearance coming together to discourage serious corner speed. The suspension looks old school and to some degree it is, but it rides nicely and it's better than anything ever fitted to a 1960s bike. Handling wise it's not hopeless, but it's not modern either.
Here's the thing — this old school design and performance really is part of the bike's charm. If the rider has a good skill set, the cafe can be punted along at a brisk pace. On public roads, it has a limit you can actually get to (unlike virtually every other large-capacity bike currently on the market). It's hugely satisfying to know you've personally got the most it has to offer too. It feels fast without being fast. When the chassis dynamics and engine noise come together, it really is like riding in the '50s or '60s… great fun. 
THE DETAILS
While it's based on the W800, it has quite a few upgrades. Kawasaki has stayed faithful to the retro design brief; it's the sort of stuff manufacturers may have done back in the day (excluding ABS fitment, which is becoming compulsory in some markets). It's more performance orientated than the W800, in a period sympathetic way. Apart from the obvious styling changes, there's a smaller 18in front wheel, wider alloy rims, increased front fork diameter (up from 39 to 41), stronger lower triple clamp, stiffer springing, larger brakes with ABS and a stronger frame. 
The engine looks and feels old, but is anything but. There's good power (it's an 800cc, four-valve twin after all) and it runs through the gears to its redline with enthusiasm. It has that beautiful bevel drive, a balance shaft, five speeds in the gearbox and an assist/slipper clutch. One concession to the 21st century is fuel injection and it's good, with a nice on/off throttle transition and a flat-spot free experience. The low 8.4:1 compression ratio allows a period-correct, slow 1350rpm idle… and it would probably run on beer. My favourite quirk is that when it's turned off, the low compression ratio and heavy flywheel allow the engine to roll for a few revolutions before it stops… with a chuff, chuff… chuff… sound. How retro is that!
Some things are best left in the '60s and drum brakes are one of them. If you've not experienced worn drum brakes, you should count your blessings. The problem was that as the brake shoe wears, its contact patch diminishes and before long they just don't work. Drums are also prone to overheating and brake fade. If the brakes were in good condition, you might get one good stop every few minutes. 
Fitting period drum brakes to the W800 was a line Kawasaki just couldn't cross. That said, although improved from the W800, the brake package isn't Supersport either. The front is a twin-piston calliper on a 320mm disc, but there's only one. The rear is a largish, twin-piston calliper on a 270mm disc. My initial impression of the brakes wasn't good. The problem, as it turns out, was my technique, not the bike. For decent retardation, what you need to do (…and I can't believe I'm about to say this…) is stand on the back brake hard and trust the ABS to look after you. It works because the single front disc doesn't unweight the rear as much as twin discs would. The rear brake is, therefore, more effective than normal. Initially, I thought the brakes were a C minus, but now I'll mark them as a B plus and that's ok on this bike.
I do have a suggestion for the brakes just the same. They could be cooler and more "period" if two grooved (not drilled) discs were fitted at the front. This was an upgrade that was available in the era and very "trick" at the time. A less noticeable, smaller rear disc would help nail it style-wise. 
PERIOD ERGOS…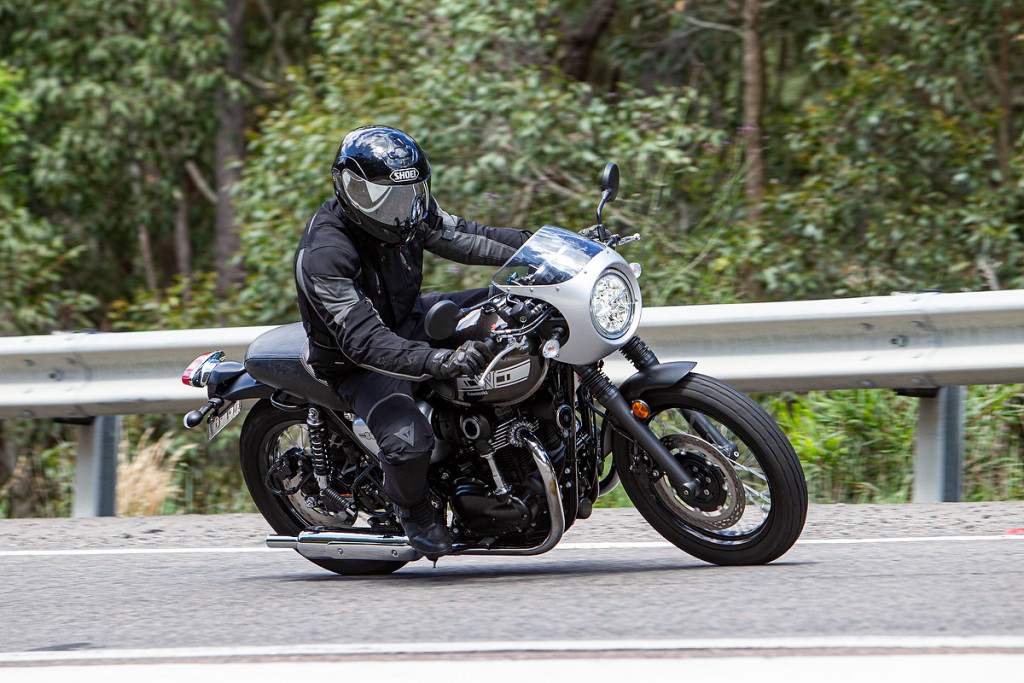 On first inspection, the bike's ergonomic package looked like style may have trumped functionality. Could this be a 20-minute bike? Happily, in this case I can report looks are deceiving. For city riding it was quite good, and I wasn't expecting that. The rider's triangle is comfortable, weight on the wrists is acceptable and the knee angle open enough, although your 185cm tall editor wasn't as happy as I. Most riders won't get premature leg fatigue. At higher speeds, it provided just the right amount of forward lean — giving some support from the wind, not so much that wrist pain develops. The seat could be a bit narrow for some. I thought it might annoy me, but it didn't. 
The steering has a different feel. Twenty minutes into the familiarisation ride I started to think, "What's going on with this steering?" Perusing the steering geometry and wheelbase specs didn't reveal anything too radical. Then I figured it out. The 'bars place the rider's hands just in front of the steering stem (I can't think of another OEM set-up where this is the case). This gives a subtly different feel. You acclimatise quickly enough, but it's worth noting because a rider may think it's a flaw. It isn't — it's just different.
The initial feeling from the cross-ply, retro pattern tyres was sketchy — a bit too far down the same road as drum brakes as it were. The grip level was low, "tram lining" was an issue. "Surely Kawasaki wouldn't allow this — I must be missing something," I thought. Time to consult my tyre Guru Jamie Stubbs (Sportcycles, my local workshop).
He suggested the tyres may have too much pressure and pointed out that cross-ply tyres have stiffer sidewalls than radials and run at lower pressures. Over-pressurising the tyre reduces their pliability and ability to deform into the road surface. The recommended tyre pressures are front 28psi, rear 32psi. Dropping to those pressures made a huge difference: the tram lining stopped, the tyres had some "bite", the whole bike felt more planted. The ride was more compliant too. Glad I got to the bottom of that. 
GENUINE VIBES…
One characteristic which every rider will note is the "authentic" vibration from the engine (a consequence of the authentic firing order and beautiful noise it makes). Kawasaki has fitted a balance shaft, and this is a good thing. Nothing kills riding pleasure faster than vibration. Every rider has a different tolerance to it and to be faithful to the retro design, Kawasaki needed to maintain enough vibration for "character", but not so much to be annoying. A tricky task. For me, they haven't quite got it right. At engine speeds up to 3000rpm (around 90km/h) it's perfect. A pleasant pulse. There's a peak between 3000 to 4000rpm range equating 100km/h which is best avoided for sustained periods. Above 4000rpm it smooths out again, which correlates to the maximum licence-friendly speed you can do on a motorway.
As an owner, if vibration becomes an issue, fitting bar end weights (there aren't any on the bike) and going up a tooth on the countershaft sprocket might help a lot. I do think there's an opportunity for improvement here for Kawasaki, perhaps by tweaking the engine and using rubber to further isolate the rider.
The gearbox and clutch are very 21st century and this is a joy. The five-speed gearbox is slick-shifting, the assist and slipper clutch has a light action and works a treat.
WHO IS IT FOR?
What we have in this bike is a mix of capabilities that make it the perfect tool for some, and totally wrong for others. If you love the vintage look and feel, if you want to transport yourself back to the '60s, if you are a vintage bike collector and want something that won't give you "box trailer" moments, if you enjoy the retro café scene, want something different, or just want an easy bike to get around on, then you'll love this bike. As sedate cruising is one of the W800's core strengths, those with a propensity to collect demerit points might find some value in it too. 
However, if you want retro styling with modern chassis performance, regularly ride with faster bikes, commute on the highway or want to do overnight touring, then other bikes will be better solutions.
As it comes it's a fine machine, but if I owned this bike, I'd definitely want to do something about the vibration and bolt-on some better shocks. The stock ones are OK, but in my part of the world the roads are crap — and I'd probably look to helping it breathe better.
The engine makes nice solid power, but if you want to really embrace your inner cafe racer, Sportcycles showed me a dyno chart of a W800 fitted with a Staintune exhaust and Power Commander ignition that had gained 20 per cent more power… Jamie tells me it ran smoother as well.
THE MOST FAITHFUL RETRO?
The W800 Cafe is a really interesting bike. The upgrades it has on the W800 make it a genuine period cafe racer in my book. While it does have solid competitors in the Royal Enfield 650 Continental GT and Triumph T100, both run 270-degree cranks. The W800, with its 360-degree crank, is arguably the one truest to the 1960s "go fast" twin concept. It's also the rarest (and possibly coolest) in its category.
Kawasaki has gotten it seriously right with this bike: possibly the best "classic" twin ever made (even if it isn't British). ARR