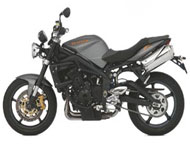 Better – but how much?

Did the Street Triple really need a quicker version?
Words: Wayne Mclaren
Photos: Lou Martin
I have to admit that when it comes to these up-rated versions of already good motorcycles, I can be a bit of a cynic.
The standard Street Triple is a blindingly fast and capable motorcycle
that can comfortably outhandle the aspirations of most people, so why
install the suspension from the pure sports Daytona and run the risk of
turning it into a tank slapping plank?
Well, apparently there are those who reckon the Street Trip is a bit
lacking at track days and allegedly, when the pace gets white hot. So
to keep everyone happy, Triumph looked to the 2008 675 Daytona for the
loan of its brakes, multi-adjustable forks and rear shock.
For an extra $1000, you get the Daytonafied Street Triple R. According
to Triumph, the rear Kayaba shock is identical to the Daytona's, as are
the Kayaba forks and the radial mounted brakes. However, the Street
Triple-R has slightly different spring rates and damping tailored to
the lighter bike.
Not only that, but being slightly longer than the standard rear shock,
rake and trail have reduced from 24.3 degrees and 95.3mm to an even
quicker steering 23.9 degrees and 92.4mm.
Styling-wise there's a two-tone seat cover, tapered Magura handlebars
and of course the love it or leave it, matt grey paint. Mind you,
having seen the matt orange version I'd have to say it'd be the
coloured version for me.
Wisely I think, when creating the R, Triumph elected to leave the
engine alone. Resisting the temptation to fiddle means that performance
is no different to the standard model and so what you get is 79kW at
11,700rpm and 69Nm at 9100rpm, with lots of punch available from as low
as 3500rpm. And frankly that's plenty.
For the launch, Triumph Australia had laid on a matching selection of
standard Streeters and a pair fitted with a selection of the available
accessories, some of which included a gel seat, an underseat Arrow twin
muffler and a single (conventional) Arrow muffler. Both tweaked with
the appropriate download of course!
I suppose I could blather on about the usual road test stuff such as
gears clicking home and fuel economy, but what you really want to know
is "does it make a thousand dollars worth of difference?"
Well yes, it would appear so. For starters it steers so much more
accurately and with noticeably less effort at the handlebars. What this
means is that a change of plan or line are willingly accommodated.
Where the standard version once heeled over well on its ear informs the
rider that no further input will be tolerated and the machine can
follow only one line to its conclusion, the R allows the rider to
tighten the line and deepen the lean.
And it goes further than that. Braking and steering is always a test of
suspension, weight and geometry. The R once again allows the brakes to
be trailed for longer, this of course is in part due to the brakes.
Without feedback and modulation, trail braking is highly likely to
result in catastrophe. Of course it still can but at least it's not
from a lack of information. There is loads of power from the four spot
Nissins as they pull back on the 308mm discs, certainly enough to
achieve remarkable stopping distances thanks to the tenacious Dunlop
Sportmax Qualifier tyres that seem to be the tyre of choice for a lot
of manufacturers right now.
All the test bikes were running standard suspension settings and it was
clear the settings were for a lighter rider, judging by the speed of
compression and return. It would have been nice to dial in some extra
compression and rebound, especially in the forks as under hard brakes
it was easy to lock the rear brake or even elevate it. And on that
note, I can't help feeling that maybe the rear brake had a little too
much bite.
So what of the piped and downloaded versions? I don't actually think
there was a massive power gain at the top end of the range but
certainly the engine felt crisper and more eager, most noticeably in
the midrange. And what a sound! Yet despite the aural treat and the
benefits in performance, I rather think I'd like to keep my rate of
travel as secret as possible. But that's just me.
All in all, the street Triple R is without doubt a thousand dollars
more motorcycle for the money. What's more, by building in increased
capability at the extreme ends of the performance spectrum, Triumph has
arguably made a safer motorcycle. You might not use what it has all the
time for recreation but when you feel like having a go, chances are
you'll be within its limits rather than the other place.
Quickspecs
Price: $13490 (plus on-road charges)
Warranty: Two years unlimited distance
Power: 79Kw at 11700rpm
Torque: 69Nm at 9100rpm
Engine: Liquid-cooled, inline triple, four stroke, 12 valves, DOHC, electronic fuel injection and digital ignition
Bore and stroke: 74 x 52.3mm
Displacement: 675cc
Transmission: Six-speed close ratio. Multi-plate clutch, final drive by O ring chain
Rake and trail: 23.9 degrees/92.4mm
Suspension: Front, 41mm upside down fork, fully adjustable with 120mm travel
Rear, monoshock with piggyback reservoir, fully adjustable with 130mm of travel
Dimensions: Seat height 805mm, dry weight 167kg, fuel capacity 17.4 litres, wheelbase 1390mm.
Tyres: Front 120/70 ZR17. Rear 180/55 ZR17
Frame: Aluminium twin-spar beam perimeter
Brakes: Front 308mm floating discs with four-piston radial calipers. Rear 220mm disc with single-piston caliper
Top speed: 215km/h
Acceleration:
0-100km/h: 3.7 sec
60-100km/h: 3.9 sec
Fuel consumption: 5 litres per 100km, premium unleaded
Range: 348km
Colours: Matt graphite, matt blazing orange
Verdict: Outstanding