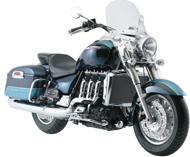 Houston, we have liftoff
Mike Grant went to see the latest Rocket launch in Texas.
Triumph launched its original Rocket III just over three years ago in front of an awe-struck motorcycling community. "Launch" was very much the operative word because striking up its 2.3-litre inline three-cylinder produced as close an experience as most of us are likely to get to sitting atop a Saturn V on take-off. This original Rocket III was quickly joined by a slightly optioned-up custom version (footboards, longer handlebars) called the Classic. We can now call these the "standard" models because of the addition of a genuinely new model, the Rocket III Touring.
To me, the standard Rocket III, which is more or less in a class of its own that we might call "massive naked street-muscle cruiser", suffers in terms of its appearance in two ways. First, it's a bit Frankensteinian, not only because of its massive size but because it looks a bit like two or even three motorcycles were sacrificed and spliced together to make it. The second thing is it doesn't look complete. There is something missing.
The thing is, it's such a powerful machine in a tree-stump-pulling or earth-moving or building-demolition sort of way that it needs to be seen to be put to some sort of work in order to look right. In other words, it looks a bit like a prime mover without a trailer or a Clydesdale without a harness or a loco without rolling stock, if you see what I mean*.
The Rocket III Touring has fixed both these problems. Compared with the standard Rocket, the styling flows smoothly from front guard to tailpiece. The tank, while still enormous, doesn't look bulbous. It tapers evenly into the seat and pairs handsomely with the large single headlight. The design integrates all the key elements — guards, headlight, bars, instruments, tank, and seat — into a single, good-looking, great big mother of a motorcycle.
And it now looks like it has proper honest work to do. The addition of the large standard panniers to complete the bike's transformation into a touring role also gives its appearance the purposeful edge it always needed. Let's face it, you could load this motorcycle up with the equivalent of its own bodyweight and it would scarcely notice it.
All new in San Antone
Triumph chose San Antonio in Texas to launch the new Touring version of the Rocket because the US is its largest market for this model range and the American south is the heartland for cruisers and touring cruisers. The initial production run will be 2400 of which more than half will go to the US. Australia will get 100 of this first batch. Expect them to be available here from January 2008.
According to Triumph's Product Manager, Simon Warburton, this touring version was planned from the start. The initial idea was to stick a couple of panniers on the standard bike and Billy-Bob's your uncle. But when they looked at it more closely, they found there was a lot more involved. After three years and an enormous amount of development work, the only things the standard Rocket and the Touring have in common are the engine, the tail-light, the mirrors and the brake callipers and discs. Everything else on the Touring is newly designed.
In terms of what's new and different, let's start with the rear tyre. It's a smaller 5in 180 section hoop. This is to make the rear narrower in order to fit useful panniers without making the bike ridiculously wide. This is valid for both aesthetic and practical reasons. I know this from riding some very matronly proportioned BMW tourers when I have lived in constant fear of coming to an abrupt and unexpected halt halfway through a misjudged opening. The narrower, but by no means narrow, rear tyre also improves the bike's handling by making it quicker and easier to steer at speed.
While on the subject of wheels, the front is a smaller item as well at 16 inches in diameter. This time, the aim is to aid low-speed or walking-pace manoeuvrability, important in a bike weighing upwards of 360kg. Matters here are helped further by a slightly lower seat at 736mm.
For such a big motorcycle, I can testify that it feels well-balanced at a standstill and relatively easy to manhandle. This is not a trivial thing to achieve, either, because I can recall wrestling bikes of a similar weight that, by way of contrast, felt like large wheelbarrows filled with wet concrete.
Less rip, more snortin'
When I say the engine is unchanged, this is not quite true. Outwardly, it is identical to the standard Rocket except for some neat covers over the exhaust mountings. Inwardly, though, it has been re-tuned for even more torque (209Nm compared with 200) at even lower rpm (2000 compared with 2500). Peak power, though, is down to a claimed 105hp at the crankshaft compared with 140hp. I'm not sure of the wisdom of this. The bike already had plenty of pulling power, so keeping the ability to spin it up to a truly brutal top-end would have been my preference.
On the launch we took the bikes over 300km through the Texas hill country. On the road the Rocket III Touring proved as relaxed a mountain-muncher as you would imagine it to be. Entire states can disappear under your wheels while you barely notice. The ride is comfortable but firm and compliant, not mushy and bouncy as you sometimes get in made-for-the-USofA-market vehicles. Once underway, the weight pretty much evaporates and the bike holds up well even in slow-speed turns. There is none of the tendency to flop into turns that you sometimes get with heavy bikes.
Tank capacity is down on the standard version by a couple of litres, which is disappointing and frankly strange given the new model was designed to cover long distances. Unfortunately, no fuel consumption figures were available, but it may be that the lower-revving nature of the Touring's engine results in better fuel economy.
Power delivery is smooth and relentless. At speed, the steering is light and responsive and the frame feels stiff enough to go on the attack and have some fun whenever you get bored with your standard touring pace. The frame generally has the same layout and geometry as the standard Rocket but has been lengthened a bit at the steering head to increase front-wheel trail (up 33mm) and thereby improve stability. Rake is unchanged at 32°.
Progress is accompanied by a reassuring and pleasant mechanical whirr and clatter from under the tank. The standard pipes are a bit regulation quiet but a quick detour to the aftermarket catalogue should correct this shortcoming.
Add-ons galore
Speaking of catalogues, the new Rocket III Touring has one filled with 75 accessories to trick up and customise your personal bike to your heart's content. Of these items, 65 have been newly developed specifically for launch with the Touring.
And if you want to immerse yourself even further in the Triumph experience, there's a range of jackets, boots, gloves and other riding gear. I kitted myself out in full Triumph rig and it was true to Triumph clothing's reputation, being at least as good as the big-name specialist brands. The Triumph branding on the clothes has the added advantage that it is nicely understated, certainly when you compare it with those BMW space suits and Harley outlaw-outfits out there.
The last bit of news is that the Rocket III Touring will be priced at $25,990. When you look at what you get, that's a lot of metal for the money.

MG