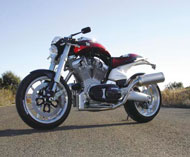 Great Mystery
Have the French finally got a successful motorcycle brand? Like its name, that's still a mystery.
Among the Native American Lakota (better known to us ignorant furriners as the Sioux – and no, they were not the inspiration for the American legal system), Wakan, or Wakan Tanka, is the term for the "sacred" or the "divine".
It is often translated as "The Great Spirit", because that makes the concept easier for monotheists like most of us to understand. However, its meaning is closer to "Great Mystery", and it refers in the first place to a group of sacred entities whose ways were mysterious.
Wakan is also the power or the sacredness that resides in everything. All creatures and objects are "wakan" or have aspects that are "wakan".
A great name for a motorcycle brand, then.
Relevant, too, as the hearts of these bikes come from the ancestral home of the Lakota up by the Great Lakes. The V-twin 1640cc engines are made by S&S in Wisconsin. Many other parts, including the five-speed close-ratio gearbox, the belt primary drive and the dry clutch are also made in USA.
So, why that comment about the French?
Well, just as the French appreciate Jerry Lewis movies more than the Americans do, they seem to have a soft spot for US engineering – when it's right for their purpose. The Wakan's designer is Joël Domergue, a French engineer better known as the creator of the Scorpa trials bike, which he sold to Yamaha. He likens the Wakan to the mother of all muscle cars, the Shelby Cobra.
"When Shelby countered the armada of Ferraris and Maseratis by sticking a big V-8 American motor in a little British sports car that hadn't been designed to take it, it was a crazy thing to do but it made a legend of the car that resulted," he says. "For me, there was no equivalent in motorcycles, and that's what I have tried to create with Wakan."
The idea was a long time in germination and Domergue takes it very seriously.
"At 14 I started tinkering with motorbikes, it wasn't a choice, it just fell upon me," he says. "From then on, I had to get a technically oriented education. Unconsciously everything just followed that direction. Which is why I would say that I didn't choose. It was my destiny."
He didn't take achieving this destiny lightly and began by learning to be a machinist and tool-room fitter.
"My goal was to master my art all the way from the drawing board to the metal of the finished article," he says. "I immersed myself in motorcycle culture and history and taught myself the rudiments of thermodynamics as found in motorcycles.
"When I was young, when I bought a bike I'd strip it and sometimes then make my own frame. I learned more from doing that than most of the theoretical exercises."
That's an attitude Australians would find very easy to understand and get along with. Domergue's time spent establishing the Scorpa trials bike brand gave him other skills.
"My time with Scorpa … gave me a worldwide and industry-wide insight into the manufacturing process; who makes what, how much to pay for things, where to get them made … and how to design parts that are economical to make," he says.
"It taught me how to conceive assembly procedures, how to schedule manufacturing … contact with raw materials keeps you humble and knowing how to ride the bikes, how to strip them, how to use the tools – myself – that will be used to make the parts that make the bike, all this gives me the global view and I suppose the overall credibility that were necessary to bring Wakan to the point where we are now delivering motorcycles."
He's the ultimate jack of all trades, but a master as well. Domergue's right-hand man, American engineer Rory Simpson, calls him "an industrial short-cut", a pretty appropriate tag.
Domergue loves V-twins.
"The motorcycle is born from the bicycle," he says. "Above the bottom bracket there's the two frame tubes and for me the motor starts right there, in the vee.
"I wanted to make a bike using an engine with lots of character, an engine that was very present both in a visual and sensual way. The engine is the keystone to the bike. It's the engine that dictates the design that imposes the minimalist form."
So what has he created?
"Whatever it is, it's not aiming to be universal," he says. "It's a bike with no compromises (although he later admitted that 'I sometimes had to frustrate the creator and tried not to handicap the production engineer'); it's a privileged moment, an hour, a couple of hours, where you forget the rest. It's a motorcycle but has to be a fine object to look at, one that widens your mind.
"When you ride it, your imagination doesn't go wandering off elsewhere … we're in a world where we still spend too much time looking at figures. Figures mean nothing, you can make them say whatever you want."
More mundanely, it's an S&S V-twin engine in a spine frame that holds the oil, with the fuel tank under the seat and an unmistakable air intake with a 1960s-style butterfly air scoop. A single Keihin flat slide carburetor sits under the air box where the fuel tank is on more conventional designs. All-up weight is claimed at 188kg, which is no mean feat with that hulking brute of an engine.
Parts are claimed to be unique to the brand rather than being drawn from one or more catalogues (or other marques) as in so many other low-volume machines.
"The bike is expensive because of what it is," says Domergue. "The choice of the components was determined by their quality. The wheels, for instance, could be on GP bikes … there's a genuine pursuit of technical excellence in these bikes, patents filed, valid technical choices, a quality riding experience."
And as for the "French" tag: the bikes are assembled in Montpellier, in the south of France, but "I make no claims at all about the Wakan being French," says Domergue. "You can hardly do so when 90 per cent of the suppliers are foreign. Anyway, the epithet 'French motorcycle' has a negative consonance; particularly in France. Calling the Wakan 'French' is irrelevant and misplaced."
He's not kidding about the "negative consonance". The French motorcycle industry has made almost as many attempts at being reborn as the British, with one major difference: nobody has yet done a John Bloor in France and established a viable marque, as Bloor did with Triumph.
Domergue talks a pretty basic business plan.
"If we can find between 300 and 500 [buyers] around the world each year, that'll be perfect," he says. "If we get more, so much the better. The bikes are already made, totally, by the same methods and procedures that would be used to produce those quantities."
Is that going to be enough of a plan for a volatile world that can, as it has recently, crash and in effect wipe out spending on luxury goods? Make no mistake about it, a Wakan is a luxury good; the bikes sell for 28,000 euros in France ($A50,000). According to one source, Native American people do not attempt to describe Wakan Tanka because "it is a mystery … no one can describe such a vast mystery". Maybe they have a point.
But the Australian distributorship for Wakan Motorcycles should be available by the time you read this. If you believe in the Great Spirit, contact Rory Simpson, Director – International Business on +33 686 675 802 or at rsimpson@engmore.com. And give us a ride when you get the first bikes.