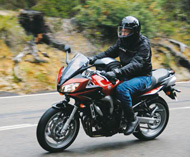 Set to stun
Wherever you're headed, Yamaha's new Fazer will
take you there
Yamaha's bold new 600cc class offering, the
reworked Fazer, uses much of the more modest naked XJ6N's technology to provide
sportier thrills – where the XJ6N makes claimed peak power of 57kW at
10,000rpm, the Fazer delivers an impressive 72kW at 2000rpm further up the
scale.
The higher-revving Fazer, reckons Yamaha, is good
for "the thrust and parry of the peak-hour escape run, Sunday morning in the
mountains with your mates, or an overnighter up the coast with your significant
other."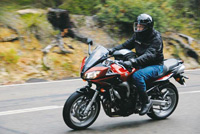 The R6-based engine has not been changed from the
previous model's and there would have been precious little reason to. It's
smooth and forgiving and responds well even at low revs. My only real
reservation is that you need to wring the bike's neck to get peak performance.
Maximum power output is at 12,000rpm and maximum torque doesn't come on until
you've reached 10,000rpm. There are riders out there who have never seen that
many revs – unless it was aboard a turbine-powered aircraft.
Fuel consumption is relatively high without being
totally unreasonable, but I suspect that this is a reflection of the bike's
rev-happiness.
There are a few special bits and pieces about the
bike, which I suspect don't make much difference but provide talking points. Chief
of these is the fuel tank; it is made from titanium alloy – something we may
see more of in the future as the battle to keep weight down intensifies.
The forward tilt of the cylinder bank has allowed
Yamaha to place the battery directly below the tank, creating "optimal front
end weight bias". In fact, the weight distribution is very good on the Fazer,
which contributes to its pleasantly predictable and controllable handling. The
suspension helps, too, and works just as well on rough surfaces as on the
highway. Top marks, Yamaha, even though there is precious little adjustability.
Here's a heretical thought: maybe if the
suspension were set up correctly at the factory you wouldn't need adjustable
suspension – except for preload, of course, to cope with changing weight.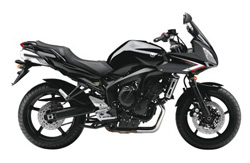 The riding position is upright, which is
especially good for commuters because it maximises the motorcyclist's advantage
in traffic: we can see further than drivers. The fairing is good at keeping the
wind off the rider's chest but somehow it doesn't look quite integrated into
the bike's design, almost like an aftermarket addition. That said, the fairing
has obviously had substantial wind-tunnel time spent on it.
So, is this a Fazer set to stun or not? It is
certainly a terrific midrange model, one that will keep a lot of riders happy
long after their friends have moved up to bigger bikes. Nobody needs a bigger
machine than this. And if you're prepared to rev it – and why wouldn't you be?
– it's capable of delivering quite a buzz.
Oh yes, the buzz. I nearly forgot. At certain
revs, the FZ's seat passes quite startling fine vibrations to the rider's
nether regions. This is far from unpleasant; it's a bit like a high-speed
therapeutic massage. Now that's a benefit you don't get with many bikes these
days.
Quickspecs
Model: Yamaha FZ6S Fazer
Price: $10,999 (plus on-road charges) at time of test
Warranty: Two years, unlimited distance
Power: 72kW @ 12,000rpm
Torque: 63.1Nm @ 10,000rpm
Engine: Liquid-cooled transverse four, four-stroke, four valves per
cylinder DOHC, fuel injection and digital ignition
Bore x
stroke: 65.5 x 44.5mm
Displacement: 600cc
Compression: 12.2:1
Transmission: Six-speed, wet multi-plate clutch, chain final drive
Suspension: Front, 43mm telescopic fork, travel 130mm. Rear, Monocross single
shock, preload adjustable, 130mm travel.
Dimensions: Seat height 795mm, kerb weight 207kg, fuel capacity 19.4 litres,
wheelbase 1440mm
Tyres: Front, 120/70 ZR 17. Rear, 180/55 ZR 17
Frame: Diamond, controlled-fill aluminium alloy
Brakes: Front, twin 298mm discs with four-piston monobloc calipers. Rear,
245mm disc, single-piston floating caliper.
Top speed: 210km/h
Acceleration:
0-100km/h: 3.7 sec
60-100km/h: 5.3 sec
Fuel
consumption: 5 litres per 100km, unleaded
Theoretical
range: 388km
Colours: Autumn orange; midnight black
Verdict: High-revvin' hauler