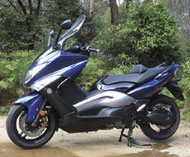 Take it to the max

Sporty scooting? Why not?
The TMAX has usually been considered as the sporty one among the maxi (over about 250cc) scooters, and the 2008 model takes that concept to the next level: it's lighter and sleeker in design, still offers good performance from its 499cc twin-cylinder engine and the ride quality has been improved along with increased agility, comfort and everyday convenience. Yamaha also claims to have upgraded its environmental friendliness by increasing the catalytic converter capacity.
It's a really good scooter, but PR can always go one better. Yamaha reckons that "this is a unique creation that's more like two machines, each with its own job: to excite you like a motorcycle and to be as easy to live with as a scooter. There is a real art to creating a machine that can do it all. You could even argue that it's a more complex task than designing a machine that's focused on just one type of riding, like a supersport bike or a cruiser".
I wonder if that press release was run past the team in the next office working on the new R6 supersport machine.
I haven't been able to get power figures for this new model, but despite revised fuel injection mapping, air intake and exhaust, the power feels more or less the same as the previous engine, which put out 33kW. The forward inclination of the cylinders with their reciprocating balancer delivers good use of space, a low centre of gravity and low vibration.
The 2008 TMAX does feel noticeably lighter and handier, more so than you'd expect seeing Yamaha claims only a 5kg drop in weight to 203kg dry.
Perhaps the new aluminium frame and new body work, which also improves stability in side winds, have something to do with that. Yamaha claims to have optimised suspension settings for better handling and that together with the 15-inch front wheel and larger diameter front fork (up from 41mm to 43mm) would be helping.
I certainly had no complaints about either handling or performance, and surprised a few sports bike riders at the lights.
There are other positive changes, even apart from the re-profiled seat and new sports styling with its smooth, sculpted bodywork (mind you, it still looks like a maxi scooter, same as all the other maxi scooters). An immobiliser is now standard fitment for added security, the fuel tank capacity has been increased to 15 litres and the windscreen is now easily detachable. You can get a shorter "sports" (read "city") windscreen as an accessory.
But I'm amazed Yamaha has opted to bring the TMAX in without anti-lock braking. In Europe it's had this since 2005 and I would have hoped that such an important safety feature would be made available here as well – perhaps only as an option. Possibly it would have driven the price, already quite substantial at $12,499 plus on-road charges, to an unacceptable height. Pity.
PT